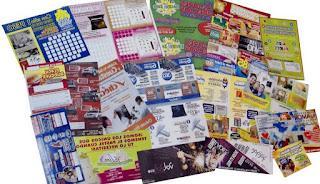 The brochures, leaflets and flyers
they can be, like almost all paper documents and compositions, created
using free tools
, without spending a fortune to make test prints, small quantities of flyers or to get the material to start a business. Obviously they can never be up to the serious work of a professional designer, however they can be useful, in cases where you want to do some tests, so as to test the final result and only then rely on an expert person; the free services are also a good alternative if we want to create posters or brochures without a high level of professionalism.
The fact remains that these online tools give
appreciable results
and more than acceptable to do quick jobs and without spending a penny.
So let's see together how to create flyers, brochures, flyers, posters and booklets for events and advertising online.
Sites and apps to create free flyers, posters and brochures
As everyone knows, a flyer or a brochure are used to make advertising sheets for a project or a new activity, or to give news of some event, to make a flyer for a musical evening, a poster or, simply, to inform people about a topic.
There are
several internet sites
which, through the
free online applications
, they allow to
create personalized brochures, leaflets and flyers
and designed with a good degree of professionalism.
Adobe Spark
Adobe Spark is one of the best online tools to create professional brochures without the need to be an expert designer and, above all, you can use it for free. Spark allows you to create brochures by dragging and arranging the various graphic elements made available, customize them, write text and then save and print or share online.
As already written in the past, it is possible
create free multimedia projects with Adobe Spark
, including brochures. There are many ready-made themes to choose from, editing tools to change colors, background, design elements and texts.
canva
One of the best sites for creating flyers and brochures of all kinds is Canva.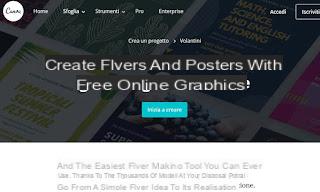 Using the templates already available for free on the site we will be able to flyers, flyers and company brochures, uploading our customized images and modifying the text, style and font, until we find the perfect balance. Also at Canva we can add design shapes, use illustrations, grids, frames, icons and graphics to use in the design of the brochure which can then be downloaded as an image file (PNG or JPG) or PDF (standard or print quality).
In order to access all the services you need a free account, but we can also use the Google or Facebook accounts already registered to speed up the creation of a new account.
Crello
Another very interesting site for the creation of flyers and brochures for professional use is Crello.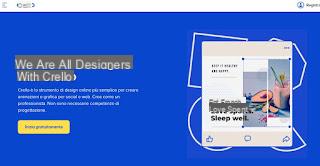 Crello is a professional quality site that allows you to create a flyer or flyer, for free. Inside we find many different models divided into categories, so that we can insert into our work photos, objects, lines, borders, frames, stickers, shapes or whatever else we want to add to our brochure.
LucidPress
In the category of sites that allow you to create free flyers and brochures online, we also recommend LucidPress.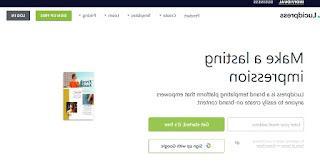 LucidPress is an excellent professional service that can be used for free with a limited number of pages that can be created; from the interface it is possible to create leaflets and flyers with a rather simple to use button editor.
There are several graphic templates to choose from, you can add more pages to create a brochure, you can insert personalized photos and writings, icons and contact references.
The free version is however very limited, so it is better to make only flyer templates, so you know what to print later.
Flipsnack
If we're looking for a good site full of free flyer and brochure templates, we can take a look at Flipsnack.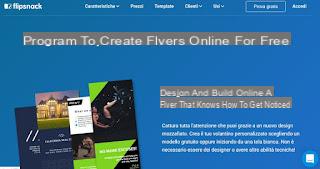 On the site we will be able to view numerous models for various work activities and for various types of information, with a valid editor with which to modify the texts, images and style to adapt it to our needs.
At the end of the creation we can choose whether to download the file for printing or share it on social networks or in a chat, so as to show it to colleagues or friends (to have an external opinion on our creation).
Venngage
Among the sites that we recommend you try to make flyers, brochures, flyers, posters and booklets, we could not forget Venngage.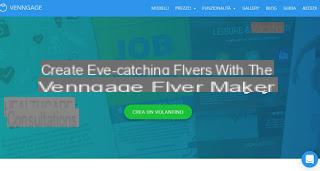 With the free account we will be able to create up to 5 brochures or flyers, useful for testing the functionality of the site and for viewing all the templates offered. For the more creative, the advanced editor is also available, so you can create our brochure from scratch, choosing style, lines, shapes, text and finally the background (from personal images to images available on the Web).
Also in this case, once the work is finished, we can choose whether to download or share the work done, to prepare it for future mass printing.
Piktochart
Piktochart is an online design tool with a large set of features for customizing flyer, poster and flyer templates.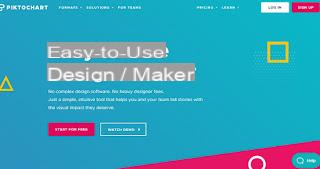 All the tools are relatively easy to use, you can get started with a free account and create professional flyers without too much effort. From the site we can choose from the predefined templates (to be modified later) or start from the editor, so as to create our new flyer from scratch.
Obviously the free demo is limited, but it is enough to start sketching a series of test drawings.
VistaPrint
Among the online printing sites we recommend you to view VistaPrint, which combines the flyer editor with the volume printing service directly online.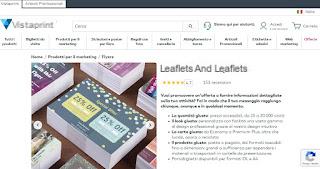 With this site we can create flyers, flyers and brochures to be printed immediately after creation (based on templates or models uploaded personally), by buying the necessary material directly from the online store, which will be sent home by courier.
Vistaprint is a complete site for online printing as it offers the ability to
order business card prints, calendars and T-shirts
.
Other sites and programs to create flyers, brochures or posters
If the sites that we have above are not for you, we invite you to try another themed site among those listed below:
Edraw Max is one of the best resources for creating brochures and graphics, it provides a free web application with ready-to-customize templates.
SmartDraw is a program to be installed on a PC, available in a free version, which can be used to create diagrams and even brochures and flyers of quality. Ready-made templates can be edited with photos, logos, writings and creations can also be moved to Word, Excel or Powerpoint.
BeFunky is a well-known web platform for photo editing and graphics tools, which can also be used for free in its brochure and booklet creation tool.
Jukebox is a free tool that you can use to create beautiful brochures online. This is by far the simplest site on this list, offering no templates, where you can just start creating from scratch. You can create a folding booklet or not and save the brochure as a PDF ready for printing.
Brother - Brochure Maker is a website where you can design brochures, business cards, posters and other printable media from ready-made templates.
PosterMyWall offers an online editor with which to create a flyer to print to advertise an event, a service or a product. There are plenty of image and clipart-rich templates in which you can write text by choosing fonts and background colors. The editor also allows you to create a personal and original logo.
On the PrintableFlyerTemplate site you will find many flyer and flyer templates to download to your computer that are then easy to customize with programs such as Microsoft Word.
The Smore web application is similar to the previous one and allows you to create a flyer or flyer to advertise an event or a product, a shop or a service, which remains online and can be shared on Facebook.
If we don't want to use a website
to create flyers, you just need to know that
with Word you can create brochures for free
without downloading other programs. Just open on the i program
customized models
on the home screen or download directly from the Microsoft site
the preferred template among the different brochure and flyer graphic templates. Alternatively, we can use the Microsoft Publisher program from the Microsoft Office suite.
In another article, i
free programs similar to Microsoft Publisher to create flyers, invitations and printed magazines
.
As an alternative to Word (for a fee) we can use
LibreOffice Draw
, included in the free and open source LibreOffice suite; with this application we can design flyers and brochures on the PC.
Conclusions
Making brochures, flyers and everything else for our advertising campaign, for our electoral campaign or for any other business activity is really very simple! With the free (or free trial) sites and tools seen in this guide we will be able to create our new flyer without spending additional money (which we can keep for the printing process, definitely the most expensive part).
If, on the other hand, we want to create large posts with personalized images, we recommend that you read our article on how
Create online posters with images and writings also to be printed
.
To create advanced design and graphics projects instead, we recommend reading our in-depth study on
Sites to create images for design and graphics projects
.