Windows 7 now displays a full screen notification to users to warn of the end of support. Here's how to turn off this notification.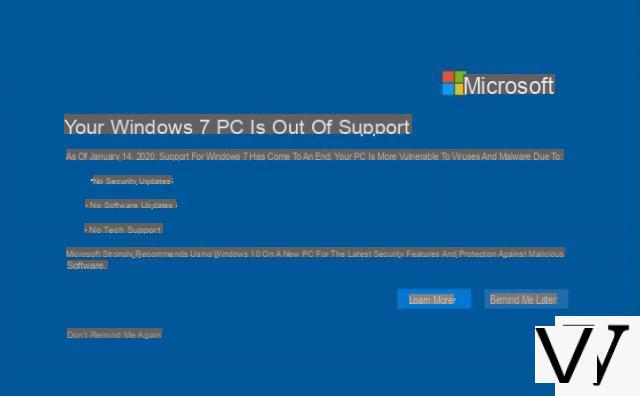 Windows 7 is over. Microsoft's very famous operating system is no longer supported by the firm today. Uncorrected security vulnerabilities can therefore appear and continuing to use Windows 7 is strongly discouraged.
To push for the abandonment of the system, Microsoft has been setting up notifications for several weeks to prepare users. Now, a full screen notification is displayed to remind the user of the end of support.
How to turn off this notification
The recommended way to turn off this notification is to switch to another operating system: update (free) Windows 7 to Windows 10, or install a GNU / Linux distribution.
If you are reading this article, it is probably because you want to continue using Windows 7 at your own risk. In this case, here's how to remove the notification while continuing to use the OS.
Open the "Run" window (Win + R), then type "regedit"
Navigate in the tree by following the path: "HKEY_CURRENT_USERSoftwareMicrosoftWindowsCurrentVersionEOSNotify"
Create or modify (if it already exists) the 32 Bits DWORD key "DiscontinueEOS"
Assign it the value "1"
Once this registry change has been made, Windows 7 should no longer display notifications to you. We remind once again that this operation is not recommended, and that it is better to abandon Windows 7.