If you own an iPad (whatever model and version it is), you may be wondering how to do a transfer photos from computer to iPad. Someone recommends using iTunes. Unfortunately, iTunes deletes the photos (already stored on the device) during the transfer. It is important to find a program that does not replace photos when new ones are added.
Fortunately, in this article you will find the solution you are looking for, a great program - TunesGO (Windows) or TunesGO (Mac). With it, you will be able to copy photos from computer to iPad quickly and easily. In addition, you can create new albums where you can save imported photos.

Guide: Transfer Photos from Computer to iPad
Step1: Install TunesGO and connect your iPad to computer
To start, after downloading and installing it, start the program on your computer. Connect your iPad to computer via USB cable. The program will detect the iPad as soon as it is connected.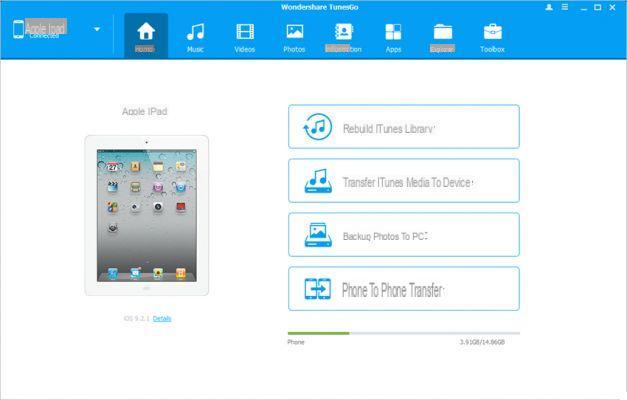 Please note: To copy photos to iPad, you need to have iTunes installed on your computer first.
Step2: Sync photos from computer to iPad
Then, from the top menu click "Photos" to open the photo management window. Click the triangle at the top "Add". In the list, choose "Add Folder". When the pop up opens, select the folder on your computer containing the photos to transfer to iPad. You can also create an album (on iPad) to save the imported photos. Remember not to disconnect the iPad during the photo transfer process.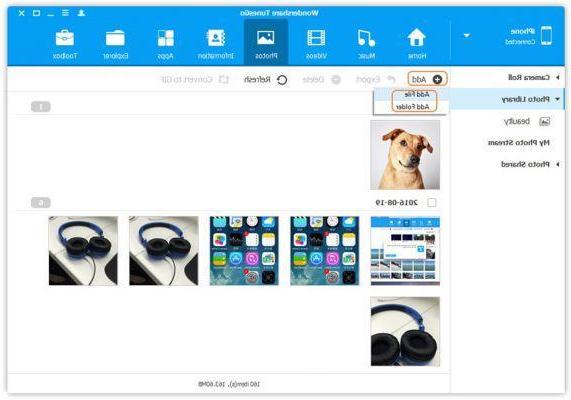 Please note: TunesGO is compatible with iPad mini, iPad with Retina display, iPad 3, and others.
Well done! You have transferred photos from computer to iPad!
I understand ... one thing when I'm about to install iTunes on my computer I have a windows 7 professional it gives me problems to open it why?
Thank you
But you say not to download iTunes but to transfer the photos you still have to have iTunes installed on your PC? Is that a bit of a paradox or not?
No, because the presence of iTunes on the computer only serves to provide all those drivers necessary for communication between iPad and computer. The fact of using an alternative program to iTunes arises mainly from wanting to overcome the many limitations that itunes has in transferring data from the PC to the device or vice versa.
I use iTunes but I can't synchronize my photos correctly on my Apple iPad2 because it doesn't present the images in the order as in the folder on my pc.
Let me explain: the photos have been stored in the folder of my pc in a numerical order (1-2-3-4 etc.) chosen by me as it is my desire to see the appearance of the photos on the iPad2 screen with that order ... UNFORTUNATELY, after synchronization on iPad2, this does not happen, the images are not presented in progressive numerical order, but all in a scattered way (all mixed) ..., there is no longer a logical thread like in the folder in my pc ...
Is it possible to have this service with the TunesGO program?
Thanks for collaboration
luciano
Try the demo version of TunesGO. It allows you to transfer only a limited number of photos, but this is enough to make sure that it does it in an orderly way as you want ...
How come after downloading the iPad linked eco program the program cannot find files months?
It goes there big !!
Fantastic! I have used other programs but always with difficulty in orienting myself in the cumbersome world of Apple. With TunesGO Retro, when I opened the program, I already knew exactly how to do it, thanks to its ease of use and its intuitiveness. Thanks again!
you are great experiment eroooo. thankseeeeeeeeeeeeee
Just downloaded it and it looks like it goes great thanks
Transfer Photos from Computer to iPad -