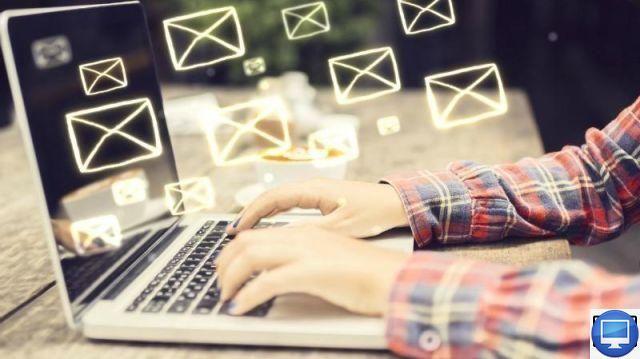 You're probably wondering if email services are all free? Most are, there are also paid services. This does not mean that they are the same, some have a more user-friendly interface, others have more features, storage space, etc.
It is well known that if you are not paying for a service, then you are the product of it. This is not always the case, but it is for some email services. Indeed, their development costs must be financed in one way or another, this is achieved by advertising and selling your data. A function may be limited and to unlock it, a payment from you is then requested.
Of course, that doesn't mean you shouldn't use a free email service, because those compromises are perfectly acceptable for millions of people who use Gmail, Yahoo, and others on a daily basis.
Each service you find here has advantages and disadvantages depending on the hardware and software you typically use.
We have made a comparison of the most popular free messengers which, because they are free, allow you to try them before deciding.
The choice of a mailbox depends on a number of factors (operating system, habits, needs...
So, if you are a Windows, Microsoft Office user and have a Windows phone, the easiest way would be to use Outlook.
Likewise, if your phone is an Android and you use Google services (calendar, etc.) then Gmail will be a no-brainer.
Zoho has similar functionality to Gmail and Outlook, and it can be used on iOS or Android. this mailbox will particularly satisfy professionals from small and medium-sized businesses.
Yahoo! is a good service but some will certainly regret its lack of versatility, just like with iCloud which is exclusively dedicated to iOS users.
Finally, if your main criterion is the level of security then Tutanota might suit you better.
Do not hesitate to take a look at our comparison of the best secure mailboxes.
1
gmail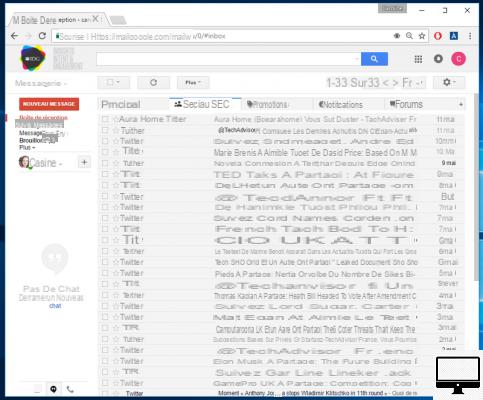 Gmail is hands down one of the best free email services. The clean and uncluttered interface is regularly improved and new features are added.
These include email reminder, if you clicked/tapped the send (or reply to all) button too soon, the option to schedule emails when away, or a confidential mode which prevents messages from being forwarded, copied or downloaded by recipients, while adding time limits so that they are automatically deleted after a given period.
Gmail can automatically filter emails by category, but folders to organize messages aren't supported in the traditional sense. Instead, you add labels, such as work, personal, and family. By clicking on a label, you filter your inbox to display only the emails associated with it.
Emails from other accounts can be collected and contacts imported, so switching to Gmail is hassle-free.
Plus, thanks to integration with Google Drive, you get 15GB of free storage for your email (and other Google services).
Attachments are limited to 25MB, which is more restrictive than some of its competitors. As a workaround, Gmail automatically links to Google Drive for attached files larger than 25MB.
2
Microsoft Outlook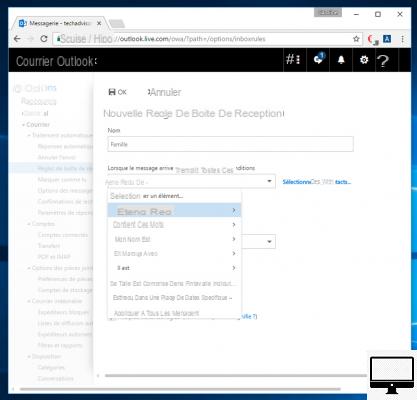 Microsoft's Outlook.com is the replacement for Hotmail, although Hotmail addresses still exist and continue to function.
Outlook allows you to create rules to make the classification of your e-mails automatic. For example, you can decide that messages containing the word "meeting" should always be moved to a specific folder that you name "organization". This feature is particularly useful when using Outlook as a professional mailbox.
It is also possible to use multiple email accounts, which means that your messages addressed by Gmail can arrive in Outlook. Plus, you get a full spam filter and automatic messages when you're away.
The tight calendar integration also allows invitations and emails related to travel arrangements to appear in your calendar, as well as temporary aliases and several other nifty tools.
On the other hand, it is unfortunate that Outlook does not automatically offer to upload large files to OneDrive. It simply imposes a combined 20MB limit on your attachments.
3
Yahoo! Mail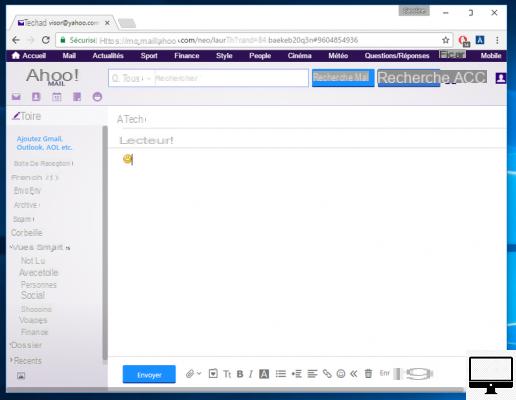 Yahoo! Mail has a modern look, great features, and a huge amount of free storage space.
The layout itself is pretty standard with the navigation on the left and the main pane in the center, but you can change the latter to show preview images on the side or below an email. When composing a message, you can drag and drop images directly into the message, or use the built-in GIFs, emoji, and greeting card-like graphics features.
Search has been improved so that it returns emails, pictures, files and contacts, all easily accessible from shortcuts in the navigation column, and if you search for a person, you'll see all the history of your conversations.
Event reminders will also appear at the top of your inbox so you don't miss them.
Other accounts (Gmail, Outlook..) can be added so you can see all your messages in one place.
On the other hand, you may not appreciate the presence of advertisements. Some appear as new messages at the top of your inbox, often promoting Yahoo products such as Identity Protection.
They might seem more intrusive than on some other services, but the massive 1TB free storage certainly softens the blow if you regularly send and receive attachments. For everyone else, this space is excessive: most users are just fine with Gmail's 15 GB.
4
Zoho Mail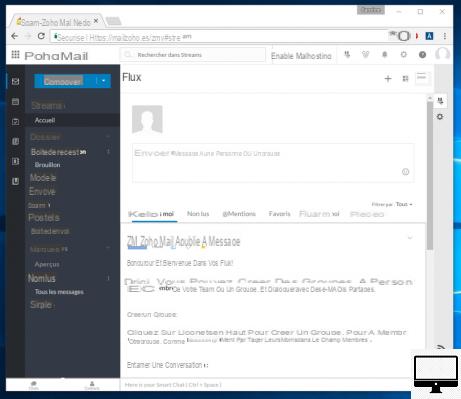 Zoho mail will satisfy both professionals and individuals.
First advantage of this mailbox: the collaboration tools. Zoho has implemented special features dedicated to teamwork which will be very appreciated in companies.
You can, for example, create discussion groups thanks to the integrated instant messaging (very similar to Slack), leave comments and "like" e-mails, tag people in messages...
Zoho also provides access to a Cloud where you can use software very similar to the Office suite and Google Doc. Everything is there, from word processing to spreadsheet, through calendars, notes, a presentation tool like Power Point etc.
The interface of this mailbox is simple and clear. It helps you easily organize your e-mails into folders, tree structure, follow exchanges and create standard messages.
Individuals will appreciate Zoho's privacy policy. Unlike many other services, your messages won't be scanned by the company, and there are no ads.
The free version of Zoho provides 5 GB of storage for your emails and 5 GB for your documents. Beyond that, you can subscribe to a monthly subscription.
Mini tutorial: setting up this mailbox in Spanish
On the home page, click on the wheel (at the top right of the screen) then click on General Settings (at the end of the page). There, go to the tab General then click Edit Profile. Choose French in the bar Language and save the change.
5
iCloud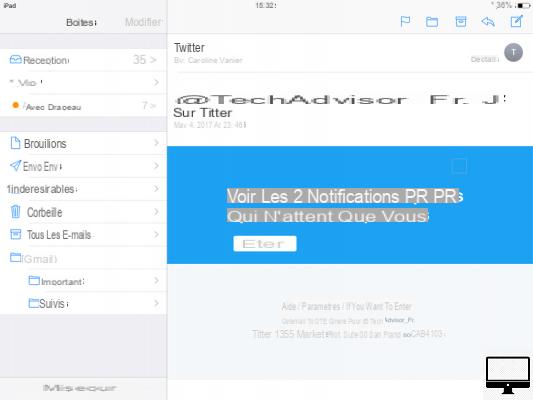 When you buy an Apple device, you have an iCloud account which includes free messaging. The web version of it is a bit disappointing compared to its mobile version.
On an iPhone and iPad, the Mail app can hold multiple accounts like Gmail, Outlook, and Yahoo!, but the web version only gives you access to iCloud email.
Here too you can create rules to make the organization of your messages automatic. You can also give VIP status to some of your contacts whose messages will be placed in your VIP mailbox, ensuring that you do not miss any correspondence.
The interface is simple and efficient. Some will however regret that it is not possible to customize the presentation or that there are no advanced features.
Note that iCloud only offers 5 GB of free storage.
6
Tutanota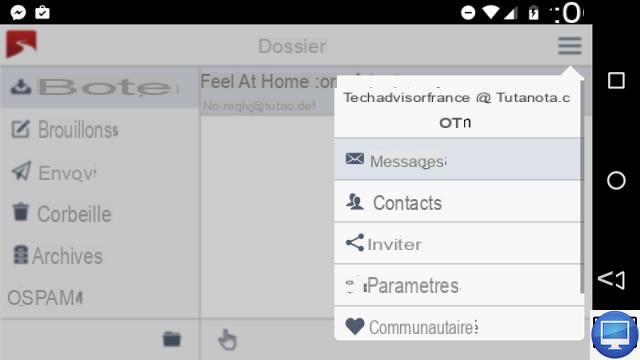 It is increasingly difficult to ensure privacy online. To remedy this, there are a number of secure email services, some of which offer free accounts. ProtonMail is arguably the best known, but the free software Tutanota is a great alternative.
This German company offers 1GB of storage for free (double that of ProtonMail), with all emails protected by end-to-end encryption and searchable in apps for Windows, macOS, Linux, iOS and Android.
To avoid Google's glares, Android users can download the app from F-Droid rather than the Play store, and push notifications are not sent by Google's service, but still arrive instantly.
Tutanota users can directly exchange fully encrypted messages, but through the use of access passwords, non-Tutanota users can still share sending and receiving emails without it. affect your safety or comfort.
The free tier is basic but perfectly usable, limiting users to a single account and limited searches, but there's a Premium option that offers aliases, mailbox rules, unlimited searches, and custom domains.
7
Proton Mail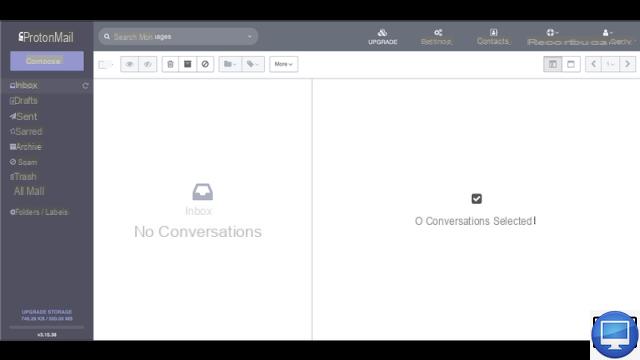 Proton Mail is also a service focused on security. Its servers are based in Switzerland, giving it solid protection against nosy governments, and its full encryption should keep hackers at bay.
There's no doubt it's a solid and secure solution, however its free version has some limitations, with 500MB of storage space, only 150 messages allowed each day, and a maximum of three folders in which to place.
It's still a good option, especially if your needs are mainly based on sending simple emails.
To benefit from 5 GB of storage, 1 messages per day, a personalized domain name, an automatic answering machine and other functionalities, it will take 000 €/month.
ProtonMail is a highly secure email service, however some users might find it too limited.
This is still a good option, especially if your needs are mainly based on sending emails.
8
GMX Mail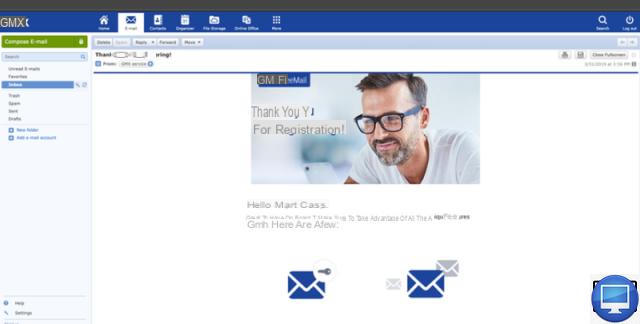 GMX Mail has an interesting interface that can be customized with different themes.
Thanks to this service, you will be able to recover all your email from other accounts, such as Gmail, but also import contacts from Facebook, Outlook, and CSV files (spreadsheets).
It offers free storage capacity of 65 GB and the ability to send large attachments of 50 MB, twice as much as with Gmail.
Emails can be dragged from the inbox to other folders for better organization, and spam filters can be created to automatically sort your incoming email.
It includes an antivirus to protect your data and offers encryption of your messages.
GMX Mail is a fun service with good features and worth trying.