Instant cameras are experiencing a resurgence in popularity in the all-digital age. Polaroid or Instax, we help you make the right choice.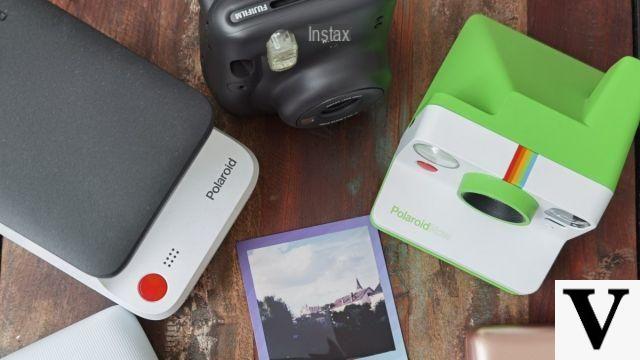 In an age when social media is the main place for photo sharing, you might think that physical prints are a thing of the past. In practice, this is not entirely true. If the classic 10 × 15 print is a bit has-been, instant cameras have not said their last words.
Born in the 40's and popularized by the iconic "Pola", they have been making a big comeback in recent years. A few seconds after you start taking a photo, you have it on paper. Still, choosing a good instant device is not easy. Several technologies and formats exist and even between them the results are not all equal.
This is why with the help of Melinda, our local expert in instant cameras (she has film full of the fridge…), I chose for you the best models of the moment.
Want to take beautiful photos on your smartphone? We also have a comparison of the best photo smartphones.
Fujifilm Instax Mini 90: the reference instant camera
If your budget is a little more important, the Instax Mini 90 may interest you. Already, its retro look is frankly more attractive than that of the base model (we are superficial and we assume it). But the differences aren't limited to the look.
The Mini 90 indeed leaves much more hand to the photographer. We can thus deactivate the flash, adjust the exposure or even take a double exposure photo. We also appreciate the presence of a screw thread for use on a stand.
Among the other positive points, we will add the rechargeable battery, although the fact that it requires a proprietary charger is unfortunate. We would have preferred a USB socket.
Nothing to say about the excellent print quality of Instax. The image is balanced and detailed and the control possibilities of this model facilitate quality shooting. It will take a little experimentation to master it, but the rewards are worth the effort.
The Fujifilm Instax Mini 90 at a glance
Beyond its look, which we really like, the Instax Mini 90 appeals to those who want more creative possibilities. A completely justifiable additional cost for us.
Retro design
The quality of the pictures
More control over shots
Find the Instax Mini 90 for 145 € at Amazon
Polaroid Now: the most retro
The new Polaroid Now collection symbolizes the brand's renewal, between retro nods to the 70s and a certain modernity. The design thus takes up the lines of the brand's iconic products, combined with more contemporary touches. It is available in blue, green, orange, yellow, red and fully white or black.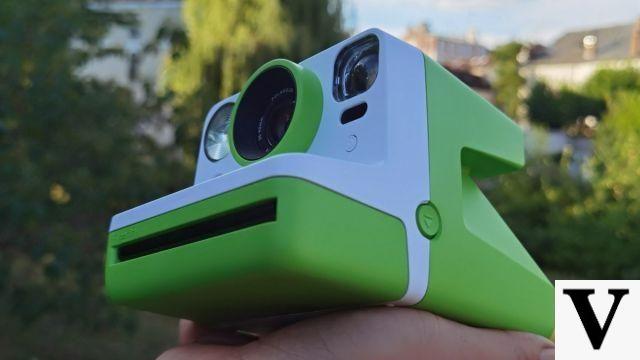 The Polaroid Now // Credits: Yazid Amer for Idroid
The grip is delicate with dimensions of 11,2 x 9,4 x 15 cm and a weight of 450 grams. It is therefore imposing and yet our fingers naturally rest on the controls. However, it remains bulky, impossible to use with one hand. It takes up space in a bag, otherwise use the strap supplied to carry it around the neck.
On the front we have the shutter button which takes the form of a big red button on the left, and on the right a small self-timer button. On the back, a yellow button to turn on the device, a small LCD display below indicates the number of consumable remaining. Right next to the yellow button, another activates or not the built-in flash. Finally comes the viewfinder, which won't be eyeglass wearers' best friend.
Framing is not done easily enough on the other hand no possibility of choosing manually between the two available focal lengths (35 and 40 mm). The built-in autofocus decides it for you, which can be frustrating at times. Small tip, by pressing twice on the self-timer, you activate a double exposure. Add to that a flash of very good level and which avoids excessive overexposure.
Overall, we get pictures with beautiful colors, a little too soft perhaps. Enough, precise in the details, the pictures however lack contrast.
Polaroid Now en bref
A basic product that goes straight to the point. It is quite pretty, but its bulk does not make it very practical. The quality of the photos is of good level despite a certain lack of contrast. However, its vintage look and ergonomics make it irresistible.
Design
Photo quality
USB rechargeable battery
Find the Polaroid Now at 119 euros
Fujifilm Instax Mini 11: the low price
We're ahead of the latest version of the cheapest instant camera in the Instax line. For a price starting at 69 euros, we have a product in vertical format, which despite its large dimensions (14,4 x 13,4 x 7,8 cm for 451 g) is very practical to use. Its toy look makes it easier for novices and children alike.
It is available in pink, black, white, gray, mauve and light blue versions. And as usual at Instax, we have a mirror near the lens for selfies. It doesn't look like much, but saves us from wasting paper in addition to successful self-portraits.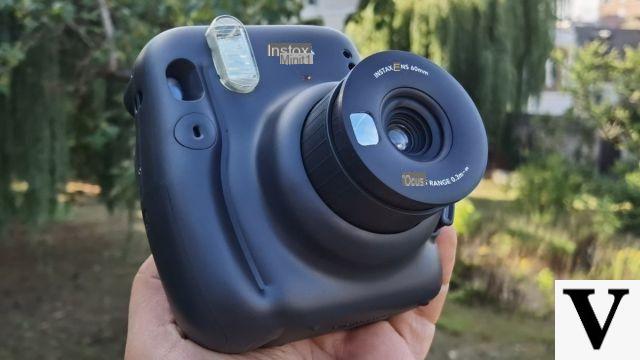 Instax Mini 11 // Credits: Yazid Amer for Idroid
In terms of ergonomics, we have on the front, the shutter release button at the top left and bottom right of the lens, a button to open or close the lens. Practical and in addition it protects it from shocks and dust. On the back, we have a simple consumable counter, in addition to the viewfinder. The 60mm equivalent lens is sufficient for most family uses.
The photos are a little less detailed than for digital cameras, which can be seen in print. However, in terms of precision and color, Instax remains the leader. Usually sold for less than 80 euros.
Fujifilm Instax Mini 11 at a glance
A fun product, not very expensive and that we can put in all hands.
Design
The retro sensations it provides
The paper size
Find the Instax Mini 11 at 79 euros
Polaroid Go : le petit format
Polaroid could not leave the exclusivity of small formats to the competition. The brand has therefore inaugurated a new type of shot, more compact, but still square. And we must admit that he is really very small! Compact enough, moreover, to easily fit into a pocket.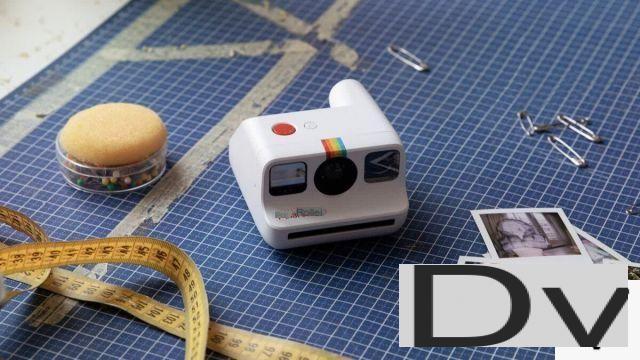 However, we should avoid throwing it in the first bag, since the plastic is not very resistant. Side functions, it's very basic, you can take a photo, activate a self-timer or do a double exposure. The viewfinder does a decent job, but is shifted slightly to the right.
The actual photo taking is quick, but the photos take quite a long time to develop, around 15 minutes. The shots are good, but the image is assumed to be purple. We also notice that the exposure is a bit risky, you risk having a few hiccups before you master it. At 1,25 euros per shot, you will have to be careful.
The Polaroid Go at a glance
The same in smaller! Polaroid does not try to reinvent the cutting edge and delivers a camera which despite some finishing flaws does not lack charm.
Really tiny
Vintage rendering
USB rechargeable battery
Find the Polaroid Go for 145 € at Amazon
Instant printers
Want instant photos without the hassle of a dedicated product? Here are two smartphone printers that use Polaroid or Instax printing technology. Your phone will then become an instant camera.
Instax Mini Link and Instax Link Wide: the classics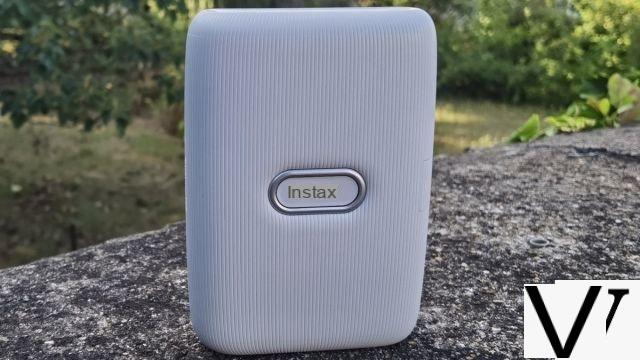 Instax Mini Link // Credits: Yazid Amer for Idroid
A compact size (15,2 x 10,4 x 5,2 cm for 209 grams) that fits easily in a backpack or a small handbag. This Instax printer is battery operated (USB charging) and uses Instax Mini paper. Connecting to your smartphone via Bluetooth is very easy to set up. You just have to go through the dedicated app to print your photos and you can apply creative filters to them beforehand. It costs around 110 euros.
If you fancy a little larger prints, the Instax Link Wide offers exactly the same functions, but with 108 x 86 mm paper in 3/2 format. On the other hand, the bill will be a little higher, the printer being sold for 150 euros.
Instax Mini Link at a glance
A product that is simple to use, rather pretty and which allows you to instantly and above all physically share your pictures taken with your smartphone.
Design
congestion
Ease of use
Find the Instax Mini Link for 110 € at Amazon Find the Instax Link Wide for 150 € at Amazon
Polaroid Lab: to play it old-school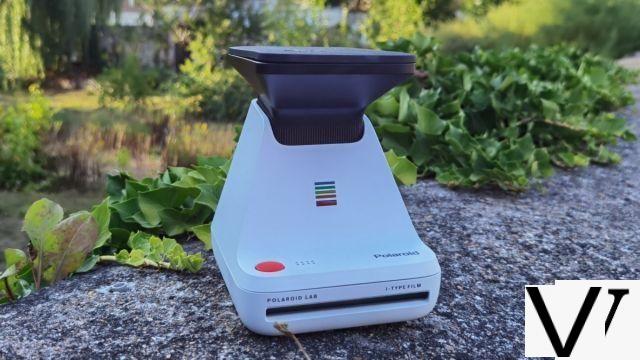 The Polaroid Lab. // Credits: Yazid Amer for Idroid
Here, no Bluetooth connectivity, no Wi-Fi, nothing! We are faced with a sort of analog photo lab for smartphones. However, you have to install an application to choose the photos to process, or even add creative filters, before printing them. To do this, simply place your mobile screen on the dedicated area at the top of the Lab. Along the column below, a mirror game will take care of exposing the paper to the photo.
It is then printed. The rendering is very honorable and allows you to make your most beautiful photos on mobile physical. However, we have found that black and white suits this concept better than color. Indeed, going from the vivid colorimetry of a smartphone photo to the slightly pastel one of Polaroid photos is sometimes a shock.
The Polaroid Lab in brief
A playful product, which brings a touch of vintage to the printing of photos from our smartphones. Solo activity or to share with friends to brighten up an evening, you will be surprised by the result.
Original and fun concept
Retro sensations provided
Ease of use
Find the Polaroid Lab at around 110 euros
Choosing the right instant camera
Why buy an instant camera?
When we take pictures and give them almost immediately to our friends, loved ones or our family. There is a recognition, a pleasure, out of proportion to that obtained by a cliché simply sent by email. Having a tangible object in your hands, being able to slip it into your wallet, your smartphone case, your handbag or hang it anywhere ... this has much more emotional impact than the dematerialized one. Finally, with its mere presence, this type of camera is a source of animation on its own.
How does an instant camera work?
To make it (very) simple, the photo captured by the optical unit is "projected" onto a sheet made up of several layers of different substrates. After their "exposure" to the image, numerous chemical operations will cause the photo to appear on the paper.
What is the quality of the photos?
Let's be honest, the result is a far cry from a classic photo print or printing with a photo printer. The image is not as well defined, there are few details and above all the colors are far from natural. Nevertheless, the format of the paper, associated with the game of instantaneity, quickly makes us forget this state of affairs. On the other hand, we should note that Instax paper shows the best results, followed by Polaroid whose colors are more pastel. There is an alternative technology that works on the principle of thermal printing, Zink. However, the quality of the images obtained is not on the level of Polaroid or Instax. We have therefore omitted these products for this guide.
How much will it cost me?
Expensive, even very expensive! We are at a unit price of at least 1 euro, which can go up to two euros or more on certain models and paper sizes.
What are the different types of photo paper sizes?
The two tenors of the instant camera are Polaroid and Instax. Polaroid offers its "Impossible Project" films, which use the original Polaroid formats and whose chemistry has been improved, for better photo quality. They therefore only work with original models or modern products in the original format. In the meantime, Polaroid has created the i-Type Color dedicated to new generation devices like the OneStep 2. At Instax, only one technology, but three different formats.
Instax Mini or credit card format: the cheapest format, but also the smallest. Available in color and black and white version. Film size: 5,4 x 8,6cm. Image size: 4,6 x 6,2 cm. Compatible devices: all Instax Mini. Price: 9 to 15 euros for 10 sheets.
Instax Wide or large rectangle format: the 16: 9 display allows you to enjoy landscapes or larger group photos. Available in color and black and white version. Film size: 10,8 x 8,6cm. Image size: 9,9 x 6,2 cm. Compatible device: Instax Wide. Price: from 12,90 to 18,99 euros for 10 sheets.
Instax Square or square format: smaller than the original Polaroid format, the square format is very suitable for Instagram lovers. Film size: 8,6 x 7,2mm. Image size: 6,2 x 6,2 cm. Compatible devices: all Instax Square. Price: from 9 to 15 euros for 10 sheets
Polaroid 600 or SX-70, the original: The original Polaroid format, the one that offers the largest image surface and turns out to be the most expensive. It exists in black and white, duochrome and in a collection with colored borders. Film size: 10,7 x 8,8cm. Image size: 7,9 x 7,9 cm. Compatible devices: all original Polaroids. Price: from 16 to 30 euros for 10 sheets
Polaroid i-Type or the new Polaroid: dedicated to the brand's new models. Available in black and white and in color. Film size: 10,7 x 8,8cm. Image size: 7,9 x 7,9 cm. Compatible devices: Impossible I-1 and One-step 2. Price: from 13 to 17 euros for 8 sheets.
Is it complicated to use?
Their great strength is precisely that they are fun to use. You frame, shoot and give the photo to the recipient. He'll just wait a few seconds for it to magically appear on the photo paper. The commands are often limited to a shutter release, a lens and the most advanced offer LCD screens to directly modify the photos (frames, filters, etc.). Nothing very complicated, don't worry. After the photo paper is taken out of the camera, take it by the thicker frame, avoid touching the image area until the chemical reaction is complete.
Digital or analog instant camera?
The two technologies coexist and honestly you won't see much difference in the physical photos. On the other hand, digital technology allows you to add filters and stickers to your photos. If it has an LCD screen, you can check the quality of your shot before printing.