In addition to text messages, Whatsapp also allows users to send messages or voice memos. This feature was not used much initially but gradually more and more users are appreciating and using it continuously, especially when there are many things to say to a friend or family member or colleague and you want to avoid wasting time in writing. When a voice message is recorded and sent via Whatsapp, the recipient is invited to download the audio file and then listen to it (all this happens automatically, as happens for the photos and video files that are received).
We have already seen how to extract or save video or photo files from Whatsapp on the PC (both from iPhone and Android device); below we will see how extract or save Whatsapp Voice Memos from iPhone / Android to your computer (PC / Mac).
Having the voice message on your computer can have several advantages, such as being able to listen to it better, to store it among the most important things or to use it for other purposes.
a) How to Extract / Save Whatsapp iPhone Voice Memos
In the case of iOS devices (iPhone or iPad), in order to extract Whatsapp voice messages on the computer (PC or Mac), the program we recommend you use is definitely Whatsapp Recovery. Here are the simple steps to follow to do this:
Step 1. Download and install Whatsapp Recovery on your PC / Mac
Below are the buttons from which you can download and install the demonstration version of the program, for Windows or Mac:


Step 2. Select recovery mode for Whatsapp voice memos
Connect your iPhone to the computer via USB cable and make sure it is recognized by the program. It is important to have iTunes installed on your computer. Here is the main screen of Whatsapp Recovery:
From the left of the program select the "Recovery from Disp. iOS "and then click on SCAN to start scanning
Step 3. Preview recovered whatsapp data
After scanning, all Whatsapp chats and attachments found in the memory will appear in the program. There will also be chats that you thought you deleted but the program recovered. In any case, to save the voice memos you are interested in, access the "Whatsapp Attachments" folder and then search for the voice messages in question.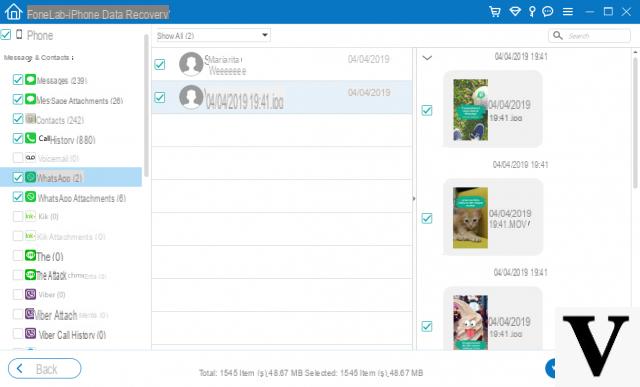 Select the audio file and click on the bottom right RECOVER to extract them and save them on your PC / Mac.
b) How to Extract / Save Android Whatsapp Voice Memos
If you have an Android phone (Samsung, Huawei, HTC, LG, Honor, Lenovo, Wiko, etc ...) and you want to extract and save Whatsapp voice memos on your computer, the program you could use is Whatsapp Transfer. Its operation is really trivial and you can find a detailed guide here: how to backup Whatsapp on PC / Mac.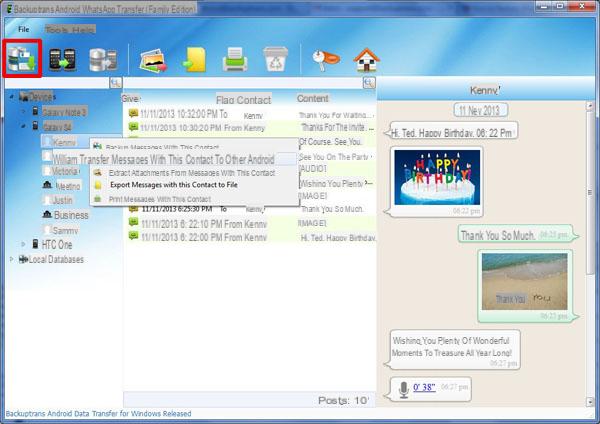 The "backup" created with this program will also include all attachments, and therefore also the voice memos you are trying to extract and save to your computer.
As an alternative to Whatsapp Transfer, you could also use dr.fone for Android, a powerful software that analyzes the memory of your Android device and then extracts all types of files (including audio files and Whatsapp voice memos).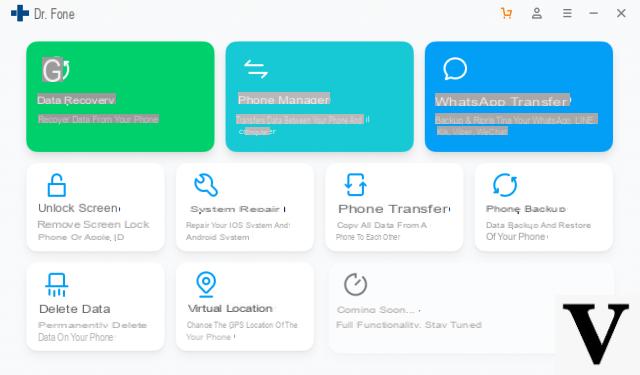 As seen from the screenshot above Dr.Fone per Android, you can perform various operations: data recovery, data extrapolation, etc ... so you can possibly also extract and save Whatsapp voice memos if your mobile phone is damaged or with a broken screen.
How to Extract or Save Whatsapp Voice Memos -