If you are a frequent user of Whatsapp surely you will have found yourself in the situation of wanting delete one or more messages, either for privacy reasons or simply for an error made in sending. Below we see all the possible situations in which the need to delete Whatsapp messages may arise.
Delete Whatsapp Messages from the server
Cancel Whatsapp messages sent by mistake
Permanently delete Whatsapp messages on iPhone and Android
Delete Whatsapp Messages Manually
Delete Whasapp messages remotely
Delete Whatsapp Messages from the server
These are among the most frequently asked questions that come to us: Whatsapp stores chats on its own server? It's possible delete Whatsapp messages from the server?
As you may already know, when you send a message to a Whatsapp contact, if the two appear gray ticks it means that the message has already arrived on the Whatsapp server and as soon as the recipient connects to Whatsapp he will receive that message. Once received and read, the two gray ticks turn blue.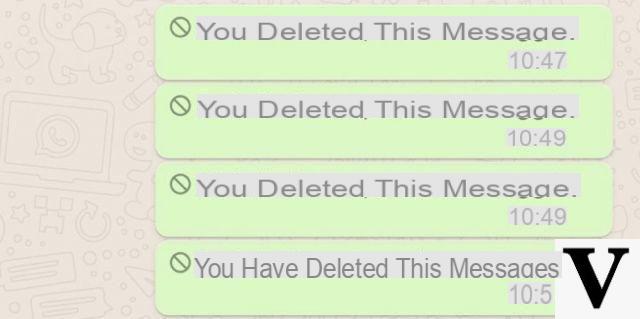 The will of delete whatsapp messages from the server it can arise as a result of two situations: A) You have sent an incorrect message and you want to delete it before it is delivered; B) You want to remove that message from the Whatsapp server for privacy reasons
In case A we invite you to read how to delete whatsapp messages sent by mistake. As for the case B) instead it must be said that WhatsApp is required to "keep" our messages on their server for a maximum time of 30 days. After these 30 days the message is deleted from the server. Unfortunately it is not possible to delete messages before these terms, nor is it possible to contact the Whatsapp developers to ask for it.
Delete Whatsapp messages sent by mistake
If you have sent a message by mistake, perhaps to a wrong contact or to the right contact but with wrong words, there has been the possibility for a few months to "withdraw" that message (obviously before the recipient reads it, that is, the two blue ticks). The function in question is called "Delete for all". Its operation is very simple: just select the message sent by mistake you want to delete and in the window that appears select the option DELETE FOR ALL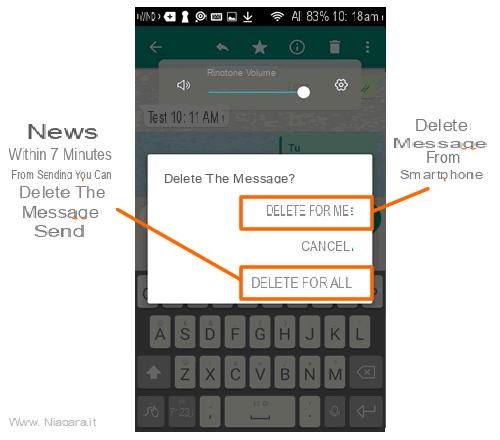 If you select "Delete for me", The message will only be deleted from your smartphone.
If the fateful 7 minutes have already elapsed, there is actually a warckaround that allows you to extend this limit period. Here's what to do:
Turn off Wi-Fi and mobile data on your smartphone
Go to Settings -> Date and time and reset the date to an hour before the wrong message was sent
Open WhatsApp, find and select the message, tap the trash icon and choose 'Delete for all'
Reactivate Wi-Fi and mobile data and reset the time and date so that the message can be deleted on the WhatsApp servers (and continue to use the phone)
Permanently Delete Whatsapp Messages
You will probably also be aware that Whatsapp messages, in addition to being stored (for 30 days) on the Whatsapp server, are also stored in the memory of your smartphone (indefinitely). Even if you delete messages manually, they actually remain in memory until overwritten by other information.
A simple data recovery program such as Whatsapp Recovery to be able to bring to light all the messages deleted in the past! As you will understand, this is a real risk to your privacy.
The solution to this problem is given by Whatsapp Eraser for iOS or Whatsapp Eraser for Android. As the name suggests, these are programs that are able to access the phone's memory and "destroy" all information relating to chats or Whatsapp attachments that have remained in the memory despite being deleted by the user.
In the case of iPhone, after downloading the iOS Whatsapp Eraser program, you will need to connect it to your computer and start scanning for all messages in memory. Once the scan is finished you can select these messages and delete them permanently: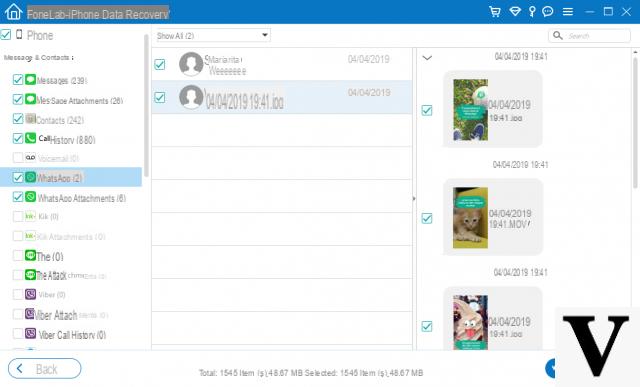 Delete Whatsapp Messages Manually
Both on iPhone and Android (Samsung, Huawei, LG, HTC, etc ...) here's what to do to delete a message / chat in particular:
Open the chat that contains the message you want to delete
Select the message and click on "Delete chat".
To delete an entire conversation:
Open the Chats list and long press on the chat you want to delete.
Click the Trash icon and then on Delete (on the iPhone you have to scroll to the left and then click on "More" -> "Delete chat").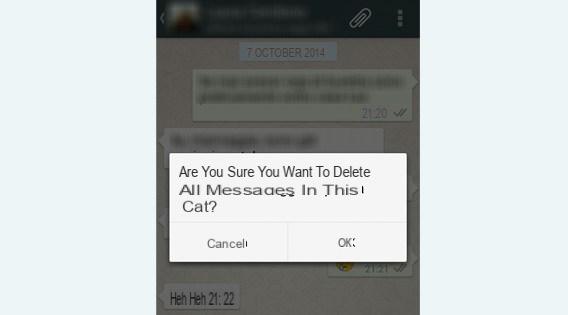 To delete a conversation from a group:
Leave the group.
In the list of chats follow the same instructions as above
To delete all whatsapp messages:
Go to the WhatsApp settings and select "Chat".
Click on "Delete all chats"(Or on" Delete all chats ")
Remotely Delete Whatsapp Messages
Have you lost your smartphone, or have it been stolen, and you don't know how to remotely block or delete all Whatsapp messages, in order to preserve your privacy? In these unpleasant situations there are several things that can be done.
Let's say immediately that it is not possible to specifically delete Whatsapp messages remotely, but it is possible, however, to do two alternative things:
In the case of device Samsung, if you have activated "Find My Device" you can block access to it remotely as described in the guide: track or block Samsung
In the case of iPhone, through the iCloud site and the "Find My iPhone" service you can lock the device
Block the stolen SIM card, by calling your carrier's customer service and requesting a replacement keeping the same phone number. Once the SIM is blocked, Whatsapp will also be unusable on that device because it is linked to that phone number.
Request the deactivation of the Whatsapp account, as indicated on this page
Let me explain, is it possible to delete messages that the recipient has already read? Apparently the DELETE FOR ALL option doesn't allow me to use it. Can you kindly advise me how to do it? A thousand thanks
if I deleted it from the address book? would he still see messages on whatsapp?

Hi, I tried to follow the procedure to cancel a message after a certain number of days, but watsapp does not allow me to log in because it tells me that the date is not right. How can I do? Thanks
hi, is it possible to delete chat sms already read by the recipient?
Good day .... is it possible to delete a video on a chat in a Whatsapp group k another user posted? k before other people see it?
No, you cannot delete it even if you are an administrator ...
I deleted a chat with 68.000 and passed messages now I have a fixed writing that says delete messages and whatsapp and blocked uninstalled and reinstalled several times but continues to be blocked ... .. what to do?,
How to Delete Whatsapp Messages -