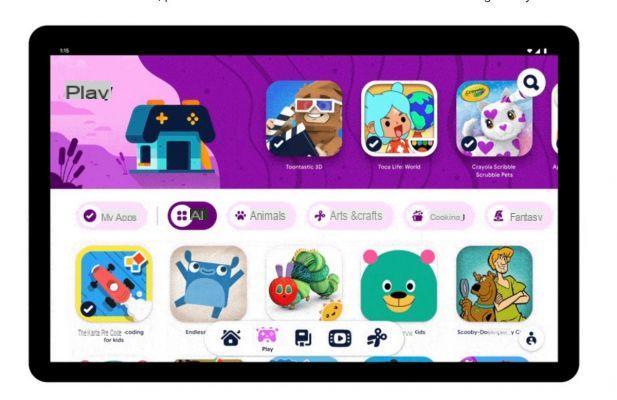 © Google
Various streaming services and devices have a feature to create a safe browsing space for the little ones. Google has just announced a new initiative in this direction with the Google Kids Space, a "child mode" to be installed on android tablets .
At this time, the feature will only be installed on the Lenovo Smart Tab M10 HD Gen2. Google plans to install it on other Android devices afterwards.
Read also:
Parental control: Google Family Link now allows you to limit the time of use per application
For children under 9 years
For Google, Kids Space is "a new mode for children offering on certain Android tablets applications, books and videos where your children can explore, learn and have fun". The system must be compatible with apps like YouTube Kids or Google Play Books.
The colorful and cute interface has easy navigation. It is intended for children under 9 years old. Young users can sort the content there by themes (animals, cooking, vehicles, etc.) and can switch between different types of activities ("Watch", "Read", "Play" and "Create"). They can also create a customizable avatar.
Of course, various parental control settings are present (screen time, remote locking, etc.), and we find features of the Google Family Link application. Parents will finally be able to add new applications via the Play Store.
Read also:
Spain Televisions launches Okoo, a digital platform for children
With the Tab M10 HD, Lenovo didn't want a toy
If there are tablets for children, specifically designed for the youngest, Google has here chosen to set up a child mode on a standard Android tablet. For Monica Chin of The Verge editorial staff, this is an important point. The editor asked a spokesperson for Lenovo, who said the brand "didn't want a children's tablet that looks like a toy."
Instead, the company says it looked for the Tab M10 HD Gen2, a model it just announced, a device that can be shared among all family members. Each user will have their own profile on the tablet, with parameters dedicated to each. In this way, parents will be able to use the device "normally" while their children will remain confined to the uses of the Kids Space.
Finally, Google and Lenovo both state that no data will be collected for ad targeting. After Lenovo's new tablet, Google intends to offer the Kids Space on more Android devices, without however advancing a date.
Sources : TechCrunch , The Verge , Google