Our video
Uploading your video "FAQ: How to create personalized alerts on Google Alert"

News is by nature in perpetual renewal, it is not easy to be kept informed of the latest developments in such and such a case. The Google company has therefore looked into the problem ... In the news home page, take a look under the left side banner. You will see the "News Alerts" link; click on it. A new window appears: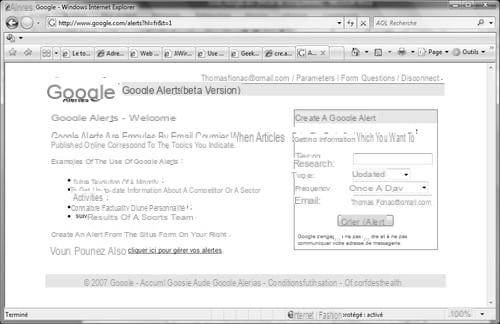 You are on the home page of another service, Google Alerts. This allows you to create personalized alerts. As soon as new results - corresponding to the keywords you have entered - are available, you will automatically receive them by email. Currently, the service offers four types of alert:
News - This alert is triggered when new, top ten articles in Google News match your search criteria.
Web - you receive an email when new pages that meet your request appear in the top twenty results of a web search.
News and Web - this alert is a combination of the previous two.
Groups - this alert is triggered when new messages in the top XNUMX Google Groups search results match your criteria.
To create an alert, you must enter one or more keywords, specify the type of alert as well as the frequency of sending and indicate an email address.
To manage your alerts, click on the "click here to manage your alerts" link on the Google Alerts home page. You can also type https://www.google.com/alerts?hl=fr&gl= in the address bar of your web browser.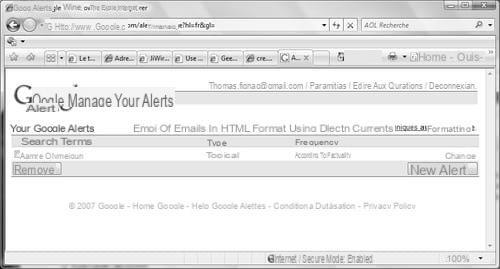 By default, alerts are sent to HTML format. Click on the "Use text emails" link to receive them in plain text format. For modify an alert, click on the "modify" link. You can change everything except the email address. If you nevertheless wish to modify the latter, you must first delete the existing alert and recreate one on the Google Alerts home page, specifying a new email address.
To clear an alert, check the box associated with it and click the "Delete" button. It is also possible to cancel alerts individually by clicking on the cancellation link at the end of each email received.
The original text of this practical sheet is taken from "Tout sur le web 2.0" (Capucine Cousin, Collection Idroid.com, Dunod, 2008)