Having a good gaming chair when you spend hours in front of your PC is important for your health. Here are our recommendations.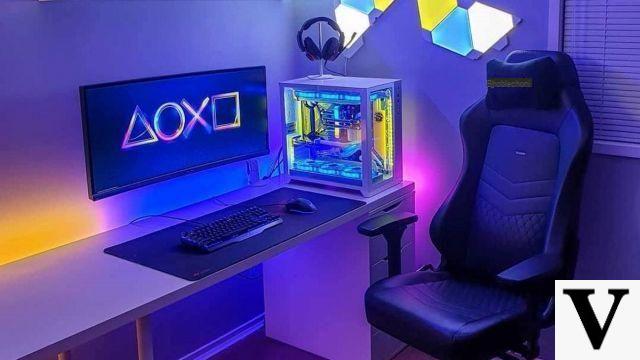 You have just invested in a personalized setup… your technical and aesthetic pride. You are now ready to play, taking advantage of the most beautiful and delicious 3D display subtleties. You have of course thought of a pair of gaming keyboard and gaming mouse that is as efficient as it is ergonomic. But what good is it if you can't work or play in front of your desk without having back pain, lower back pain or neck pain, all due to a bad sitting posture? We therefore advise you to choose a good gaming chair.
It is possible to play for hours on a low-cost stool, chair or office chair, but to protect your back a good, well-adjusted seat is essential. However, choosing a good seat is not limited to a colorful or aggressive design, on the contrary. If their look can be a criterion, a good seat is chosen above all for its comfort. And at this little game, a good old daddy's office chair will often be better than a pseudo bucket seat. Unless you are really in love with the pilot look, we recommend that you choose a classic armchair.
While they are primarily intended for gamers, the products presented will be of interest to anyone who spends a lot of time at their desk. Playing LoL or filling out Excel files is not that different. Gamer and teleworker: same fight!
Autonomous ErgoChair 2: the right price-performance ratio
Finding a good ergonomic seat between a "basic" Ikea model and pro references over 1000 euros is surprisingly complicated, but the ErgoChair 2 succeeds with flying colors.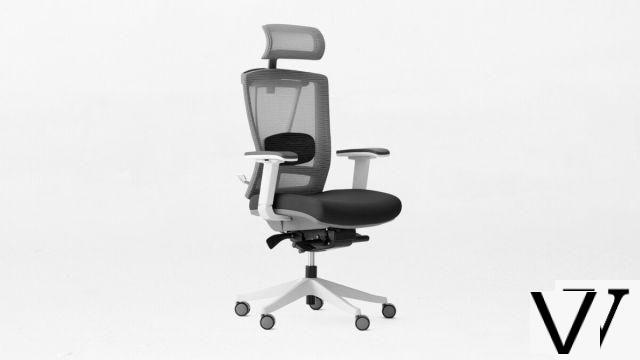 Available in half a dozen colors, this chair is relatively successful from a design point of view, but above all it puts the package on ergonomics. We can thus adjust it on all the important points. Finding the right settings will take a little time, but it will be worth the effort.
The build quality is good, especially with a very comfortable and breathable mesh backrest. On the other hand, the seat is more classic and therefore risks wearing out more quickly. Among the other small faults, we will note the armrests which would have deserved to be a little more padded.
Despite this, the ErgoChair 2 stands out for us as one of the best value for money of the moment.
Autonomous ErgoChair 2 at a glance
A well-finished, adjustable and solid armchair for less than 400 euros. One of the best choices for both the gamer and the telecommuter.
Very adjustable
Good finish
A reasonable price
Find Autonomous ErgoChair 2 for € 379
Noblechairs Icon: the gaming chair that we can recommend
We are facing one of the most beautiful products on the market. Its design is inspired by bucket seats, with very good work on the lines. Thus, it keeps the qualities of envelopment and support, while displaying a fluid and very aesthetic style.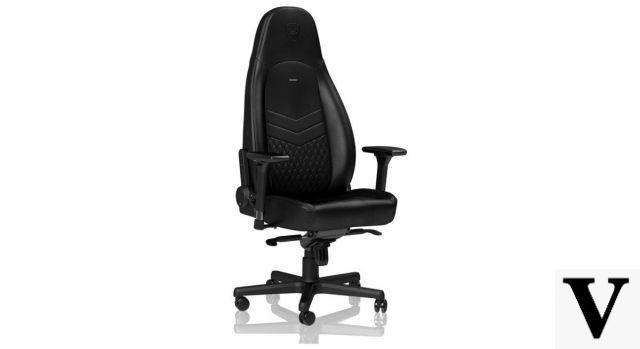 NobleChairs is a benchmark in the industry, not only for the lines of its seats, but also for the variety of its colors. Black is the base color, embellished with red, blue, yellow or platinum braces on the bottom of the backrest. Discreet and elegant, but if that sounds too classic to you. You can opt for white with black braces. The upholstery exists in genuine leather, nappa leather and finally in vegan "leather" (bad tongues will call it skai).
Its sporty and premium look is not its only quality. The back is perfectly supported without being oppressed for all that thanks to its excellent cold molding foam. It is enveloping without becoming oppressive. Two additional small cushions are delivered with it, if you want even more softness in the lumbar and cervical areas.
The two armrests are 4D (horizontal, vertical depth, orientation) and allow you to really adapt them to your desk. Note that they offer more amplitude than what the majority of the competition offers, Rekt included. We are really comfortably seated and if you want to slouch a little more, the backrest tilts up to 135 °. It will cost around 399 euros for imitation leather, 580 for real leather.
La Noblechairs Icon en bref
The NobleChairs Icon is a benchmark in terms of aesthetics, ergonomics, or comfort. The brand has also made great efforts on its prices, more accessible than in the past. If you are looking for the same qualities with a fuller design, then upgrade to the Noblechairs Hero; count a little less than 500 euros.
Comfortable
customizable
Premium quality
Find the Noblechairs Icon at 289 euros at Amazon
Razer Enki: sober and firm gaming
A true jack-of-all-trades in gaming, Razer tries out gaming chairs with its Enki. Contrary to the habits of the brand, the chair is fortunately not equipped with RGB. It is even surprisingly sober, only its stitching and a green logo betray its link to Razer.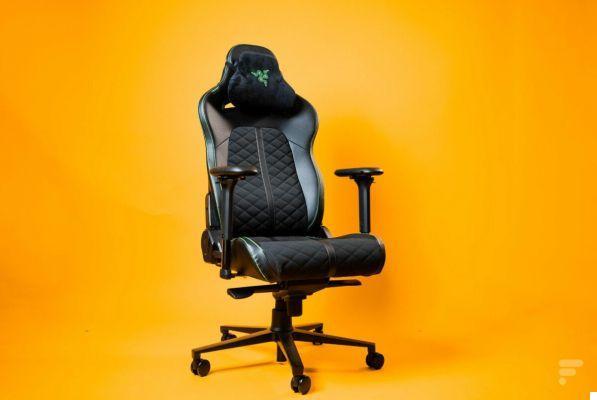 Razer Enki gaming chair //
The finish is neat, with clear assembly instructions and a seat that exudes solidity. Unlike many armchairs, the seat is remarkably firm. It probably won't appeal to everyone, but we were generally won over. Be careful, the imitation leather cover does not breathe much less than mesh. A point to take into account if you can't stand the sweat.
The chair is adjustable in all directions and its format will suit all sizes between 170 and 190 cm. Beyond this range, we will have to look elsewhere. While we like the 4D armrests a lot, we are less convinced by the headrest. The latter consists of a removable cushion a little cheap and especially not adjustable in height ... The latter is billed 50 € as an option.
Still a relatively high price as always at Razer, but the Enki is one of the few models of "gaming" seats that did not immediately reject us. We detail it in the test of the Razer Enki.
The Razer Enki in brief
Manufacturing quality
The very good accessories
Comfortable (but a little firm)
Find the Razer Enki for 450 € at Razer
Herman Miller X Logitech G Embody: the crème de la crème of the gaming chair
If the name Herman Miller rings a bell, it's okay. In addition to having produced legendary designs, the American brand produces some of the best office chairs on the market. His Aeron chair is thus omnipresent in all the open spaces of the planet.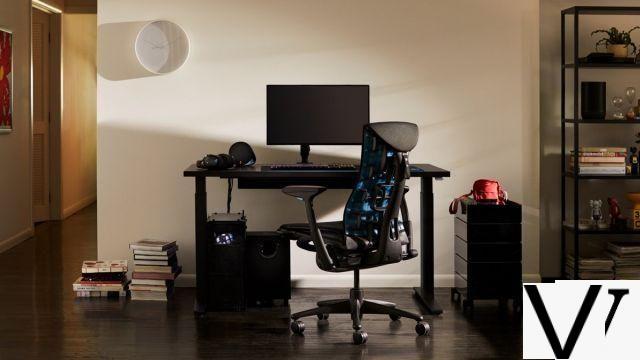 If its arrival on the gaming market was expected, it is the association with Logitech that surprises. For his first "gamer" chair, Herman Miller did not try to reinvent hot water and therefore based himself on one of his bestsellers, the Embody. Logitech's contributions are limited to a blue color for certain components.
At over 1000 euros, the finish is obviously impeccable, with high quality materials, perfect assembly and a 12 year warranty on all components. Adjustable in all directions, the chair is extremely comfortable as long as you take the few minutes necessary to adjust it. Unlike many chairs of this type, however, it does without a headrest. Last detail, the mesh fabric is very pleasant and breathes. We do not overheat even after hours of use.
So, admittedly, the fare puts this chair out of the reach of most budgets, but if you spend several hours a day in a chair, you just won't get better.
The Herman Miller X Logitech G Embody at a glance
One of the best office chairs in the world passed to the gaming mill.
Incredibly comfortable
Very solid and guaranteed for 12 years
So expensive ... (but so comfortable)
Find the Herman Miller X Logitech Embody for 1320 €
Rekt RGo Max: playful and ergonomic
Rekt is above all a manufacturer of gaming seats with fairly stereotypical models. The Rekt RGo Max plays in a whole different category. Its design is more sober, more minimalist and with a touch of industrial style. It is less "game" type than the rest of the range while being more ergonomic.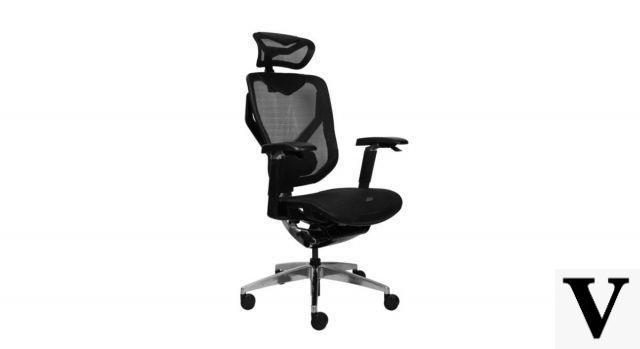 With its backrest separated from the seat, it seems less massive than the competitors shown here. No trace of foam padding here. Rekt has opted for an excellent standard "mesh" design. Thus, the net follows the shape of the body, while being firm for good support. Some parts are covered with vegetable leather for more comfort.
Almost everything is configurable: the seat height of course, but above all the 48 ° rotating headrest. Just like the lumbar support system to stick as close as possible to this very fragile area. Wrong note: the armrests are only adjustable in height and orientation, not in depth or width like the NobleChairs Icon.
The backrest can be tilted up to 30 ° and, on the left side of the seat, a "seat depth" button allows you to refine your personalization. Finally, under the seat, a knob adjusts the backrest tilt tension. The whole exudes quality, both in manufacturing and in materials. On the other hand, it is relatively expensive: 629 euros.
The Rekt RGo Max at a glance
A seat with a look slightly inspired by the gaming world. Above all, it benefits from an excellent ergonomic design. However, if you like comfort and softness, a seat with padding might be preferable.
Aerial design
High level of customization
Build quality
Find the Rekt Rgo Max at 629 euros on Amazon
Ikea Markus: the most Swedish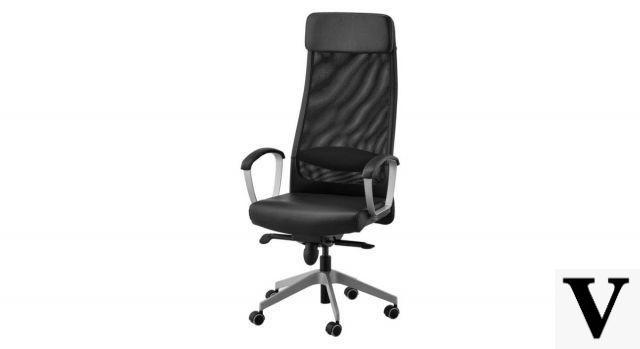 Who hasn't set foot at Ikea? Maybe you are going there this weekend elsewhere? The Ikea Markus is an office chair with a very classic design and clean lines. Its wide backrest ends with a cushion padded with thermoformed foam. The same as on seat, which perhaps explains that if the back is perfectly supported, the neck and lower back do not enjoy the same comfort. Great strength of this seat: it is available in all Ikea and therefore easy to try in person. Count 219 euros.
L'Ikea ​​Markus en bref
The Furniture Champion lives up to its reputation with a relatively comfortable, good-quality seat, while still being reasonably priced. Being able to try it in store is also a big plus.
A more accessible price
Relatively discreet
Maintains the back well, less the cervical
Find the Ikea Markus at 219 euros at Ikea
Rekt SniperChill: for console or smartphone players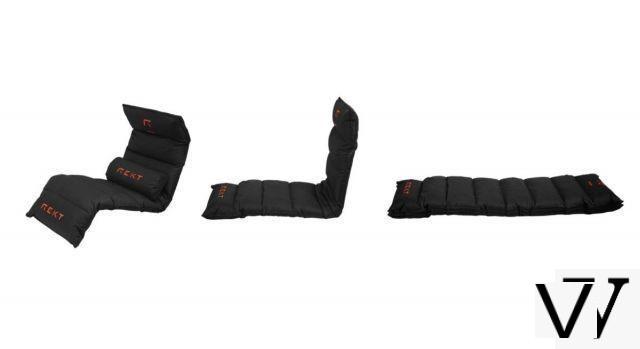 You don't play on PC, but on mobile or console? The sofa is the first solution, another option: the SniperChill, a gaming mattress. It is padded with an agglomerated foam from several recycled foams and offers a very pleasant softness. But its primary quality is its metal structure, which includes 3 joints. Each has 5 notches which will thus stabilize the portion of the associated mattress (legs, seat, neck).
The position between sitting and lying is comfortable and to make the pleasure last, it is possible to raise the legs to improve blood circulation. It will be difficult not to find the position that suits you. It comes with a cushion to be installed at the lumbar level for example or at the level of the head. It is also easy to store, can be used as an extra mattress and allows you to play comfortably on your balcony or in your garden. Please note, if the product is removable, washable and water-repellent, it is not waterproof. It is sold for 169 euros.
Le Rekt SniperChill and Bref
An original gaming product, designed for those who play in front of their game console or on their smartphone. It is practical, allows many comfortable positions and stores easily unlike a gaming chair.
To play elsewhere than in front of a PC
An alternative to the seat
Moves easily
Find the Rekt Sniperchill at 169 at Fnac
Understanding everything about gaming chairs
Who is a gaming chair for?
For those who stay most of the day in front of their PC. Professional players can spend between 8 and 12 hours training. They need a seat that adapts perfectly to their morphology: size of the legs, torso, weight, overweight, while offering comfort over time.
How to choose your gaming chair?
There are six points to consider. Don't think that a seat that only has one or two together will be enough. We're talking about protecting your body from the physical pressures it experiences when you play (or work) for hours and hours.
The seat: this corresponds to the position of your body on the seat. It must both maintain the position of your body and promote good blood circulation. It must be 90 ° or better offer an adjustable inclination.
The record: if manufacturers are inspired by bucket seats, which are found in sports cars, it is not only for the style. A backrest using this design is more enveloping and it better frames the back.
The presence of adjustable armrests: do not smile, armrests are not superfluous. Their presence relieves all the muscles that come into play when typing on the keyboard or using the mouse. It therefore goes from the muscles of the upper body, those of the forearm and also affects the joints. Prefer adjustable armrests, especially vertically. Indeed, they then ensure an effortless alignment of your forearms and your gaming peripherals. The most advanced models also allow you to play on the depth, width and orientation of each armrest. They therefore allow you to really personalize your seat according to your setup and your body type.
The height of the seat: Ergonomists recommend an alignment as flat as possible between chair, desk, armrests and keyboard / mouse combination. A gaming chair with adjustable height is therefore strongly recommended, especially if you opt for a seat with a fixed armrest or without.
Foam Cushioning: Here we are touching the heart of comfort, the one you will feel first when you sit down on a gaming chair. Prefer the one with shape memory, but it is above all its design that will make the difference. Indeed, the goal is to comfortably support the points of contact with your body, without generating "opposing forces". These then run the risk of compressing your muscles and therefore tiring them for no reason. Some models offer seats or backs in "nets". It can be a great alternative to cushioning foam. As long as they are both tight and flexible enough to adapt to your body type.
With or without casters: Gaming chairs without casters do not exist. They allow you to move smoothly, to move in front of your desk effortlessly. Be careful, however, of the casters that can mark the parquet, for example. Opt for anti-trace casters to protect it.
What is the lifespan of a gaming chair?
Comfort, solidity and long-term reliability are generally the greatest advantages of gaming chairs. A soft seat and total support. The foam padding is designed to retain its qualities much longer than with conventional seats. Clearly, yes, it's made to last. Be careful with the finishes, however, real leather is generally more durable than imitation leather for example, and black is less dirty.
Is a gaming chair necessarily ugly?
The kid's seats feature a design that is often inspired by the bucket seats found in sports cars. They take back the qualities of comfort and above all bring a very aggressive style, which befits gamers. Their main drawback is that they are often much bulkier than the classic small office chair. The colors are often a clever mix of black and much more flashy colors.
Not easy to sell to the person who shares your life if they are not attracted to video games ... Especially if the office and the associated chair are in a non-dedicated room such as a living room or a bedroom. The manufacturers have understood this and next to the colorful models, they offer things much more sober and just as worked.