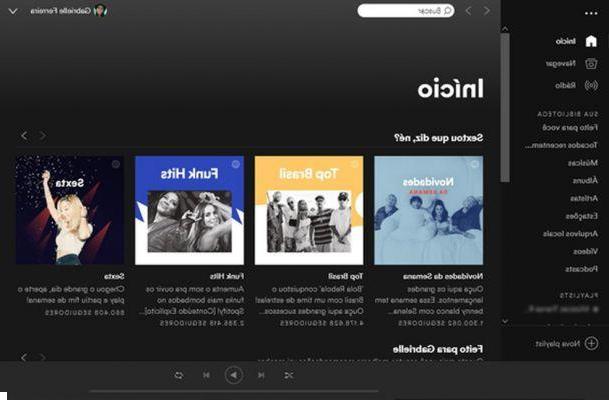 All music lovers tend to collect their music in digital format and over time it is easy to find thousands of music files on your computer. Windows has always supported a large number of programs for play and listen to music and this allows anyone to find the ideal software for their musical needs.
Nowadays, music streaming apps have started to take over the music industry in terms of popularity, but there are still many music player for Windows that offer a perfect listening experience and allow you to to organize your music library to the fullest.
Below we want to list some excellent "Music Player" that is software for playing and listening to music on Windows PC
1. AIMP (Artem Izmaylov Media Player)
Download Aimp from the official site: Download AIMP
2. MusicBee
MusicBee is another popular freeware Windows player with a lot of features. The interface is modern and simple to see. If that doesn't suit you, there are also downloadable skins to match your style preferences. The player supports various audio formats, from MP3 to FLAC. You can also rip audio CDs and catalog music pieces.
This program balances the volume levels of the songs in your library so that none of them sound too loud or too low. The transition between songs is smooth, so there are no silent gaps.
You can easily sync files, playlists and libraries from other apps using the import option. With just a few clicks, you can also transfer your iTunes or Windows Media player library.
Download link: Download MusicBee
3. VLC Media Player
VLC was one of the first music (and video) players on the web. He is a reader universal multimedia which supports a huge amount of media types. You can watch movies, stream online videos, and listen to various audio formats. Due to its versatility, VLC is still one of the best among media players.
You can easily manage your libraries, just like you would with other music players. There is a search tool to allow for easier navigation. You can keep all your songs organized by album, genre or other metadata. If you want to listen to an online radio, you can quickly access it by adding it to your playlist.
VLC has interesting downloadable extensions and is highly customizable. For example, you can get an extension that silences advertisements while listening to online radio.
If you want to keep all your video and audio content in one place and don't want to switch between apps for streaming, watching, and listening, VLC might be your best choice.
Official site: Download VLC Media Player
4. MediaMonkey
Many argue that MediaMonkey is the best Windows Media Player alternative available today. It is similar to WMP in style and operation but with some better features.
This app is one of the best for organize your music collection. Automatically tags audio and video files with important metadata. After identifying the tracks lacking metadata, it will go to the Internet and fill in the missing information.
MediaMonkey can burn audio CDs and DVDs, synchronize your library, convert audio files, manage volume and much more. Plus, the built-in Party Mode will automatically manage and play the appropriate music on special occasions without making any changes to your library, history or metadata.
Official site: Download MediaMonkey
5. Foobar2000
Foobar2000 has had a huge following since it first appeared. This program has a simplistic interface, which some may not find interesting, but it serves a good purpose. The best thing is library management. You can sort your messy library in a snap by tagging all incomplete audio files with missing metadata and deleting duplicate tracks from your playlists and libraries.
It supports a wide range of audio formats and allows you to rip audio discs easily. Also, Foobar2000 can open compressed files like ZIP and 7z without asking you to extract them first.
Official site: Download Foobar2000
6. Clementines
C is a modern open source app for Windows 10 which has many interesting features. Its user interface may not be as flashy as some other players, but this software relies much more on its technical features.
It allows you to play and listen to music and also radio from various streaming services. You can listen to Spotify, SKY.fm, Soundcloud, etc. Also, you can manually search for audio content from these players and websites using Clementine's file manager.
You can also change your app to access Google Drive, OneDrive, Dropbox Amazon Cloud, etc. Thanks to this, you don't even need to have music on your hard drive. As long as you have an active internet connection, you can play files directly from the cloud.
If on top of that you also add great library management and little things like automatic downloading of missing album covers from Amazon and Last.fm, it's easy to see why many prefer Clementine to other music players. With it, you can sort your audio database in no time.
Official site: Download Clementine
music and a harmony of events
listening to music relaxes me very well
[Free] Software to Play and Listen to Music on Windows PC -