As you probably know iTunes is the official app created by Apple for managing, backing up and restoring the data of your iOS device (iPhone or iPad). Even if iTunes is not the best in usability and does not always allow you to transfer files from PC to iPhone or vice versa, it is still an excellent solution for create backups semi-automatic. They are not fully automatic backups like those made for example on iCloud, but with iTunes the backup is made only when you physically connect the iPhone to the computer via USB.
Whenever you connect your iPhone to your computer, iTunes should open automatically and all data and settings should be backed up. Many users are also unaware of this and in fact are amazed when they later discover that they have a file on their computer backup saved from iTunes containing all your data. This is not exactly the best from the point of view of privacy but it is still a "life-saver" if you lose or delete important data from the device, or do a factory reset following some technical problem.
But how do you open and view the contents of the iTunes / iPhone backup? How to do extract files from iTunes backup and / or bring them back to your iPhone? Below we report two excellent software designed for the iPhone data recovery, even from iTunes backup!
How to Extract Files from iTunes / iPhone Backup
The two software solutions that we recommend trying for extract files from iTunes backup are the following:
Fonelab iOS
dr.Phone for iOS
Unfortunately, there are no manual methods other than using third party software to open and extract data from iTunes backup. This is because the iTunes backup file is encoded in such a way that only the iOS device (and some software such as those mentioned above) can read it and open it correctly for viewing the files. If by any chance you have a password protected iTunes backup and you have forgotten this password, we recommend that you read the guide on how to extract files from encrypted backup.
# 1. Extract files from iPhone backup with FoneLab
FoneLab is an "iPhone Data Recovery" program highly appreciated for its ease of use and effectiveness in data recovery. It is a program that can be installed on both Windows and macOS and which also allows you to extract files from iTunes / iPhone backups. Here's how it works.
To get started download and install FoneLab on your computer:


After installing and starting Fonelab you will see this main screen: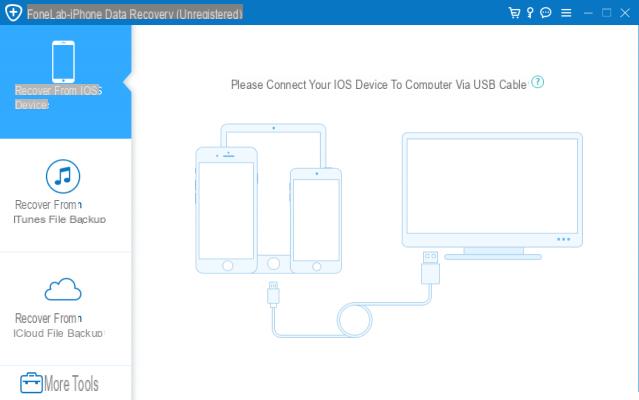 From the left of the program select the "Recover from iTunes backup file"And the window with the list of iPhone backups found on the computer will open.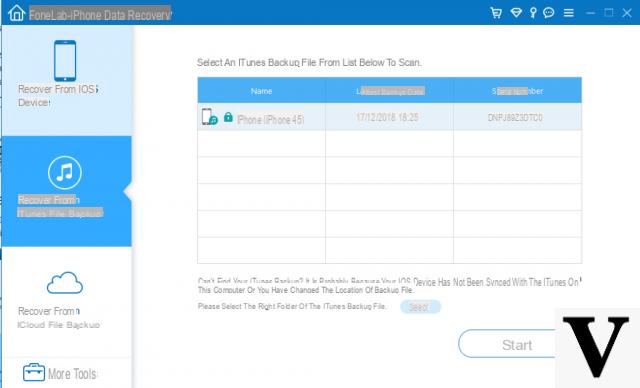 Select the backup you want to extract the files from and click on START. The scan will start and at the end you will be able to access all the data found. If by chance the backup is password protected, a window will open asking you to enter this password.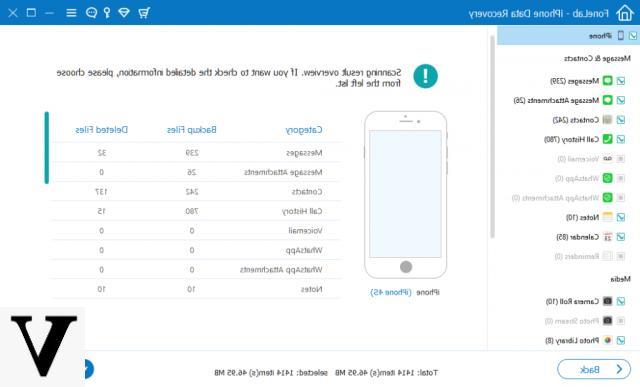 Thanks to the preview you will be able to see all the files found (photos, videos, songs, contacts, etc ..). Those files or data that were deleted from the backup but that the program was also able to recover will appear in red.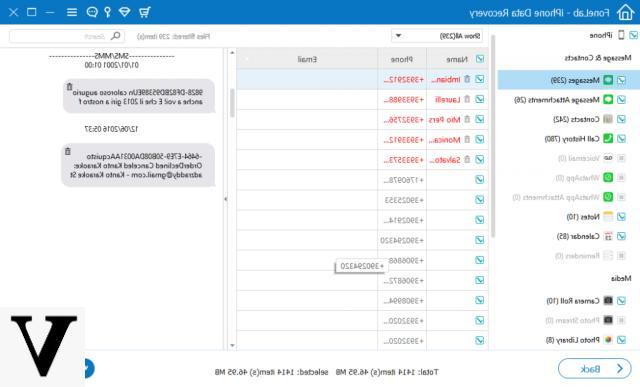 After you have selected the files to be extrapolated from the backup, click on the bottom right RECOVER and you can save them on your computer.
#2. Extract files from iPhone backup with dr.Fone
dr.fone is another great software for those who want to recover data from iTunes / iCloud backup, or from the internal memory of their iPhone. Actually we have already seen this program (dr.Fone) as it manages to extract photos from iTunes backup and therefore the procedure that we will describe below is almost the same.
First download the demo version (free) to try the program. This demo version allows you to scan your iTunes backup and view all files. What it does not allow you to do (if you do not purchase the license) is the export of these files on the PC or their restoration on the iPhone.


Splash screen you will see after installing and starting the software: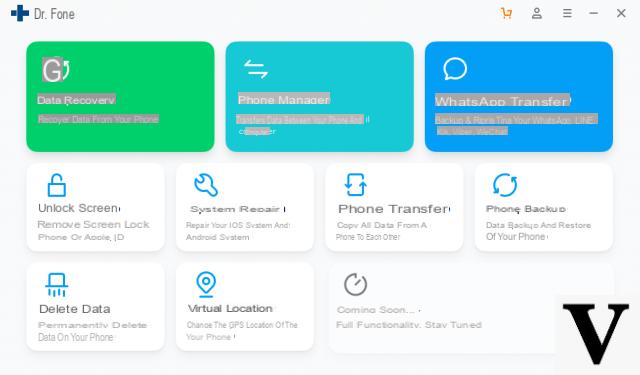 As you can see from the screen shown above, dr.Fone offers many useful features to iPhone owners (eg file transfer, data copy from one phone to another, iOS repair, data backup and restore, iPhone unlocking, etc ...). What interests us, however, is the function RECOVERY. Then click on this section to open the following screen: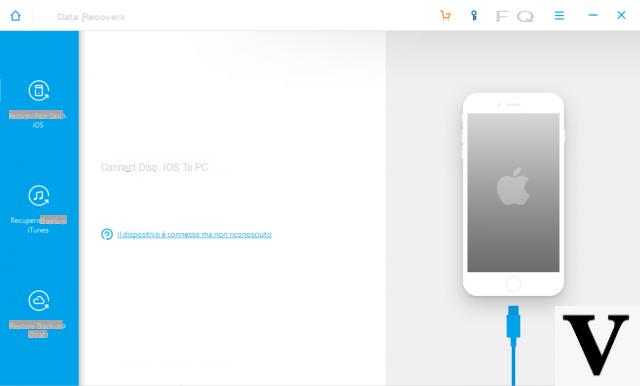 There is no need to connect the iphone to the computer. Instead, click on the left on the word "ITunes backup recovery"And immediately a new window will open with the list of backups found on your PC and that you can scan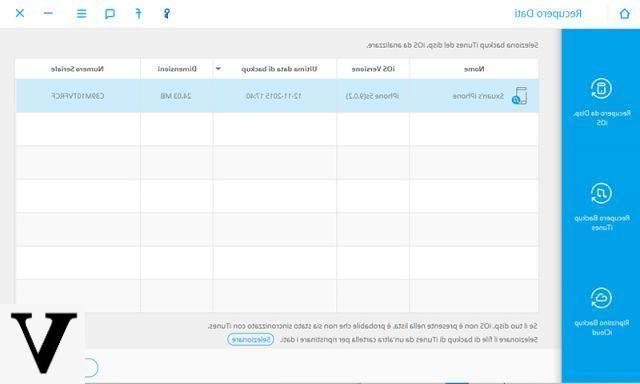 Click on the backup to analyze (and from which you want to extract the files) and finally click on START SCAN. During the scan you will see all the backup data appear, divided by type (photos, videos, messages, contacts, call history, whatsapp, viber, kik, notes, etc ...)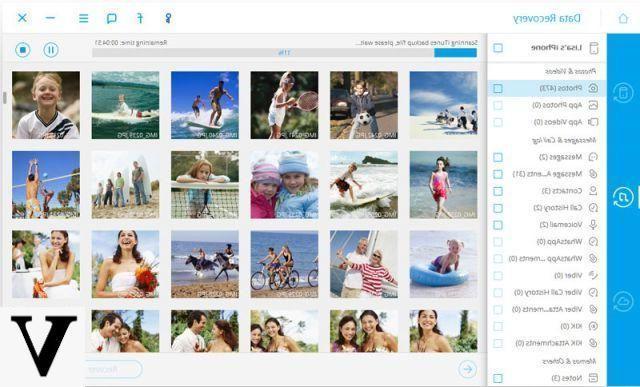 Finally you can select the desired files and proceed with their recovery / saving on your computer. The files will be saved in their original format, without any compression and / or quality loss.
In addition to iTunes, dr.Fone is a great program for recover data from iCloud backup and about that you can read this article.
It asks me for a backup password. Which password should I enter? Thanks
I want to recover photos and videos that have restored me due to upgrade
Try the program described in the article to recover them.

I want to recover all photos and videos restored due to upgrade