More and more people are using their Android smartphone or tablet to create or edit documents. The PDF format is certainly the most popular and widespread in the context of documents, and almost all devices have an app inside them that can view these files. However, if you want to edit a PDF on your smartphone / tablet, the matter becomes more complicated. In fact, you should have a "PDF Editor" to perform these operations. Alternatively, you can use a PDF converter that can turn PDF to DOC for easier editing via Word or other text editors. In this article we see what are the best PDF converters for Android.
1. Able2Extract PDF Converter
Able2Extract PDF Converter is a free app. The operation is very easy: find the PDF to convert and open it in the app. Then select the output format and click on "Convert".
Features:
It not only converts PDF to Microsoft documents like Word and Excel, but also allows you to convert Word and Excel to PDF.
It only takes 15 seconds to upload the file to the server and after a few seconds you will get the converted file.
Advantages:
This app does not need an internet connection.
There are no limits on the weight of the PDF
Disadvantages:
You need a PDF reader to see a preview of the result.
Cannot convert PDF to images such as JPG.
Scarica Able2Extract PDF Converter da Google Play>>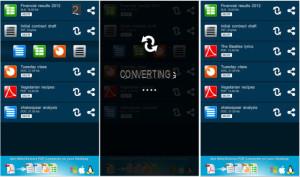 2. OfficeSuite 7 + PDF to Word
OfficeSuite 7 is a "PDF to Excel for Android" app but is also capable of converting PDF to word. However, you need to upgrade to the paid version to take advantage of this feature.
Functionality:
Convert PDF to Microsoft word, excel and even ePub.
This app allows you to view, create and edit even complex Word, Excel and PPT documents.
Allows you to edit local files and even email attachments.
It allows you to share files via cloud service, email, WiFi and Bluetooth.
Advantages:
It supports various file formats and even PDFs.
Allows you to edit Microsoft documents.
Disadvantages:
In order to create and edit PDFs, you need to purchase the upgrade.
Very limited free version.
Scarica OfficeSuite 7 + PDF to Word da Google Play>>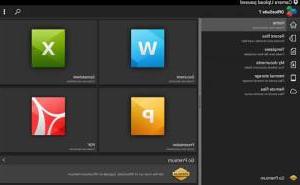 3. PDF Converter Pro
PDF Converter Pro is another great program for convert PDF on Android. Some users may confuse it with PDF Converter Pro which is the "desktop" version of the software. They are also developed by various companies.
Features:
It supports multiple file types and formats as input, such as PDF, JPG, BMP, PNG, TIFF images and even ODT documents. As an output, it supports PDF and various image formats.
It has the "preview" function for the converted files.
Allows automatic backup of final files.
Advantages:
It allows you to convert PDF to other formats and vice versa documents to PDF.
Preview e backup.
Disadvantages:
It is not totally free. After a few uses, you have to pay a monthly fee.
It does not provide information on the destination folder or file.
Download PDF Converter Pro from Google Play >>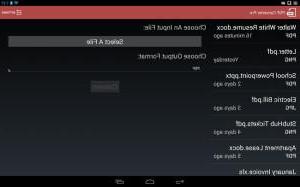 4. File Converter Free
File Converter Free is not only a PDF converter for Android but an "all-in-one" converter for different types of files.
Features:
It supports over 180 file formats, even the less popular ones like .7z, .arc, .alz, and .arj.
Ability to upload files from the device or by entering a URL or from cloud services such as Google Drive and Dropbox.
Advantages:
It not only converts Microsoft documents and PDFs but also video files.
Simple to use.
Disadvantages:
Download and install ES File Manager as well. This could be annoying.
Convert only one file at a time.
Download File Converter Free from Google Play >>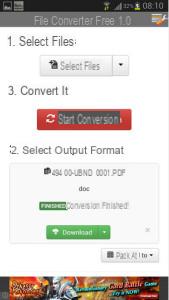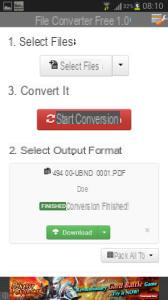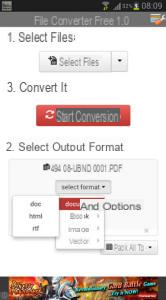 5. Able2Doc PDF to Word
This app is designed to convert PDF to word on Android. If you want to convert PDF to excel, text or PPT, you will need to choose Able2Extract PDF Converter.
Functions:
Converte PDF in word.
The converted files are saved on the device permanently until they are deleted.
Advantages:
Converting PDF to word on Android is very fast.
The files are saved on the device for future use.
Free app.
Disadvantages:
It does not convert PDF to TXT or other formats.
Creating PDF files from other formats is not possible with this app.
Figures and diagrams in the PDF are not recognized.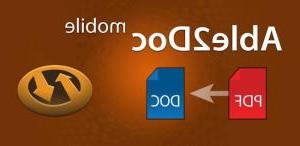 Convert PDF on Android -