Converting your laptop into a machine dedicated to the latest generation games, maintaining mobility without sacrificing firepower: this is what external graphics cards promise you. The market is expanding with offers of varying quality, and unfortunately, the actual services are sometimes far removed from the marketing of the manufacturers ...
Small review of things to know before equipping ... or not.
A dream more than 10 years old
Lighter and lighter, the laptop PC often suffers from a power deficit when it comes to running increasingly resource-intensive games. Even laptops dedicated to gaming remain featherweight compared to the most efficient living room machines. But for 10 years, manufacturers have been working hard to develop an offer to remedy this: external graphics cards, or eGPUs, which come in the form of a box equipped with connectors that can accommodate storage space and one or more cards. graphics, doping the machine you plug into it.
Are all PCs eligible for external graphics cards? In theory, yes, but on the condition of accommodating a Thunderbolt 3 port supporting a speed of up to 40 Gbits / s. In practice, however, compatibility is far from guaranteed: it is not by chance, most external graphics cards on the market are offered as a bundle with a PC from the same manufacturer. The least powerful machines on the market, go your way: Core i3, i5 or i7 processors not dedicated to gaming will not do the trick.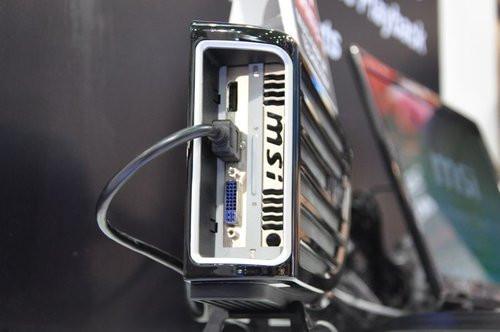 Chronic compatibility issues
What about performance now? Is a laptop supported by a graphics card worth a gaming PC? In three words, far from it! First fault, the lengthening of the loading times, including when your external graphics card embeds SSD disks. There is also particularly annoying interference when the PC has a graphics card integrated into the processor. Remember to deactivate the latter once your eGPU has been launched. Finally, for optimal display quality, you will need to connect to your PC an external monitor supporting 60 images / second, or even 120 fps.
In the end, the external graphics card delivers its best performance when it comes to support ... a desktop PC. In terms of price, also think carefully before you equip yourself: if you can find entry-level external graphics cards around 200 euros, the average gravitates around 500 to 600 euros. And again: at this price, the box is empty! It must be filled with a graphics card (count from 200 to 500 euros more). For perfect compatibility, you will opt for the duos offered by the manufacturers (eGPU and ultraportable), but the total bill will not fall in total below 1500 to 2000 euros! A jackpot that allows you to afford a beautiful gaming PC that will often offer you better performance ... Conclusion: if external graphics cards do have a certain potential, they still present some risks of instability and incompatibility a little annoying. To be reserved, in the end, for rather affluent occasional players ...
Accelerator: the external graphics card for gamers by HP
AMD announces its external graphics card technology: XConnect
External hard drive buying guide: our selection
External batteries: never get stranded