The files in HEIC are images / photos mainly used in devices Apple. If you have an iPhone, Macbook or iPad, you will see the files HEIC everywhere. HEIC files are high quality, compressed image files, but they are not always easy to open and view on Windows, especially Windows 10.
Apple uses the HEIC file format because it is very efficient when it comes to archiving photos. Contains high quality data in half the size of a JPG or PNG file. So Apple won't be ditching the HEIC format anytime soon, but the good news is that there are several ways to open and even edit those HEIC files on your Windows computer.
Apple uses the format HEIC to store photos on iPhone and iPad, since the release of iOS 11 (the HEIC format was developed by MPEG, not Apple). The main goal of the HEIC format is to replace JPEG, which takes up twice as much space as HEIC, and to have other capabilities such as storing the original version of the images, so that you can undo the change. Although Windows officially supports the HEIC format, there are several obstacles to opening HEIC files.
So if you have exported photos from iPhone to your PC or a friend of yours (who owns an iPhone) has sent you a series of photos, it is likely that you will find files in the format .heic apparently impossible to visualize. In fact, if you try to open one of these files using the app PHOTO of WIndows 10, a screen like this will open: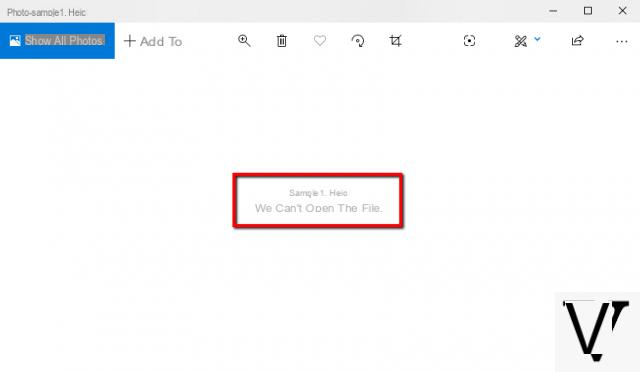 The message that appears in the center leaves no doubt: The file cannot be opened.
At first glance it may seem like a big deal. But luckily there are several solutions that you can adopt for open and view heic photos on Windows PC. Here are two:
Solution # 1: Use Photo Viewer
Solution # 2: Convert HEIC files to JPG
Solution # 3: Other ways to open HEIC on Windows
Solution # 1: Use Photo Viewer
Unfortunately, the Windows 10 PHOTO program has several limitations and for this reason more and more people are immediately looking for an alternative to this app to open photos on Windows. Among these limits is also the one that does not support the .heic format.
To solve the problem you could replace the windows PHOTO app with another program called Photo Viewer and that in addition to being faster and more stable in viewing images and photos, it also fully supports the HEIC format.
This program can be downloaded Free from the following button:

After installing and starting Photo Viewer you will see a configuration window where you can select "English" as the language. Then the main window will open and you can start viewing all photos with it: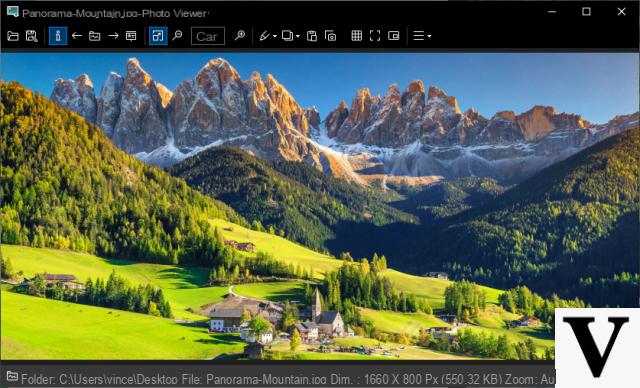 To open a HEIC file, just right-click on it and then select Photo Viewer as shown in fig. following: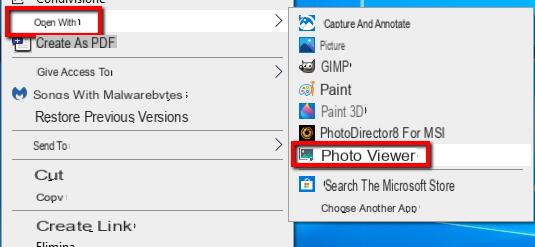 You can also set the program as "default" to open this type of file so you do not have to do the procedure described above every time. Furthermore, once you open a HEIC photo in the program, just click on the arrows> and <to view all the other heic images saved in the same folder.
Solution # 2: Convert HEIC files to JPG
It is possible to convert HEIC files to JPG using third party software. There are both software and (free) online services that can do this conversion. For example by accessing this site you can import any Heic file and then convert it to JPG in one click. The problem is that it allows one file to be converted at a time.
If you have dozens or hundreds of HEIC files to convert to JPEG we recommend that you access the FreeToolOnline.com site which allows you to select up to 200 heic files and then convert them to JPEG.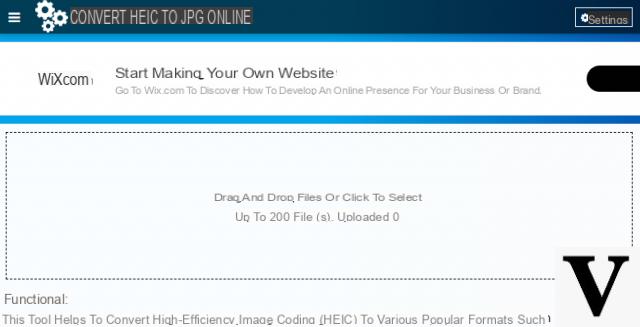 If you don't like web-based services (for privacy and security reasons) and you prefer to use a software to install and use on your PC or Mac, then you could try TunesGO which is an iOS Manager program because it allows you to connect your iPhone or iPad to the compuer and then to export all images and photos in JPEG format.
You can download TunesGO for WIndows or Mac from the links below:

After downloading and opening this program you will see the following screen: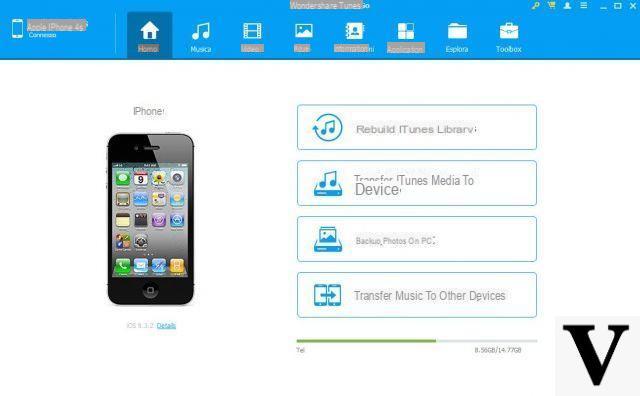 Connect your iOS device to the computer via USB and then go to the PHOTOS tab to see all the images saved in the device.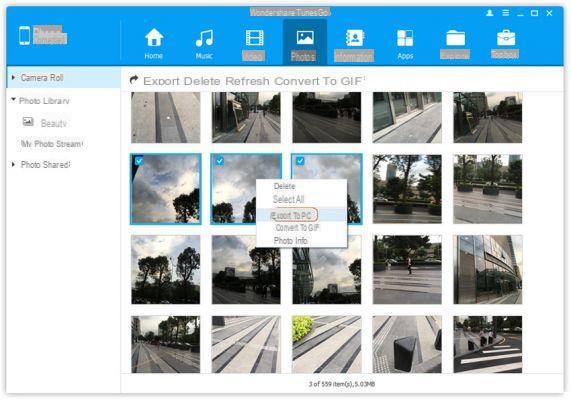 Finally choose the photos to export and click on the EXPORT button.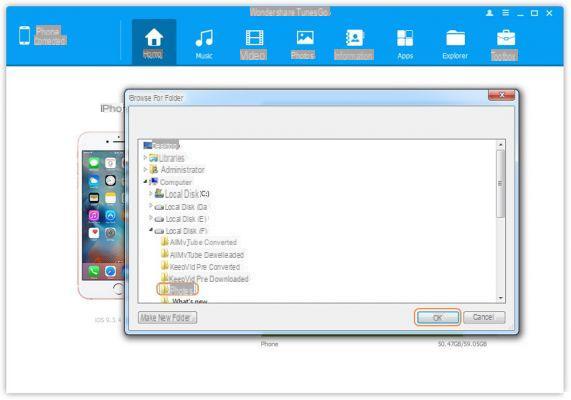 Select the destination folder and click OK. All images and photos will be saved in JPEG format (HEIC to JPEG will be automatically converted).
Other ways to open heic files on Windows
There are also other methods to open HEIC files on the Windows 10 operating system. Here are a few.
Open HEIC photos with Adobe Lightroom
One of the easiest ways to open HEIC files is to download third party software that supports HEIC files. AND Adobe Lightroom is a tool that will allow you to quickly access your files. You just need to set Adobe Lightroom as your default image viewer, here's how to do it.
Download and install Adobe Lightroom and you need to create an account to download it.
Go to the Start menu
Go to Settings
Select app
Go to the default app menu
Under Photo Viewer, choose Adobe Lightroom as your default program. Now open the HEIC file.
Use Dropbox to open HEIC files
If you don't want to install third party software you can open your HEIC file directly from your browser by logging into your account DropBox. Dropbox is a cloud storage app that supports HEIC file format. You can view HEIC files by uploading them to Dropbox via your web browser. To view the image, select it and click the eye icon.
Open HEIC with Apowersoft Viewer
Apowersoft Viewer is a program compatible with Windows 7, 8 and 10. It is a third-party photo viewer that supports HEIC file format. Install the software by visiting the website and click Download Desktop Version
After installing it on your PC, click on the three-dot menu and select apri, or you can drag and drop the HEIC file you want to open. The software will open your HEIC file and a preview of other images will also appear.
How to Open and View HEIC Photos on Windows? -