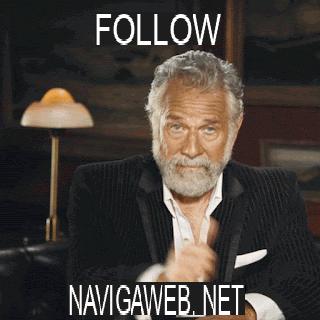 Animations or GIF images are one of the types of files that have made using computers and the internet fun. An image ending with a .gif extension is
a dynamic image made up of several images that run in a loop
and it looks like a video icon. Basically you can make a Gif image that is the set of some photos in sequence with each other.
Once you have a GIF image, it can be used as an avatar in chats as a messenger or in forums or other social networking sites. .Gifs are fun and there are several online tools that allow you to transform groups of three or more photos, classic jpeg or jpg format, into a gif or even convert a portion of video into gif, create animated memes with text and writings and create a GIF image directly using the webcam.
In this post,
the best sites and apps to create an animated GIF image
composing images or videos or shooting with the webcam, between
online programs and services
:
1)
MakeaGIF
allows you to select multiple photos and create the GIF.
You can also create the GIF from a webcam shot, a video or a Youtube video.
2)
GifCap
is a truly exceptional, ad-free site that allows you to create a GIF with a single button, recording from your PC desktop. You can then record a small video to save as a GIF image of what appears on the screen or in a browser window or other program.
3)
Giphy
is the most famous and popular site in the world for
create animated gifs from photos or videos
. It allows you to import files from PC or videos from YouTube, Vimeo and Giphy, then also add captions or text and change color, style, text animations, stickers, filters, etc.
4)
EZGif
is another site of those inevitable if you like to make new GIFs, because it has many tools to create them from static images, from videos, from other GIFs and then also to create animated memes.
5)
Gifcam
is a small and easy free program that allows you to create GIFs by taking and composing different images captured from the desktop together. You can then create a series of images for whatever appears on the screen, which can then be composed to create a complete GIF that you can also edit with various effects. To get started, just press the REC button and the application will do the rest.
6)
GIFMaker.Me
offers better control over the animated GIF's size and animation speed, with a preview panel so you can get an idea of ​​what the GIF looks like before creating and saving it.
7)
Andtheniwaslike
allows you to create a GIF image from the webcam of your computer and share it on Facebook or Twitter.
8)
GIFPal
has many effects that you can add to GIFs and allows you to control brightness, hue, contrast and saturation.
9)
MemeCenter's GIF Maker
has the best interface among these sites, most convenient to use to create a GIF. GIFMaker allows you to insert additional text and brush strokes into the GIF to give a more personalized touch
10 )
Bloggif
has several separate tools for creating GIFs of various types, with the addition of effects.
You can also try the webcam GIF function which allows you to capture photos with your webcam and create a mini movie.
11 )
AnimateGif
is instead a
free program to download for Windows
with an interface where you can drag the images and photos that will then compose the animation of the GIF. The controls are used to change the speed of the image loop, and to change the quality. When all the settings are done, click Animate and enter a name for the new GIF image to save.
12 )
LooGix
allows you to create animated gifs online, uploading personal photos. You can choose the size of the animation and the speed of the transaction between a photo and another. At the end click on the "Generate Animation" button. There are also different special effects to apply to the GIF animation to make it more unique and fun and to use it as an avatar.
13 )
GIFup
it's a really nice 2.0 website, with several features including:
- the possibility of
create a GIF image
starting from various photos, taken from websites or from the webcam.
14 )
Gifs.com
It is also a very simple website that makes creating fantastic GIFs a breeze, both using photographs and videos from Youtube and also to create memes with personalized animated writings.
15 )
GifGear
allows you to create a gif image by combining several photos or normal images to be uploaded to the site. You can choose the speed of the loop, the size of the new animated image and you can add different transition effects.
16 )
A free GIF maker with multiple options
and instead
ScreenToGif
which allows you to create GIFs or edit GIFs already made with a powerful and easy-to-use editor. You can record the screen either from the webcam or even by extracting images from a video and saving the new GIF and also edit any existing GIF image, frame by frame.
17 )
Imgflip
is probably one of the best GIF meme maker online for creating animated memes. You can then simply import a GIF file into this site or use one of those available, then add a personalized meme text at the top and bottom and customize it by changing its size, font, color, stroke and outline.
18 )
Picasion
is a site with a lot of advertising around but with the useful tool at the center a
create GIFs starting from two or more photos to upload
from jpeg format. By pressing the "Upload" buttons you can upload the photographs or images you want to see in the animated sequence then, by clicking on Create Animation the site works a bit and pulls out the animation and the link to share it, save it or to use it directly on forums as an avatar.
19 )
Gickr
is an excellent online service that allows you to create animated GIFs by composing various photos.
20) Finally an online tool,
LiveTyping
, which is used to create textual and animated Gif images. Basically you write words and these will appear with the sequential entry effect, letter by letter, like a Gif image.
The program to create animated images and GIFs by mixing photos is described on another page of this blog.
Related to these tools, I can only remember:
- Apply effects to the WebCam and distort the face with Photo Booth on Windows
- Create custom avatars without the use of photos, for websites, blogs, Facebook
- Create moving images and virtual transformations.