Contrary to what one might think, connect iPhone to Mac via Bluetooth it is not a difficult thing to do if you follow the right steps. However, most people, especially those who are used to using Bluetooth on Windows PC, usually get into trouble when trying to use the same service on Mac OS. In this article, we will give some tips for connect iPhone to Mac via Bluetooth. After reading them, you will find that it is easy to connect or share iPhone with Mac via Bluetooth.
How to connect iPhone to Mac via Bluetooth
Here are the steps to follow to connect iPhone to Mac via Bluetooth
Step 1: First, turn on Bluetooth on your iPhone by going to "Settings" and then clicking on the option "Bluetooth". You will need to turn on the button as shown in the image below.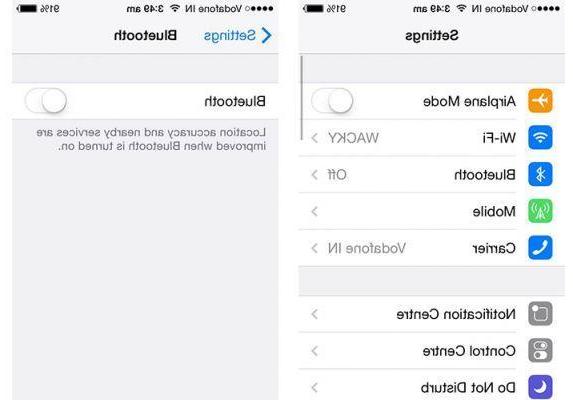 Step 2: Hover over your Mac's menu bar and click on the icon Bluetooth that appears on the toolbar to turn on Bluetooth. Your Mac will show available devices detected nearby.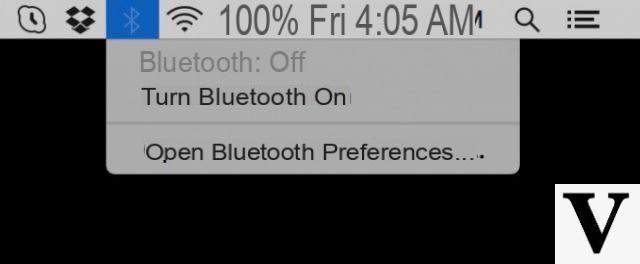 Step 3: Now select the device you want to pair it with. In this case, choose the iPhone and tap the option "Pair"On both devices.

As you see this process of connecting the iPhone with the Mac via Bluetooth it is quite simple. However, there can be problems when your Mac cannot detect the iPhone's Bluetooth even when it is turned on.
With some iPhone models, for example, you may be able to connect it to your Mac via Bluetooth the first time, but the connection may only support Internet tethering and not file sharing. Or the Mac may not detect the iPhone at all (or vice versa). In these cases you can try to find the solution of the problem or rely on another tool to transfer and share files between iPhone and Mac.
Solutions to "Cannot Connect iPhone to Mac via Bluetooth" Problem
If you are unable to connect iPhone to Mac via Bluetooth despite all attempts and restart of the device and mac, then it is time to try these troubleshooting tips.
1) The first thing to check is the distance between your Mac and your iPhone: Bluetooth, just like any other wireless connection has an action range, so in order to pair the two devices via Bluetooth the distance between the devices must be no more than 5 meters
2) Sometimes the Bluetooth chip may have temporary hardware problems and a reboot is required to fix this problem. Therefore try shutting down your devices and restarting them one more time.
3) The updates they are required to keep Bluetooth services operational. Therefore, in the case of iOS and Mac OS, make sure you have the latest operating system on both devices.
4) Another aspect to consider is the iPhone model. Some early iPhone models like iPhone 3 and iPhone 4 were designed in such a way that their Bluetooth chips only work with hands-free device and headphones. Without any additional hardware, devices configured with these technologies will not work for Bluetooth sharing.
5) If you find that the specifications of your iPhone prevent you from connecting the iPhone to the Mac via Bluetooth you could use the AirDrop, a great alternative to solve your Bluetooth problems. AirDrop was created by Apple to help iPhone users who cannot use Bluetooth for file transfers. The app works in a really simple way, so try installing AirDrop on both devices and try the Bluetooth transfer via AirDrop again.
6) Try to check if your Mac is configured with all related driver Bluetooth. A simple internet search will tell you all the drivers you need to install for a proper Bluetooth connection
7) Bluetooth has several "interferencers" that can inhibit file transfer. For example, move away from Wi-Fi routers, USB 3.0 ports on your Mac, and other Bluetooth devices such as Bluetooth speakers. These are some of the strongest Bluetooth interferers.
Alternative to Bluetooth to Share and Transfer Files between iPhone and Mac
As mentioned before, if you have problems with Bluetooth or if bluetooth is not the best solution to quickly transfer all the files you want from iPhone to Mac or vice versa from Mac to iPhone, then it is advisable to use a software tool such as TunesGO for Mac. With this program, to be installed on your Mac, you can make the Iphone communicate with the Mac to be able to easily transfer photos, videos, music and other files in a simple and fast way.
For more information go to the program description page: https://www.iphonexpertise.it/ios-software/mobilego-ios/mac/
Or read this guide: how to connect iPhone to Mac with TunesGO
TunesGO main screen: