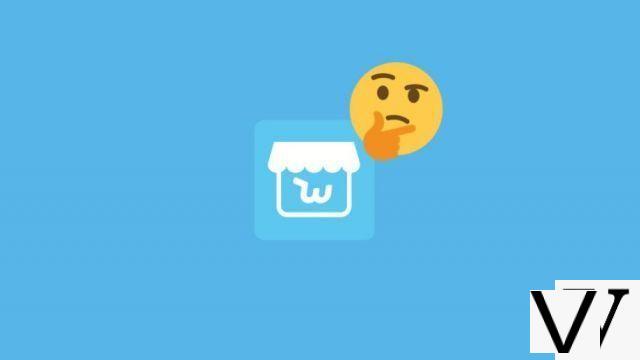 If there's one name that's taken international online commerce by storm, it's Wish.com. The United States-based merchant has gone on to raise funds to the point of being worth several billion dollars. Wish is owned by ContextLogic headquartered in San Francisco, the company was founded in November 2011 by Peter Szulczewski and Danny Zhang - former engineers at Yahoo and Google.
Wish.com defines itself as a bargain hunting website. It is actually a Chinese marketplace that features hundreds of different stores and millions of products from all over the world. These merchants are mainly based in China and Asian countries, but there are merchants from other continents as well. Nothing innovative so far: marketplaces have existed for years, such as the Chinese Alibaba and JD.com, the American Amazon or the Franco-Japanese Rakuten (Priceminister).
What sets Wish apart from other merchants is the shopping experience. Indeed, Wish offers a "unique shopping experience", according to the terms used by the merchant, which allows you to personalize the user experience using a whole bunch of algorithms. Moreover, the site requires you to be logged in, if possible through Facebook, to view the products sold. They mainly highlight the mobile experience through a native iOS and Android application.
Once logged in, he recommends products to you based on your profile. You can even save your favorite products to your wishlist and buy them later, or share them with others through Facebook. In a way, a simplified and personalized shopping experience.
Wish.com has products from a wide variety of categories, trendy gadgets, and even some products that defy categorization. You can, for example, buy Bitcoins and weapons.
YouTube linkSubscribe to Idroid
A very different reality
What makes Wish successful with young people (especially on YouTube) is obviously the very nature of this online merchant's experience. Obviously the prices are very competitive but you have no guarantee of receiving a quality product. The shopping experience is similar to that of Aliexpress, where you have to scrutinize verified reviews, photographs posted by users ... to avoid being simply scammed.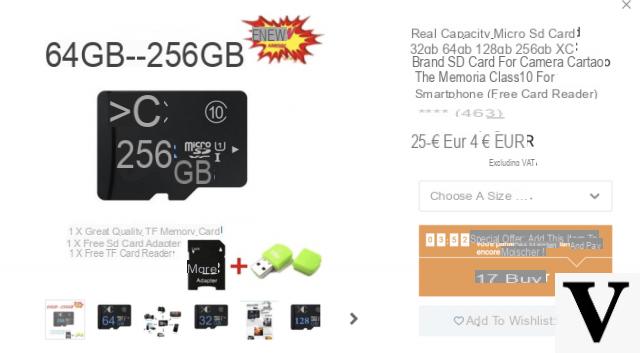 A microSD card at 4 euros? Go go go!
One only has to take a tour of YouTube videos to realize that the vast majority of products sold are of poor quality with false descriptions. Graphics cards of old rebadged generations, or fake microSD cards whose storage capacity is rigged (a system of partitions known since the dawn of time). It is also possible to receive smartphone cases while the product sheet evokes a smartphone, or even a simple computer mouse when ordering a laptop PC.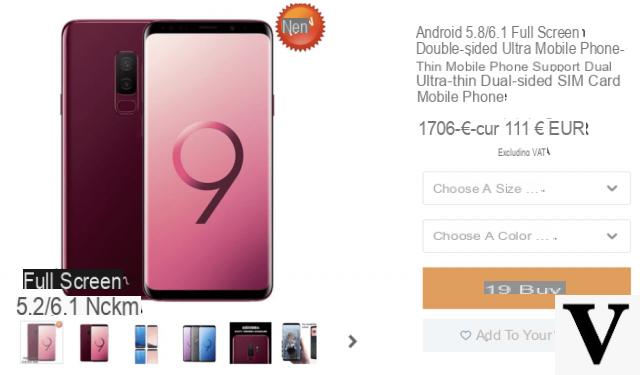 A Samsung Galaxy S9 at 111 euros? Great deal!
Not to mention the long shipping times (2 to 8 weeks) as well as the difficulty in obtaining a refund in the event of a problem. Another very serious issue is that many customers report unauthorized transactions in their bank account shortly after placing an order.
YouTube linkSubscribe to Idroid
If something is wrong with your order, you might also have difficulty contacting the seller. Wish.com acts only as a marketplace, a kind of storefront, but does not sell the items directly.
YouTube linkSubscribe to Idroid
Also watch out for the Wish List, Wish.com makes all of your shopping lists (including its wide range of sex items) public under your real name.
In short, Wish.com is definitely not a scam as such, but many of their vendors can be. These sellers are located overseas and are completely anonymous (at least to customers), they do not go through any verification process before opening their store on Wish.com. You can very well open a store on Wish.com and scam people all over the world. Obviously, don't.
We obviously advise against Wish.com
Wish.com has millions of fans who buy and sing praises on the products they have ordered at super low prices. Only, tell yourself that it does not require taking this risk. Even though you are getting very low prices, you will have to wait a very long time to receive your order and your order will most likely be of lower quality than expected.
We will have warned you.
PS: Prefer Aliexpress.com if ever you need to buy some cheap trinkets