Windows 7, the august operating system released in 2009, has not been updated by Microsoft since January 14, 2020. Don't panic, just switch to Windows 10 to be safe. A simple and free operation.
Windows 7 has had its day. The operating system is no longer supported by Microsoft today, which has stopped security updates. In effect, this means that the user is no longer protected from external threats. It's been a few weeks since Microsoft has been warning the latest Windows 7 users by showing full-screen notifications to encourage them to switch to Windows 10.
This passage, completely free, can scare the less experienced users. But don't panic, we'll take you step by step. This should not take more than an hour (with a fiber connection) and does not require you to be an IT specialist to complete it.
Note that if the switch to Windows 10 keeps your files, we advise you to save them on an external medium: USB key, external hard drive or external SSD.
0. The prerequisites
An Internet connection
A computer running Windows 7
1. Download Microsoft Windows 10 Media Creation Tool
To switch from Windows 7 to Windows 10, the first step is to download the Windows 10 installation media creation tool. You can click the button below to automatically start the download from Microsoft's servers (we let's add nothing) of the free Windows 10 installation media creation tool.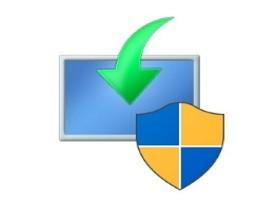 Windows 10 Media Creation Tool
Windows 10 Media Creation Tool, the official tool published by Microsoft to update Windows 7, 8 or 8.1 to Windows 10
Version : 21H2
Downloads: 7282
Release date: 17/11/2021
Author: Microsoft
License: Free license
Categories: Utilities - Operating System
Operating system: Windows XP / Vista / 7/8/10/11
Download
2. The conditions of use
Once the file has downloaded to your PC, all you have to do is launch it. He then proposes a license agreement that must be accepted.
3. Upgrading or creation of support
After a few minutes, the installation software offers the user a new choice. Here, you must select the default box ("Upgrade" this PC now) then click "Next".
Windows 10 then downloads. If you have fiber, this should not take more than 2 minutes. Otherwise, you will have to be a little more patient.
4. The conditions of use (bis)
After downloading, a new window will appear. This is still the license agreement that must be accepted to continue.
5. End of the operation
Then new updates are downloaded. Then, a last window appears. This is the final step, the one that confirms the definitive abandonment of Windows 7.
Once you have clicked on the "Install" button, the installation of Windows 10 will start, displaying a blue window on the entire screen.
It will then be necessary to show patience, the installation of the files taking about thirty minutes. The computer restarts several times during the operation, which is quite normal.
6. Windows 10 configuration
Once done, Windows 10 will be installed and will need to be configured. These different steps are discussed in our tutorial on installing Windows 10 (read from step 5).
to read also: 9
NEWS: Apps and software
Tutorial - How to easily install Windows 10 on a PC
Some PCs are now sold without an operating system. However, installing Windows 10 on it is easy if you follow this ...
1 year ago