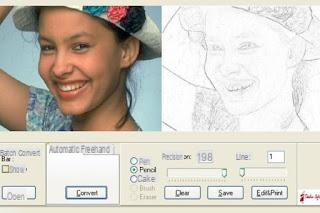 Just to have some fun and do automatic photo retouching of your photographs, it could be an idea
turn the photo into a drawing
. Since it is really simple thanks to some automatic tools I would say that this idea can be done in 5 minutes.
Converting a photo into a drawing means giving a
pencil or paint effect
, as if it had been drawn on a sheet of paper or even colored with pastels.
To transform photos into drawings, both landscape images and faces of people, you can use different types of free programs or even, without downloading anything, some web applications to be used directly online.
1)
Deep Art Effect
is a free program for Windows PC, Mac and Linux that allows you to transform photos into paintings. You can choose the artistic style of the painting which can then become an impressionist painting or a mosaic or much more. The transformation into painting is immediate and governed by an algorithm formed on works by famous artists such as Van Gogh, Picasso and Michelangelo.
2)
Pho.to
is one of the most powerful photo editing web apps ever, which offers many effects to transform a photo or image into a pencil or even color drawing.
3) Among the best sites to turn photos into drawings online there is also
Picjoke
. Just choose the type of design from the preview images and then upload the photo to see it transformed that way.
4) One of the best programs for this kind of effect
Instant Photo Sketch
, specializing in making photos look like they were drawn in pencil or painted. The program can be downloaded and installed in its free version which is found under the downloads of the official website, below, under the title "Other Software"
5)
FotoSketcher
is a free program that allows you to give the drawing effect to a photo, transforming it visually,
as if it was drawn freehand
, coloured. Since it does nothing else, it becomes very easy to use this software: just open an image or a photo that is on your computer and apply one of the proposed filters. The different filters allow you to transform the photo into paintings made with different tools, not necessarily with a pencil. For example you can use the pen and pencil effect (black and white), ink, watercolor, oil paint and several others. At the end, pressing the "Draw" button you get, as a result, the image of the photo as if it were a sketch or a painting.
6)
NeuralStyler
is a program inspired by the Prisma app for Android and iPhone, to transform photos into paintings painted with different painting styles such as Van Gogh, Picasso, Munch or other famous artists or currents.
7)
Photo2Stencil
generates several transformations with a single click.
You can set the number of levels for the drawing, the level of smoothness, adjust the contrast, add a filter, change hue and saturation and much more. You can also place the mouse cursor on the Compare button to change the preview from the drawing to the original photo and vice versa.
The final design can be downloaded in SVG and PNG format
8)
RapidResizer.com
is a simple and very useful website for converting photos to drawings, with several options available to turn photos into black and white templates.
There are sliders to adjust the black and white ratio, sharpness, and other automatic options.
9)
Stencil Graffiti Creator
is a site that allows you to convert a photo into graffiti and drawings with different styles available for the background of the image and the image itself.
10 )
Photo 2 Sketch
it's even simpler because it doesn't even have a menu bar; you only have to open a photo from the program and you immediately get the transformation into a drawing.
The only thing that can vary is a set of parameters for
decide the size and thickness of the pencil stroke
, pen or crayon which can be more or less heavy.
In reality, there is a more complex paid version of this program even if, remember that this and many other kinds of graphic effects can be obtained with free photo editing programs like GIMP or web applications like Photoshop.
11 )
Photofunia
he has, among his many tools, also that of the photo which becomes a pencil drawing automatically.
In other articles we had seen how to create portraits of faces and identikits of faces from scratch, and how to apply artistic effects by making the images of the paintings and abstract