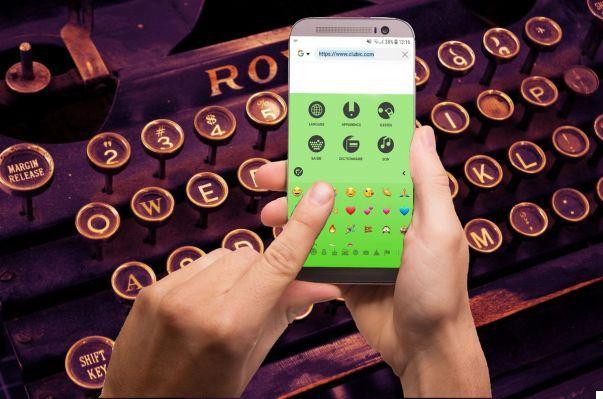 To send a message of love, an administrative letter or just a shopping list, writing is still popular in the 2020s.
Computers and then mobile have changed lifestyles. After the success of the Blackberry of the 2000s, iPhone and others eclipsed mechanical keyboards. Writing quickly, without error, with one or two hands, in direct sunlight or in semi-darkness, tapping the screen of your phone or tablet is the necessary step to write your messages and other letters.
Summary
One keyboard for all, all keyboards for one?
Your current keyboard is dead, long live the new keyboard!
Gboard, the original keyboard by Google
SwiftKey, un excellent devin
Fleksy, the new generation keyboard
AnySoftKeyboard, the user-friendly open-source
Minuum, for all fingers
Ginger, full of entertainment
Chrooma, paid customization
Grammarly, exclusively for English speakers
GO Keyboard, look priority, less privacy
Facemoji, the avalanche of themes
In short
One keyboard for all, all keyboards for one?
Some might think that there is nothing that looks more like a virtual keyboard than another virtual keyboard. The editorial staff of Itopdroid must restore the truth: they look alike but are all different. As in everything, there is something for all tastes or rather for all user profiles. Like any selection, we skipped Android keyboard apps. So manga, kawaii, or western aficionados might be frustrated. Note also that the visually impaired are not forgotten, since Google has developed a suitable solution.
Despite its popularity, we have purposely removed Ai.type from our selection for security reasons. Its publisher was indeed affected by a leak of 577 GB of data (including passwords) at the end of 2017. At the end of 2019, researchers discovered a malware as well as a program authorizing micropayments and we prefer to remain cautious.
Your current keyboard is dead, long live the new keyboard!
To change the keyboard, fear not. No need to be in developer mode, root, and other modern alchemist maneuvers. We have written a small tutorial, to guide you step by step. Rest assured, any change of keyboard will show the following message: "XXX can collect all entered text, including personal data such as passwords and credit card numbers." So this is not a criterion for distinguishing the wheat from the chaff. On the other hand, an app without a website, which does not clearly indicate its identity, sows doubt. As the internet saying goes "when it's free, you are the product". A free app may be listening, but it generally does not have authorization to access your personal data. On the other hand, a keyboard will access your emails, SMS messages, Whatsapp, instant messaging, but also anything you type in search engines. In addition, if you want to personalize your keyboard with a photo, the app will access your photo library, featuring very personal images. Caution is therefore required.
Gboard, the original keyboard by Google
This may seem surprising to some, but the Google keyboard is not the keyboard that you necessarily find on your Android phone. Whether you have an Asus, LG, Samsung or other smartphone, you probably don't know Gboard. However, the keyboards of the manufacturers that it replaces sometimes leave something to be desired ...
Logically, the Google keyboard is perfectly suited for the Android operating system, designed by Google. And not to spoil anything, it is free. With its experience in mobility, Google does not necessarily shine with an original or flamboyant aesthetic. In contrast, Gboard detonates by its functions.
For classic typing, the comfort is real, in particular by swiping (by remaining pressed on the screen, to go from one letter to another). Either he knows the words, or we can add (and delete) them from your personal dictionary. So "OKLM, PLS" and others "have the seum" will be intelligible and even suggested by this freeware. If typing your screen is too tedious for your little fingers, pressing the microphone icon activates voice recognition. It's practical, very efficient but in addition there is the Google "overlay", which remains unparalleled. So your verb can be translated into hundreds of different languages. Another major advantage is the use of the camera (and visual recognition) integrated directly into the keyboard. In one click, search and / or translation of a text on the internet, recognition of a monument or a place, search for an article with a bar code ... everything that makes Google's big data power ... but also fears the worst. On this point, the confidentiality is checked and unchecked when you want it in the parameters, according to what is indicated ... Gboard is difficult to replace, it is so powerful and complete.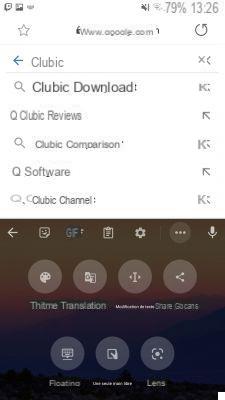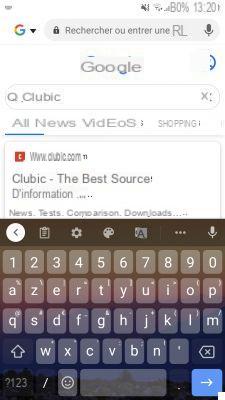 Download Gboard
SwiftKey, un excellent devin
In second position of this selection, we opted for the Microsoft keyboard. If the Redmond giant has never succeeded in breaking into mobile, its experience and its firepower are not to be underestimated. So much so that the technology developed by Swiftkey is now in the Windows 10 operating system and there is also a version for iOS, damn it! Perhaps most noticeable is his formidable prediction of words, whatever the context. It may still lack barbaric words and expressions, but Microsoft's AI is very efficient. In addition, some parameters are enabled to add capital letters after the periods, add a period after pressing the space bar twice or insert the predicted word in the middle by pressing the space bar twice. Swiftkey is multilingual since he knows more than 500 languages ​​and can use up to 5 simultaneously. Like Gboard, Flexy ou Ginger, the Microsoft keyboard allows translation ... but only by typing. Speech recognition exists… using Google!
In addition, and this is another characteristic advantage of Swiftkey, personalization is at work. Besides the resizing, the one-hand input mode or the floating keyboard, customization is king. Not only, the themes are more numerous but we can create others with a photo. Better, the settings (and dictionaries, predictions and corrections ...) are improved and synchronized if you link your keyboard Swiftkey to a Microsoft or Google account. Your data is thus stored in the cloud. Microsoft guarantees that your data is encrypted and secure. This freeware has other small advantages over the competition. We thus note direct access to his calendar to copy and paste an appointment for example. Or an incognito mode in which the words you have entered are neither analyzed nor stored. Smile lovers will be delighted to find a large collection of emojis but also GIFs (from giphy.com) and stickers. Here again, it is possible to create and reuse your own stickers.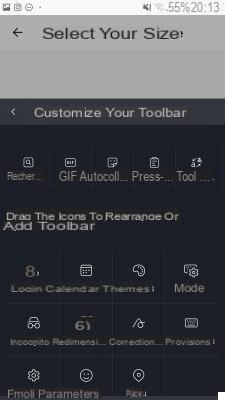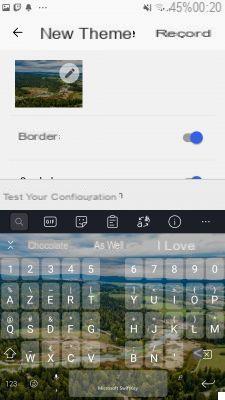 Download Swiftkey
Fleksy, the new generation keyboard
Above all, we ask a keyboard to be practical and fast. Fleksy boasts of being world champion with 88 wpm! In reality, this freemium is indeed very powerful with an intelligent word prediction. But the language of Molière is not really his strong point. Words with apostrophes are thus omitted from the prediction. Fortunately, you can add words or acronyms in a dictionary. Over 60 languages ​​are understood by Fleksy. Its Fleksynet artificial intelligence engine is able to support you in correcting and predicting more than 60 languages. The incomparable strength of Fleksy on its competitors is undoubtedly its extreme customization. Obviously, there are the themes (many are chargeable elsewhere), but also the keyboard layout and dozens of parameters (outline of the characters, size, etc.).
But this keyboard goes even further. The team of Fleksy discovered that American users spend 23 hours a week sending messages by switching to about XNUMX apps a day. The start-up therefore decided to integrate several mini apps (called Flexsyapps) directly into its keyboard. We find in particular Yelp, Youtube or Giphy. It is a really appreciable comfort and other plug-ins will emerge because an SDK is offered free to developers around the world. The publisher plans to add localization, translation, weather, horoscope and micropayments in the coming months. Wait and see. For geeks attached to the look, Fleksy offers about twenty free colorful or dark themes. To use an artist theme or a more complex interface, you will have to shed a few dollars ... or watch advertisements to earn "coins". To fully exploit the possibilities of this keyboard, the extensions are essential whether it is to use the one-handed grip, the row of numbers, the macros…. But only 100 extensions are free. To own more, you still have to pay. Fleksy makes it a point of honor to respect your privacy by keeping your data only locally (on the phone) with the possibility of deleting them at any time. For a freemium, Fleksy is a very good compromise between an ultra-sophisticated Gboard and a flashy Facemoji.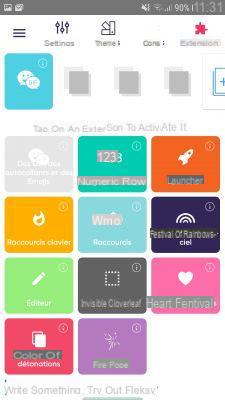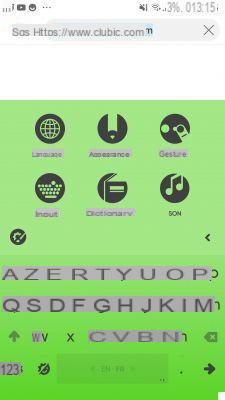 Download Fleksy
AnySoftKeyboard, the user-friendly open-source
Finally a keyboard that puts the confidentiality of personal data first. And this app is open-source. In other words, you can read its code on Github https://github.com/AnySoftKeyboard and thus verify that there is no malicious software or Trojans for example. You don't speak Java? No problem, the open-source community is large and watches for you. AnySoftKeyboard further specifies that it does not share your personal information or transfer it outside of your phone. Hundreds of developers guarantee the reliability and security of the code. We are reassured.
However, this alternative keyboard is no less powerful. Admittedly, there is not yet the performance of a behemoth established for decades, but the dictionaries offered in Spanish often offer the right word at the right time. The problem of accents and apostrophes in the Spanish language are leveled by a specific dictionary. At worst, there is the voice recognition provided -that's a shame- by Google. AnySoftKeyboard evolves rapidly. It already supports gestures to access advanced functions. By default, an upward swipe on the keyboard triggers the appearance of a panel. This contains a set of tools to select (with arrows or at the start / end of the text), edit (clipboard / cut / copy / paste) or the input mode.
This app allows one-handed mode for left and right-handed users or an original mode more suitable when the screen is horizontal. We also appreciate the access to dozens of emojis and emoticons. Others are free to download from the Google Play Store. Contrary to popular belief, this open-source keyboard has an interface similar to other commercial apps. There are basic themes (black, gray and white), but others are free to download. We especially like the responsive theme. The latter changes the background of the keyboard depending on the app used as blue on Facebook. If you don't want Google to know where you shop, this app is a must.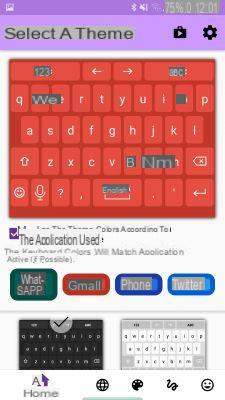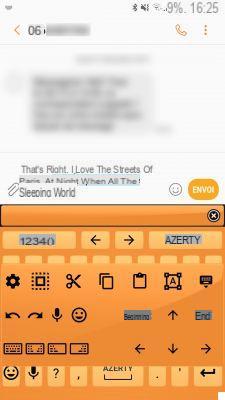 Download AnysoftKeyboard
Minuum, for all fingers
Unlike previous software, this is shareware with a 30-day trial. Even if the "little keyboard for big fingers" (that's its slogan) has not changed much for several years, Minuum keeps a prominent place in alternative keyboards. He reinvents the way of using a keyboard. Forget about it so conventional keyboard with characters on 3 lines. Now there is only one! The Canadian developers of Whirlscape have crammed all the letters of the alphabet into one line! To be more explicit, you run your finger (even large ones) over the area containing your letter, a small pop-up opens displaying the letters in larger size. It may seem complex explaining it to you like this, but the manipulation is actually quite easy. A few small games help you master the keyboard. The writing is predictive by leaving the "slappy" mode activated. Artificial intelligence analyzes the context of words used to predict what you are typing, unrelated to a remote server. It also works with emojis!
Despite its minimalist vocation, Minuum turns out to be user-friendly. Certainly there is no search for GIFs or memes like in other keyboards (FaceMoji, GO Clavier), but there are at least some emojis, with contextual suggestions please. In addition, there are about thirty free themes with in particular a theme adjusting the opacity of the keyboard according to the time of day and another (chameleon, like Fleksy) which adapts to the colors of the application used. To customize the theme with photo and colors, purchase is necessary. Anyway, Minuum is shareware that works for 30 days. Ample time to verify their interest or not. We would recommend it more to owners of small-screen smartphones, but it is also suitable for any virtual writer.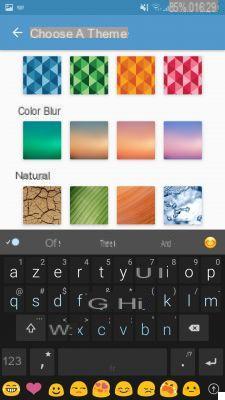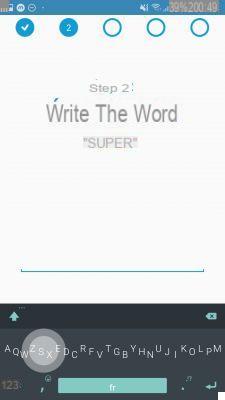 Download Minuum
Ginger, full of entertainment
This Freemium spices up smartphone screens recently, unlike its counterparts. They are betting everything on the look (FaceMoji, GO Clavier...), or on the entry (Gboard, SwiftKey…) But there is no real intermediary between the two. This app may be the missing link. His prediction of Spanish words is of a very good level, without however equaling the tenors GBoard et SwiftKey. On the other hand, he is more proficient in English, almost as good as the highly specialized Grammarly. Ginger is indeed able to detect grammatical errors, to reformulate a sentence and even to find the definition of a word, all this only in English therefore. But unlike "technical" keyboards like GBoard, SwiftKey ou Grammarly, Ginger is rather in the "coolness". It has many themes (ten free, otherwise from 0,99 €). There are both light and dark themes, united or with patterns. Otherwise, you can easily customize your keyboard with the colors of your choice and / or a photo or change the size.
Comme GO Clavier ou Fleksy, Ginger's strength is in his Smart Bar. The latter includes shortcuts to create notes, events in the diary, a task in your todo-list, or even carry out research on the internet (web, photos, videos). Small additional bonus, there is even a "gaming" area. In fact, users can access half a dozen old-school games like Snake without leaving the keyboard. We regret, however, that this app does not integrate voice recognition as a Gboard, Swiftkey ou Fleksy. Ginger offers an interesting compromise in the jungle of keyboards. Most users can do without the paid version (from 6,5 € / month).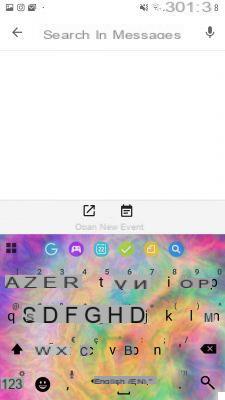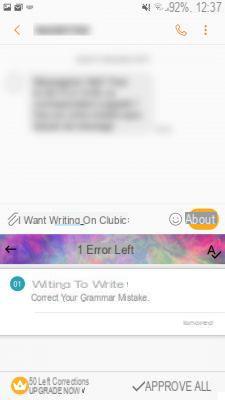 Download Ginger
Download Ginger
Chrooma, paid customization
chroma highlights its scalable interface which automatically adapts to the application you are using. Clear, blue on Twitter or green on Whatsapp. It's smart, it's innovative… in 2016, when the app was launched. Now others are doing it (Flexi, Minuum, AnySoftKeyboard.…). Night mode (dark background with light characters) is very pleasant, especially since it is activated automatically with a sensor or a predefined time. The keyboard is clear and will appeal to fans of tapping (classic typing) as well as those of swiping (sliding of the finger). Based on technology developed by Google, chroma also offers voice recognition. A spell checker (by LanguageTool, an open-source reference) exists to check your prose. We appreciate the customizable top bar. Thanks to it, we add or remove buttons to launch emojis, GIFs, the clipboard, cut, copy, paste, 1-hand mode or even image sharing.

All is not rosy yet with chroma. Apart from the chameleon theme and a few other themes, you have to take the paid version. And the publisher does not go with the back of the spoon: a subscription of € 6,99 / year or € 2,99 / month. Otherwise, it's € 12,99 for a lifetime license! We could be seduced given the elegant themes and the practicality of the keyboard but an important criterion comes to stain this table: confidentiality. chroma has the merit of being frank in its data collection as indicated in its confidentiality policy (only in English while the app is translated into Spanish…). When we see the apps and data accessed chroma, we have a little cold in the back. Especially since there seem to be some bugs (depending on the smartphones).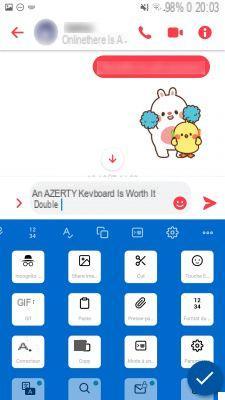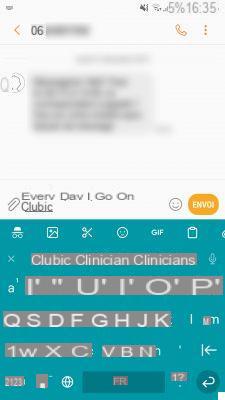 Download Chrooma
Download Chrooma
Grammarly, exclusively for English speakers
For English speakers, Grammarly is essential. It is already a benchmark as software or browser extension. With only two themes (one light, one dark), this keyboard is not the most aesthetic and even less customizable. Yet he excelled in the language of Shakespeare. When installing it, you choose American, British, Australian or Canadian English. More than an alternative keyboard, Grammarly is a real spell checker. Enter your text, in addition to word prediction, this app detects possible syntax errors such as an infinitive verb after the conjugated "to like" verb and suggests better punctuation. Better still, it offers synonyms for words that are frequent or inappropriate in relation to the context. The user will thus gradually improve his knowledge of English.

Comme Ginger, the observation is much less honorable concerning the language of Molière. Grammarly becomes almost illiterate, with Spanish words, even when they do not contain accents or apostrophes. The prediction is appalling. Correcting syntax / punctuation or suggesting synonyms is simply non-existent. Like most keyboards, Grammarly collects personal data (location, email address, contacts, etc.) but asserts respect for its users. In its privacy policy, the app team states, "We do not and will not sell your information. We do not help companies to let you know their products ". By deleting his account, all personal data is erased. So to keep always installed on your smartphone and to activate when you need it.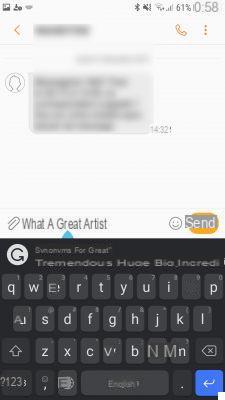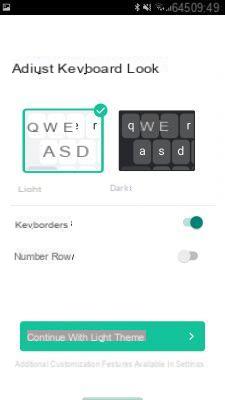 Download Grammarly
GO Keyboard, look priority, less privacy
GO Clavier claims more than 200 million users, especially young people. It is true that with more than 10000 themes and more than 800 emoticons (available in a free pack), everyone will find their happiness. If the theme downloaded for free is not yet completely to your liking, nothing could be easier than to modify it and change its font, its background and even the sound emitted with each keystroke. For the seizure itself, we are less enthusiastic. Certainly GO Clavier is practical (especially in 1-hand mode), but the prediction is very difficult with the Spanish language. The prediction improvement module only works in English and the handwriting recognition only understands Chinese ... The editor has however added a dedicated touch to our dear apostrophe for appreciable convenience. About 60 languages ​​are accepted by GO Clavier. Several plugins can be downloaded for free to change the voice, get an alarm clock, etc. Other apps do these functions just as well if not better.
We also appreciate the possibility of assigning a two-button module. The user can, at his convenience, choose between the search (among twenty services such as Amazon or Sephora, the directional pad with editing keys, the tape recorder-voice changer or the addition of an emoji, sticker , GIF and other avatars. Several ads appear regularly. To make them disappear, only one solution, to upgrade to the paid version. The subscription costs $ 9,99 / month or $ 59,88 / year. That makes the smiley dear. More problematic, the respect for private life is praised by the publisher but the explanations are rather obscure. A box is pre-checked in the confidentiality parameters "to improve the user experience", without further explanation. Facemoji, GO Clavier is very aesthetically pleasing but other editors or keyboards are more transparent and less expensive.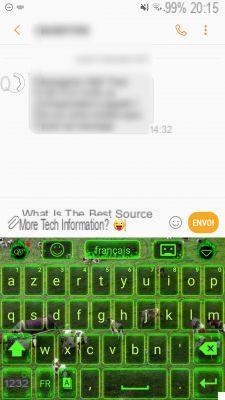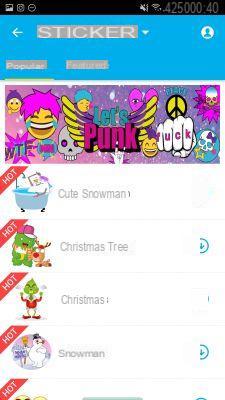 Download GO Keyboard
Download GO Keyboard
Facemoji, the avalanche of themes
Without wanting to spoil it, this keyboard is not the alternative keyboard that business men and working girls dream of. As indicated by his name, Facemoji put above all on its interface. It is thus similar to GO Clavier on this point. With over 1500 different themes, it's the devil if you can't find a template you like. Rest assured, even fans of unicorns, TV shows and other pop culture should find what they are looking for. In addition to the multiple themes acidulous or not, Facemoji is full of over 3600 emojis, emoticons, GIFs, emoticon stickers! There is therefore necessarily a small image adapted to your messages. Artificial intelligence is even able to suggest it to you depending on the context.
Regarding the confidentiality of your personal data, Facemoji emphasizes on the installation page that it never collects personal information without the user's consent. However, data sharing is enabled by default ... Remember that this collection helps improve keyboard performance. The gesture is commendable, however the privacy policy is quite obscure and only written in English. Like GO Clavier, Facemoji does not shine on the transparency of its company. So, only succumb to the siren songs of this app if your personal or professional data does not require total discretion. If you like to change themes often, this app is recommended.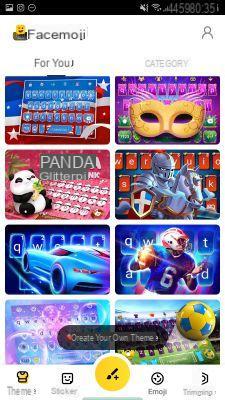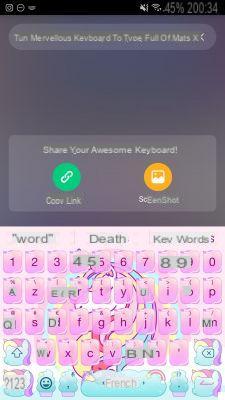 Download Facemoji
In short
As you have seen, there is no such thing as a perfect alternative keyboard. Fleksy seems to be the right balance between aesthetic appeal and functionality (prediction, translation, speech recognition). Ginger is also a good keyboard for typing in Spanish (even more so in English) and launching apps. Respect for the data of its users seems clear and serious. Gboard excels in prediction, translation or voice and visual recognition to the detriment of the protection of your data, transmitted or sold to "business partners". Swiftey offers fewer functions than Gboard but turns out to be better in prediction. If you type your texts only in English, Grammarly is essential (even if Ginger is already very good). Facemoji et GO Clavier have the wind in their sails but these Chinese apps are not clear about the collection and management of their users' personal data. For small screens, Minuum is not free but well worth the detour. For sensitive data or just more caution, AnySoftKeyboard is the small open-source app that is growing month by month and proving itself as good as commercial equivalents.