In emergency situations, such as when you accidentally delete important messages or restore your iPhone to factory settings, the backup created by iTunes becomes a real salvation. Thanks to this backup it is possible to restore all data, even those related to Whatsapp conversations!
What if you do not have an iTunes backup or if the backup is not very recent? In such cases, data recovery could only happen by directly scanning the iPhone memory. There are several software that can do this. We at softstore recommend two methods, or rather two software in particular. Let's see what they are and how they work!
Metodo n.1: Fonelab Whatsapp Recovery
Whatsapp Recovery is a professional program for recovering Whatsapp messages, and also their attachments (photos, videos, audio ...). It's a really trivial program to use so you won't have to worry if you're not very familiar with these things. Here are the simple steps to follow to understand which and how many whatsapp conversations can be recovered from your iPhone (even in the absence of backup!).
To get started download the free DEMO version of the program which is agolable for Windows or MacOS:


Once Fonelab Whatsapp Recovery is installed and started you will see the following splash screen.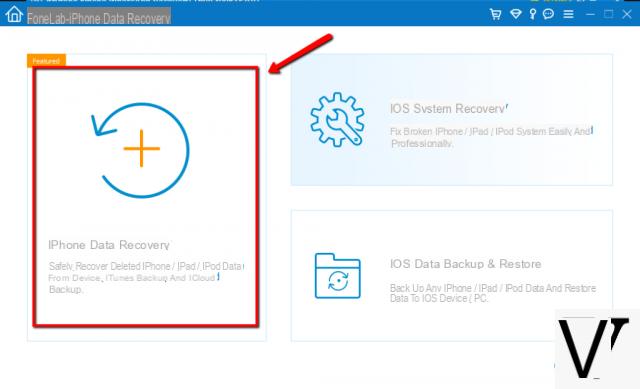 Press left on iPhone Data Recovery to access the screen from which you can start scanning your iPhone for deleted Whatsapp messages. Before that, however, you will obviously have to connect your iPhone to the computer (via USB cable). As soon as the iPhone is detected by the program click on START SCAN to start scanning.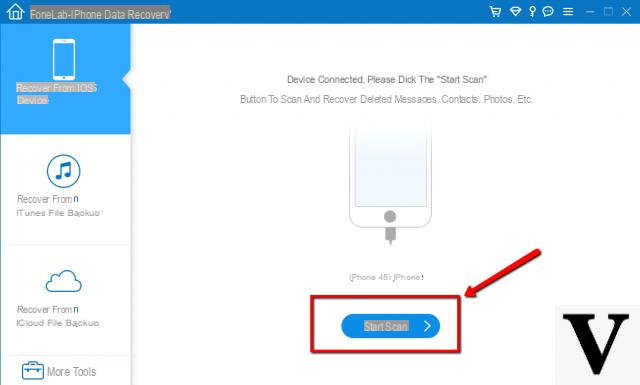 At the end of the scan you will be able to see, in the Whatsapp and Whatsapp Attachment folder, all the Whatsapp conversations: both those currently present on the iPhone and those deleted but still recoverable.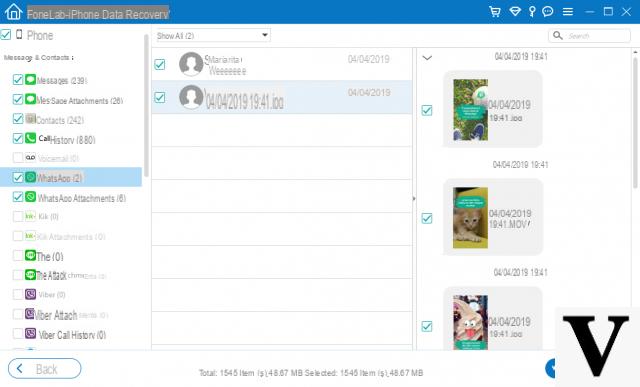 Select the messages to be recovered and press RECOVER at the bottom right to save them on your computer.
The conversations will be saved in a CSV file or HTML file. Attachments, on the other hand, will be saved in their original format in special separate folders.
Method #2: dr.Fone per iOS
Another program we recommend trying is Dr.Fone per iOS, a professional tool to recover deleted photos, sms, videos, notes, voice memos, etc ... from iOS devices (iPhone, iPad or iPod Touch). It also supports recovery of Whatsapp conversations!
Download the free demo version from the button below for WINDOWS or for Mac which allows you to understand which and how many Whatsapp messages are still present in memory and are therefore recoverable.


If you have a mobile Android, go to Whatsapp Recovery per Android
After downloading and installing Whatsapp Recovery for iPhone on your PC (supports Windows 10/8/7 / Vista / XP), launch it and follow these simple steps:
1) Click on the function DATA RECOVERY and then connect your iPhone to the computer with the USB cable. Wait for Whatsapp Recovery to detect the device.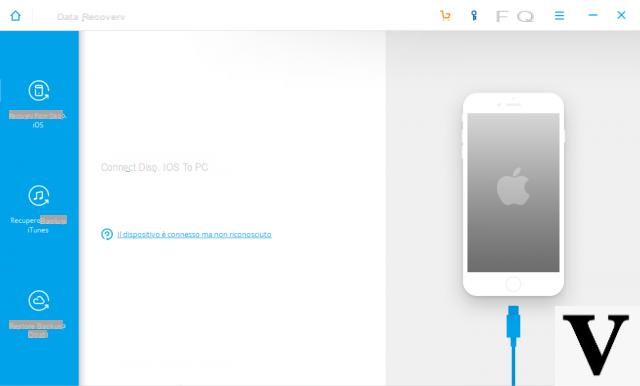 2) Select the mode "Recovery from agol. iOS"And start scanning the iPhone's internal memory for WhatsApp chats to recover. Before scanning you can choose the data to find (in addition to Whatsapp & Attachments you can ask to recover other types of data too)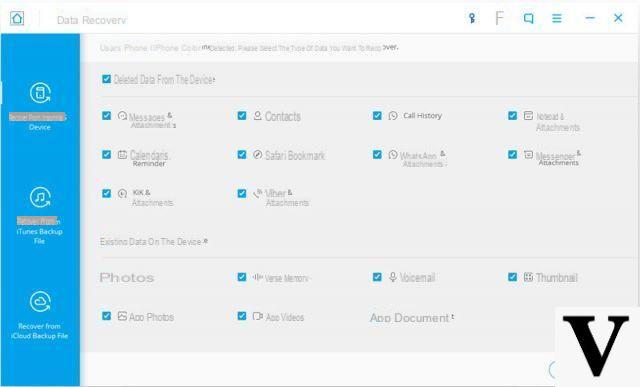 3) After scanning, the program will list all Whatsapp conversations found in the memory. Messages that have been deleted but are still recoverable will be highlighted in red. In the right part of the program window you will be able to see the details of the messages and also any attached files (photos, videos, etc ...)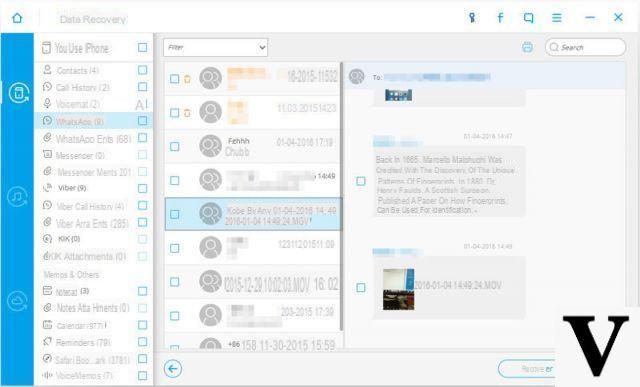 4) Select the conversations to retrieve and finally click on the "RECOVER". You can save the conversations on your PC in HTML or report deleted messages on your iPhone again.
NB: In addition to the direct recovery of deleted Whatsapp messages, you can also try to restore them from the iTunes backup or from the iCloud backup (if any)
Hi, is it possible to recover Whatsapp conversations and attachments on disabled iphone 7 due to glass breakage without backup? I would like to restore them to the same phone same SIM.
Try the software described in the guide .. it is the only possible solution, although perhaps it will not be able to access the data if you have never connected that iPhone to the PC



Hello, is it possible to recover a whatsapp chat deleted 7 months ago on an IOS device?
Yes, it is possible. It is worth doing a scan with the demo version to see the chats that are still recoverable.




It is possible to recover deleted chats from iPhone 11 without whatsapp backup and iTunes backup

Yes, it is possible
Failed with both whatsapp recovery and defone, zero messages recovered. Other programs to recommend? Iphone 11
Good evening my old iPhone 7 is disabled due to glass break (no back up)
Is it possible to recover at least the whatsapp history? currently i use iPhone 6s same sim and whatsapp number.
Thank you
But I'm only interested in whatsapp history and whatsapp attachments, isn't there a version that does only that or software that does only that? Because I have a phone with 10 thousand photos and I have to wait for it.
GraIemille
Hi everyone and the admin, I can retrieve the old whatsapp conversations that was in use before with another number, but still on the same phone, now I have brought a new card and consequently another whatsapp account. Thanks
Yes, if the phone is the same it is possible that some chats from the other account are still recoverable
Good morning,
but can the recovered conversations and attachments be viewed again directly on the Whatsapp App or are they only external files?
They are saved as external files ... but you can then bring them back to the device and they will end up in the "gallery" of the mobile phone (but not in the Whatsapp app)
hi, I uninstalled whatsapp and then reinstalled on the same device (Iphone5) but I no longer have the data can I recover them?
Hello everyone.
Lately I have been having a big problem with my saved files and photos.
My grandson has recently deleted all apps, messages and photos.
Having a backup saved I believed in restoring everything after re-downloading the apps.
One of them is whatsapp, it tells me it has no backup.
How can I do?
Hello,
I had to format my Iphone under repair, but now that I have re-downloaded whatsapp an old Icloud backup detects me (I remember that due to the weight of the chats it was impossible to do it for some time). But trying to restore the chat history doesn't work. Would I be able to recover anything with one of these programs? Thanks
Yes, you can extract the data from the iCloud backup
good evening… is it by chance possible to recover whatssapp conversations after a mobile phone reset without backup?
Hi, is it possible, once everything is recovered, to transfer it to the new iPhone?
No, you can only save chats to your computer. Any photos / videos instead can be transferred to the new device.
Hi, I have an iPhone 5SE. I would like to recover photos and chats from six months ago. How is this possible? I did not backup but ...
I uninstalled Whatsapp from an iPhone X and didn't make a backup. Is there any way to recover messages and attachments? I have already done the scan to dr Fone and Fonelab but they do not find neither messages nor Whatsapp attachments.
Would I need something more low-level? Is there hope?
unfortunately not, if both programs do not show recoverable data ...
hi I have an iPhone 7 with encrypted backup where 10 years of data are saved can I recover everything?
You must first try to find the password of that backup.
If it is a backup made with itunes, try this software to recover the password: https://www.softstore.it/recuperare-password-backup-iphone-mac/
hi, by mistake I deleted the whatsapp app from my iphone 4 (I know that it is not possible to update it) but I can not recover it in any way? Thanks in advance
Recover iPhone Whatsapp Conversations Without Backup -