To prevent everyone from rummaging through your personal files, keep them in a secure archive. They will be encrypted and only accessible after entering a password.
When you share your computer with several people, leaving sensitive documents (invoices, photos, bank documents, etc.) within everyone's reach can lead to disaster. A clumsy could delete an important file and a malicious person would be free to steal your personal data. To keep these items safe from prying eyes, it is best to lock them in an archive locked with a password that only you will know. It is also a good way to secure crucial information in the event of an intrusion on your computer, especially since you can take this file everywhere with you (on a USB key or an external hard drive, for example) without risking the 'no one comes across your secrets in the event of theft.
There are several solutions to compress and "encrypt" - encrypt - files, on PC as well as on Mac. Some use tools built into the system, which eliminates the need to install anything. But they are not all very "robust" and they generally require you to stay in the same environment, which limits exchanges between platforms. It is therefore preferable to go through third-party utilities.
Thus, the Professional edition of Windows 10 offers a dedicated option to encrypt folders or files: you have to right-click on a folder or a file, select Properties, click on Advanced… then tick the box Encrypt content to secure data. But this method is not very reliable and, above all, it is only available in the Professional edition of Windows 10. If you use the Home edition of Windows 10 (the most common) or if you want a solution more robust, we invite you to use the free 7-Zip compression software. It will create an archive containing all your files, compress them and apply effective encryption. You will be able to carry this compressed file with you everywhere. All you have to do is enter the password you have defined to access its content. In addition, this archive in Zip format will also be readable on a Mac. Convenient !
Finally, on macOS, two possibilities are available to you. If your protected folder is to be used only on Apple machines, it is through the Disk Utility app, integrated into the system, that the operation takes place. You will therefore not have to install anything. If, on the other hand, you also want to access it from a Windows PC, you will then need to use a small free utility that is compatible with 7-Zip and its archive format. Here's how to do it.
Create a secure archive with Windows 10
7-Zip is a free, light and powerful utility, handy for compressing and decompressing files or folders in a multitude of formats. Its little extra: it allows you to lock access to an archive with a password. Depending on the encryption method used, you may need to install 7-Zip to access your secure folder on another PC.
Go to our Download section or directly to the 7-Zip editor page. Find the software version that suits your edition of Windows (32-bit or 64-bit) and opt for the exe format.

Install the software. The advantage of 7-Zip is that it takes place in the Windows context menu. An asset that will save you a lot of time.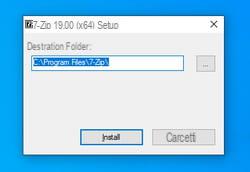 Gather the files you want to keep safe in a folder and give it a name. Then right-click on this folder and choose 7-Zip and Add to archive.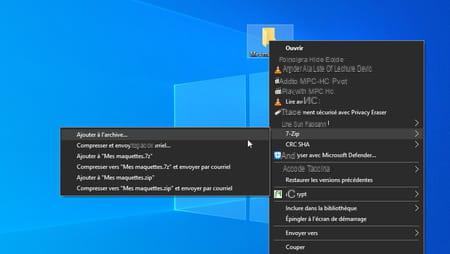 A settings window opens. Locate the section Encryption in the area to the right. Enter a password in the field Enter a password. Confirm it in the field just below.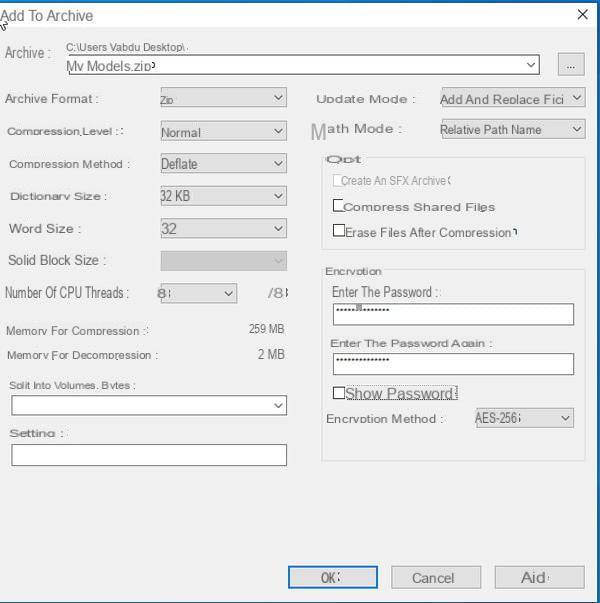 To check that you are not mistaken in the entry, check the box Show password.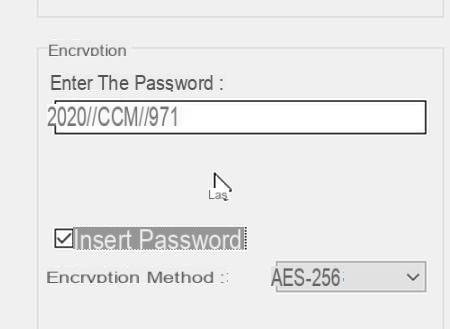 Now choose the encryption method according to the use you want to make of this archive. By opting for AES-256, the encryption will be very strong, but you will only be able to access the contents of the compressed file using 7-Zip. This implies installing it on all the machines concerned. The Zip file extraction module integrated into Windows will be able to display the contents of the archive (and thus reveal the names of the files it embeds), but it will be unable to decompress them. By opting for a slightly less robust encryption ZipCryptor, you can extract the archive on any machine (even Macs) without having to install anything.

Confirm with a click on the button OK. Your archive in Zip format containing all your files is instantly created. By default the file has the same name as the original folder with the extension .zip and a zipper on its icon.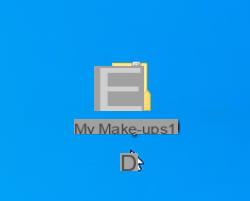 All you have to do is get rid of the original file, which does not have any password protection. Place it in the trash and empty it.
Note: if you have created an archive with the AES-256 encryption method and need to access it from a Mac, you will need to download the Keka utility on the Mac. This software accepts to open password locked 7-Zip archives based on this encryption method.
Create a secure archive with macOS
If your secure folder is to stay on Mac, no need to download any tool to protect it. Everything happens from within macOS Disk Utility.
Gather the files you want to keep safe in a folder and give it a name.
From Finder, pull down the menu Go And click Utilities. In the list of applications that appear, double-click Disk Utility.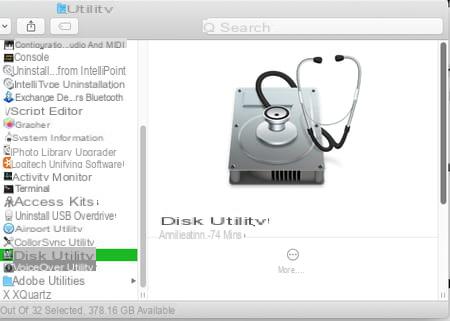 In the menu bar, choose files and New image and finally Image of a folder.

Navigate in the tree structure of your hard drive and select the folder containing your sensitive files. Validate by To choose.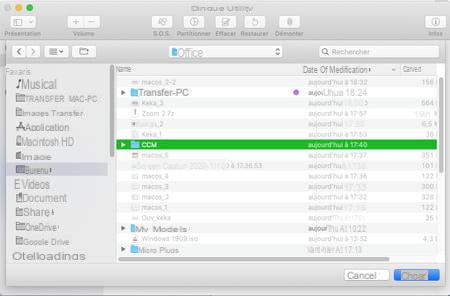 In the new window that appears, click on the drop-down menu Encryption and choose the encryption method (AES-128 bits ou AES-256 bits).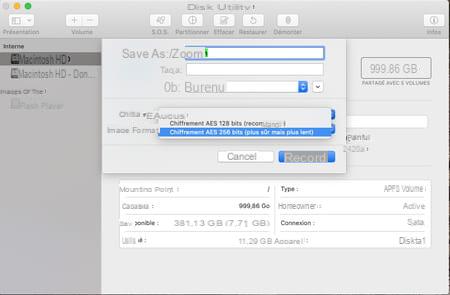 Instantly, you are prompted to create a password. Enter it in the upper field and confirm it in the field below. Confirm with a click on To choose.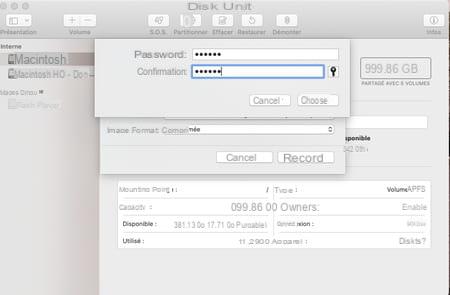 Finally define the location where the compressed and protected file will be saved (the Desktop for example) and click on Save.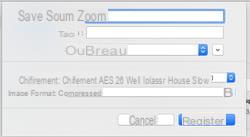 The secure folder is now created. It wears the extension.dmg. Double-click on it and enter the password previously defined to access its content. Remember to get rid of the original folder which is not password protected. Place it in the Trash and purge it.

Create a secure archive on macOS compatible with Windows
If the folder protecting your precious files with a password is to be accessible on both Mac and Windows, you'll have to find common ground. And it's Keka who sticks to it. With this free tool, you can create secure archives in 7z format, the one used by 7-Zip software available only for Windows. The only constraint: 7-Zip must be installed on the PC to open the archive and extract its content.
Gather the files you want to keep safe in a folder and give it a name.
Download and install the free utility Keka then launch it.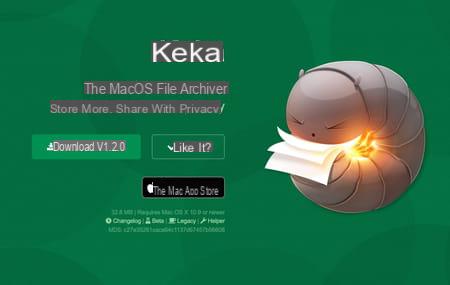 In the window that appears, enter the sesame of your choice in the field Password and confirm it in the field Repeat.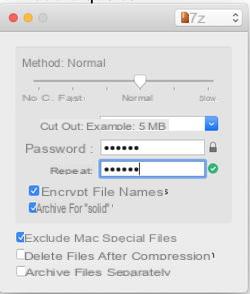 Switch to the Finder then, using the mouse drag the folder to be locked onto the Keka window. As soon as you let go of the mouse button, an archive in 7z format is instantly created in the same location as the original folder.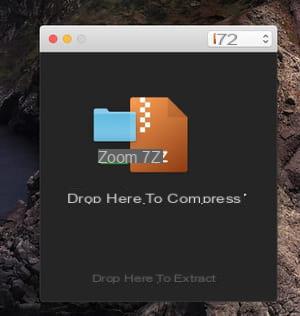 To access its content from a Mac, right-click and choose Open with and cake (the utility must be installed on the machine). Enter the sesame and validate.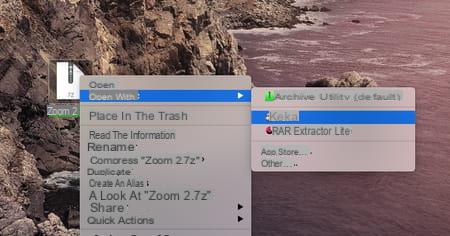 To access its content on a Windows PC, install the 7-Zip utility. Right click on the compressed file, choose 7-Zip and Open l'archive. Enter the sesame and validate.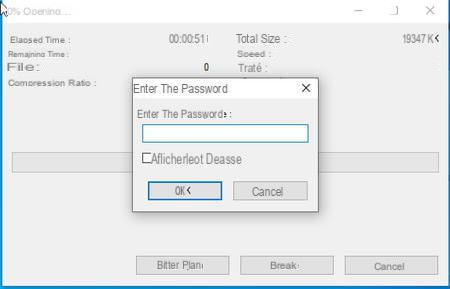 Put a password on a folder: how to protect it