Get in the habit of locking your Android screen so that a third party cannot access your data, emails, contacts, photos, etc. without your consent.
Pull down the notifications bar, tap Parameters → tab Apparatus → Lock Screen.

Press Unlocking the screen.

Select one of the five methods offered to protect your smartphone: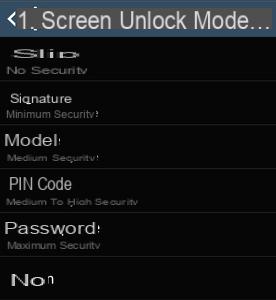 No : your smartphone is not protected by a lock screen, an option that we do not recommend.
slip : with No, this is the least secure option since no password or pattern is required to unlock the phone. This option only requires you to slide your finger across the screen to access the phone. On the other hand, with this "protection", you can display widgets on the lock screen.
Signature : Protect the phone by signing on the screen using S Pen. If you turn your Galaxy Note 3 on and off frequently, this locking mode may seem painful to you because it is long.
Model : allows you to protect the phone using an unlock pattern. The latter must use at least four consecutive points.
Pin code : allows you to protect the phone with the PIN code. It is not necessarily the same PIN code as your SIM card, even if nothing forbids it!
Password : allows you to protect your smartphone with a password using an alphanumeric sequence. This protection is essential to encrypt your phone.
Once the lock mode is selected, return to the previous screen and refine the settings. Some options are only available for a given lock mode.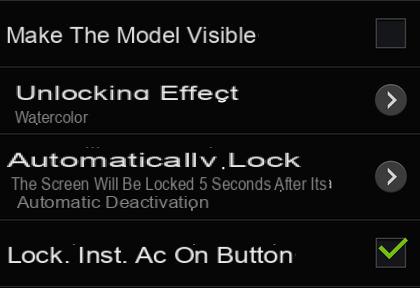 Make the model visible allows, as its name suggests, to display the diagram you draw on the screen, an option that we do not recommend!
Unlock effect allows a sort of "cloud" to appear around your finger when you touch the screen. Although aesthetic, this function allows you to guess the unlocking pattern.
Automatically lock : allows you to automatically lock the phone when the screen goes to standby (either immediately or several minutes after going on standby).
Lock Inst. ac Start button : Automatically lock the phone when you press the physical button On Off located on the right side of the phone.

If you cannot activate some of the locks offered (see screen below), make sure you have not configured a VPN access which requires the use of a strong lock! Also check that you have not tried to encrypt the external SD card when there was none in the phone!