After seeing how to edit PDF on Mac, in this article we want to focus on how to create a PDF on Mac. Apple has not developed any new programs for creating PDFs. However, below we want to point out two excellent applications specialized in converting, editing and also creating PDF documents on Mac (Catalina and Big Sur included).
Before seeing some software solution that allows you to create PDF on Mac, starting from any document or even from scratch, let's see immediately how you can save a document as PDF on Mac. The steps to follow to do this are really simple. Here are the details!
On your Mac, open the document you want to create the PDF file from.
Click on the File> Print menu at the top.
Click on the drop-down menu and select the option "Save as PDF".


Choose a name and folder in which to save the PDF file. You can also add information in the Title, Author, Subject, and "Keywords" fields (these are useful if you do a future search through Spotlight to locate the created PDF file first).
(optional) To protect the document with a password, click on "Security Options". You can then set a password to open, copy and print the PDF.
These are the basic steps to create a PDF from any other document on Mac. But if you are looking for something more professional, then take a look at the two solutions described below.
Solution # 1: PDFelement
PDFelement per Mac is an all-in-one solution that provides all the features you need to seamlessly edit and create PDFs on your Mac computer (Catalina and Big Sur included). PDFelement for Mac can be downloaded as a free demo version from the following link:

Thanks to this app you can add comments, highlight text, add notes, add / remove watermarks, add markup, add / remove pages, create PDF forms or polls and so on. In addition to all the PDF editing tools such as editing text, adding objects, inserting or extracting pages etc ... PDFelement for Mac also allows you to create PDF starting from any document (word, powerpoint, excel, images, etc ...)
After installing the app you will see this screen: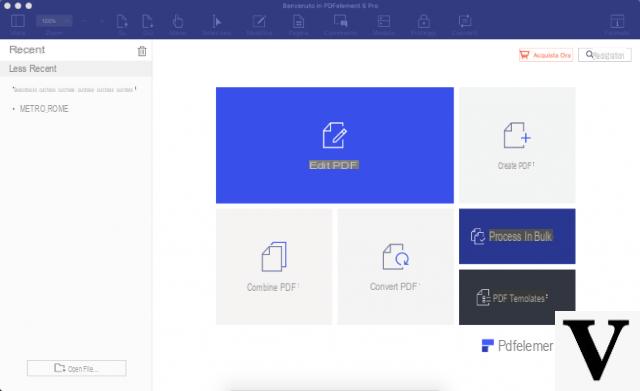 Click on below COMBINATION FILES to upload all the documents you want to use to create the PDF in the app. You can also upload a blank page (Word) in which you can then add all the textual content and images you want from scratch to create the desired PDF.
Finally click on the menu FILE >> Save as and save the created PDF on your Mac.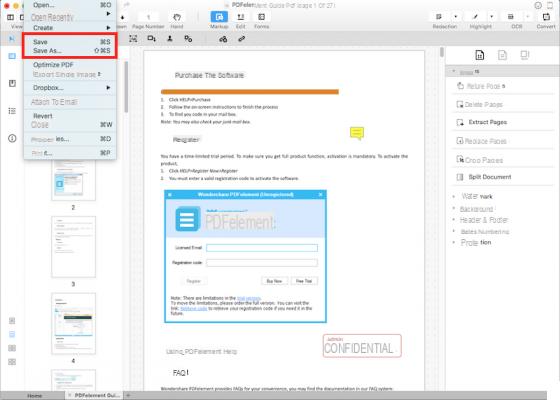 Solution # 2: PDF Converter PRO for Mac
PDF Converter per Mac is another app available in a Mac version (Catalina and Big Sur included) and which allows you to create PDFs from any textual document and image. Its operation is really trivial.
First download and install the free demo version from the link below:

After installation you will see this screen: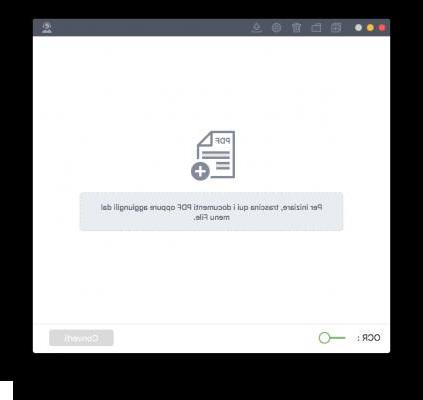 Drag all the files you want to use to create the PDF file into the app. This app also supports the OCR function, so if you have scanned documents you will have no problem turning them into PDFs.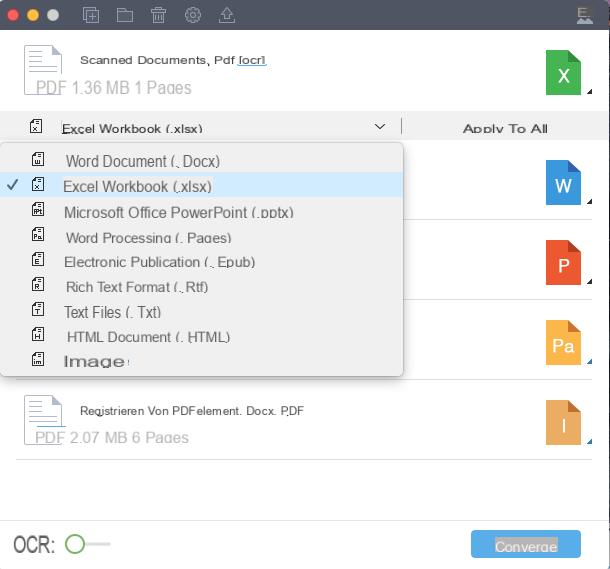 After uploading the documents, click on CONVERTED and wait for the end of the operation. The PDF file obtained from the conversion will be saved on your Mac. For more info on this amazing program read how to convert PDF on Mac
How to Create PDF on Mac (Catalina and Big Sur included) -