In this article we address the following 3 aspects:
1. How to create custom iPhone ringtones via iTunes
2. How to make iPhone ringtones via the free Ringtone Maker app
3. How to transfer iPhone ringtones to another iPhone
Let's go step by step and begin to see in detail all 3 guides just mentioned.
Part 1. How to create custom iPhone ringtones via iTunes
It is not very difficult to create ringtones for iPhone, and it is something that you can certainly do on your own. Below we show how to use iTunes to create custom iPhone ringtones in .m4r
1 Phase. Launch iTunes on your computer. In the left sidebar, choose a playlist containing the desired song to turn into a ringtone.
2 Phase. In the playlist, select the song you want to use for the ringtone. Listen to the song and choose 30 seconds of length or less for the ringtone.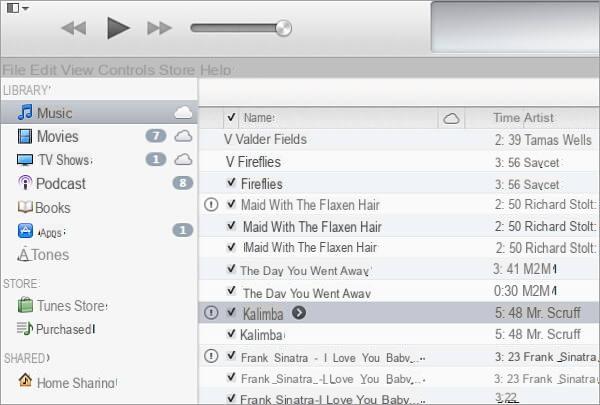 3 Phase. Right click on the song. In the drop-down menu choose "Information". This brings up a small window. Click on the "Options" tab, and set the start and end time of the song. Finally click on OK.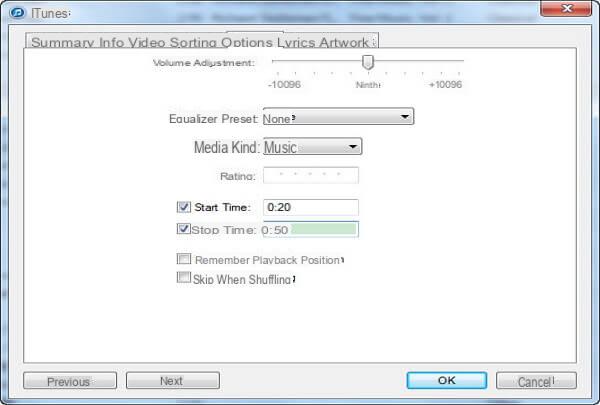 4 Phase. Click the right mouse button again and this time from the drop-down menu click "Create AAC version". The created ringtone will appear in the playlist. Drag and drop it to your computer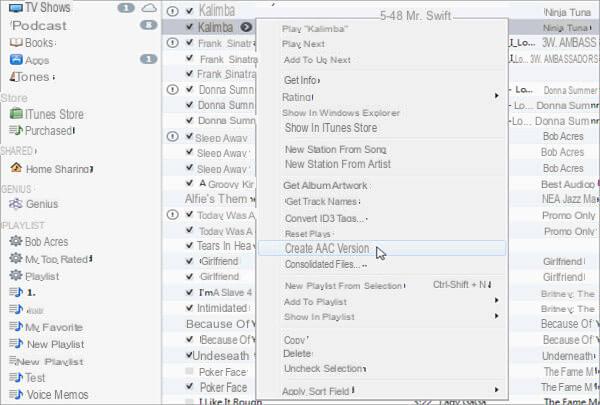 5 Phase. The created ringtone will be in.m4a. You just need to change the extension from .m4a to .m4r: Right click on the ringtone and select Rename and then change the extension. If you can't change the extension then, from your computer go to Control Panel> Appearance and Options> Folder> View> uncheck "Hide extensions for known file types". Then go back to the created ringtone and this time you will be able to change the extension from m4a to m4r.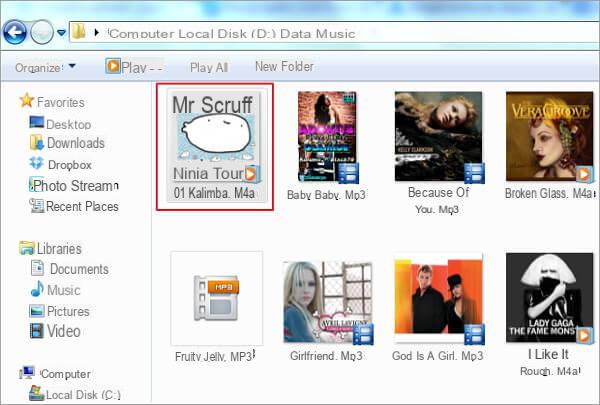 If you want a program that allows you in a simpler and more intuitive way to cut mp3 files (or even video files) to create the desired ringtones from them, we also recommend that you take a look at Audio Mix, a small but powerful tool that allows you to cut, merge and customize audio files for creating ringtones and much more.
Part 2. How to make ringtones with the Ringtone Maker app
If you don't like iTunes or want to find some free ringtones app for your own then you can use Ringtone Maker. This app is very famous and ideal for creating ringtones for your iPhone (starting from any piece of music in your possession).
Here is the step-by-step guide:
1 Phase. Download the Ringtone Maker app from the iTunes Store, and install it on the iPhone.
2 Phase. Open the Ringtone Maker app on your device.
Phase 3. Select a song from your playlist, sound recorder, iTunes File Sharing or Dropbox.
4 Phase. Open the chosen song and from the app screen set the start and end time of the song for your ringtone.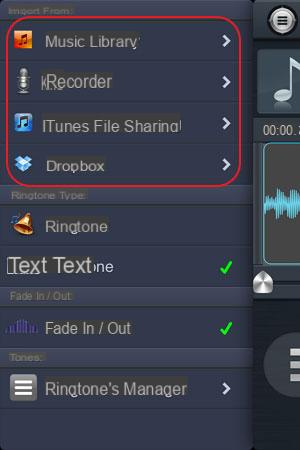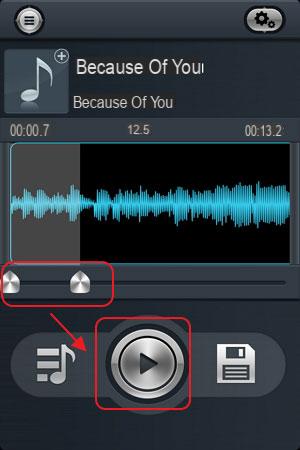 5 Phase. The app will create the ringtone while the song is playing.
6 Phase. When playback is complete, click the icon next to the playback icon.
7 Phase. The ringtone will now be ready and saved in M4R format. Export the ringtone to your computer via email or Dropbox.
Phase 8. Log into your email or Dropbox on your computer to download the created ringtone.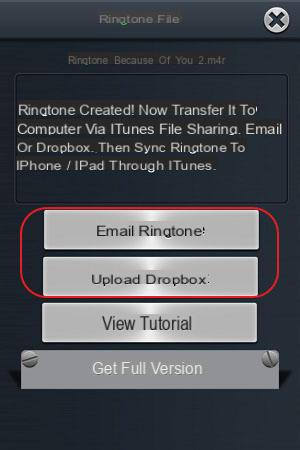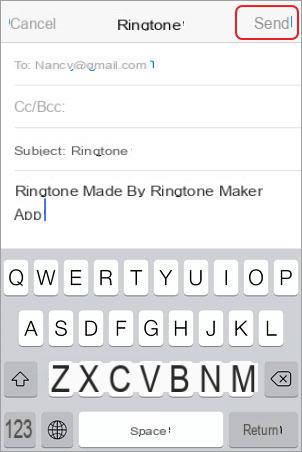 Part 3. How to Transfer Ringtones to iPhone
Once the ringtone is saved on your computer you will surely need to know how to transfer it to your iPhone or share it with friends. If the ringtone is made in iTunes, you can sync it directly with your iPhone. If you have created your own ringtone with the Ringtone Maker app then you will need a third party tool. We recommend using TunesGO (for PC or Mac) which is software similar to iTunes but with a lot more features. With it you can easily transfer ringtones to iPhone 12/11 / X / 8/7/6/5 without going to delete the other songs on the device. Here's how it works:
1 Phase. Connect the iPhone to the computer
Use the Apple USB cable to connect your iPhone to the computer. After connecting the iPhone will be displayed in the main program window.
Download TunesGO for PC or Mac from the following links:


Home screen: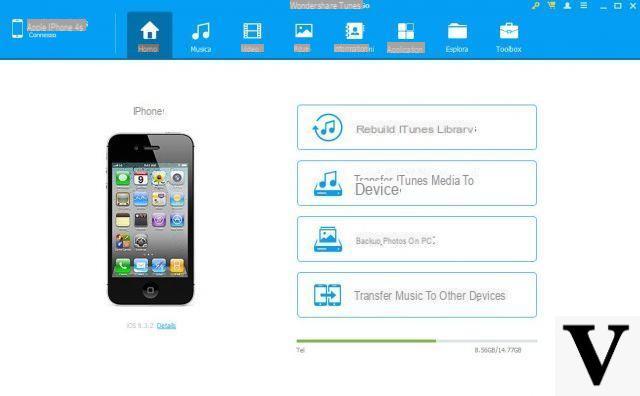 2 Phase. Transfer ringtones to iPhone
Go to section MUSIC and then click on Add at the top to open the explorer window. Navigate to the folder where the ringtone is saved and click apri to load it on your iPhone.
In addition to transferring ringtones to iPhone, this software also allows you to transfer ringtones from iPhone to iTunes o from iPhone to Computer in a few simple clicks!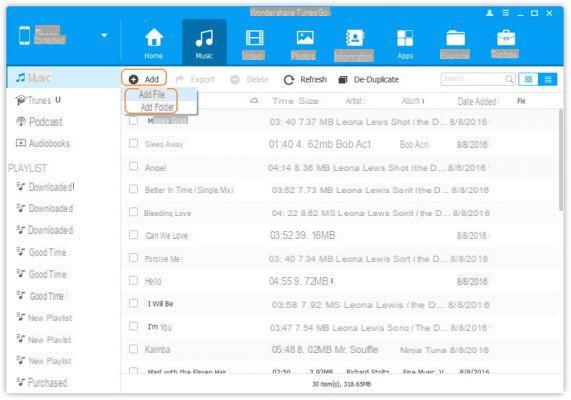 I created the ringtone in the tunesgo on the pc and transferred it to the iphone but now where I find it in the phone, sorry I'm a little ignorant
Settings / sounds & feedback… / vibration and sound patterns / ringtones
As above it goes into music but doesn't paste it on ringtones
I would like if possible to transfer custom ringtones that I own, having created them for the previous iphone 5
Yours sincerely. I tried as described to create a ringtone for iPhone 5s I cut the file up to sc 26 but iTunes does not load it on ringtones but only on music.The transfer consists of: mac pro to iPhone. Then iTunes does not create ringtone files in my opinion with the latest updates. I hope for your welcome help !!!!!!!!!!