Do you have a PDF document that you would like to turn into JPEG image format? Would you like to convert each page of the PDF to a JPEG image?
There are several reasons that can lead us to find a way to turn a PDF into an image. One of the reasons why you would like to perform this conversion is that the JPG / JPEG image format is easily viewable even on mobile devices (just as if they were photos). On the other hand, PDF documents are not always viewable because not all mobile devices have a PDF viewer installed inside them. But there are also other scenarios that require converting PDF to JPEG image (or other image formats) such as:
PDF sharing on social networks: For example, if you have a PDF file that you want to share on Facebook or Instagram and it is a PDF of one page or a few pages, then its conversion into images could be the ideal solution for uploading the content to these social networks. In fact, if you try to upload a PDF you will notice that it is not possible. With JPEG image files, on the other hand, you won't have any problems
PDF content protection: Turning a PDF into images makes the content even more secure. If a PDF is editable through PDF Editor programs, a JPEG image is absolutely not editable (unless you use PhotoShop and do a very painstaking job)
Extraction of images from PDF: If the PDF contains photos or images that you would like to use as they are, then it is essential to find a PDF to JPEG converter.
Regardless of your reason for converting PDF to JPEG, here are some software solutions and online services that can help you.
PDF Converter
PDFelement
PDF to Image Online
#1. PDF Converter
The first solution (software) we recommend is PDF Converter, a professional converter that allows you to convert PDF to JPEG in a few minutes. To obtain the best image quality it will also be possible to modify parameters and options before conversion.
Below we see how to use PDF Converter to convert PDF to JPG quickly and easily. First download the demo version of this "PDF to JPEG Converter", available for both Windows computers and Mac OS X systems:


Step 1. Upload PDF document
To upload the PDF document, all you have to do is drag it into the program window. It is also possible to import multiple PDF documents at the same time to perform a multiple and simultaneous conversion of PDF files to JPEG.
Step 2. Set JPEG as the conversion format
On Mac computer, after importing the PDF click on the small icon to the right of the file to choose the Conversion format. Tax JPG as a conversion format.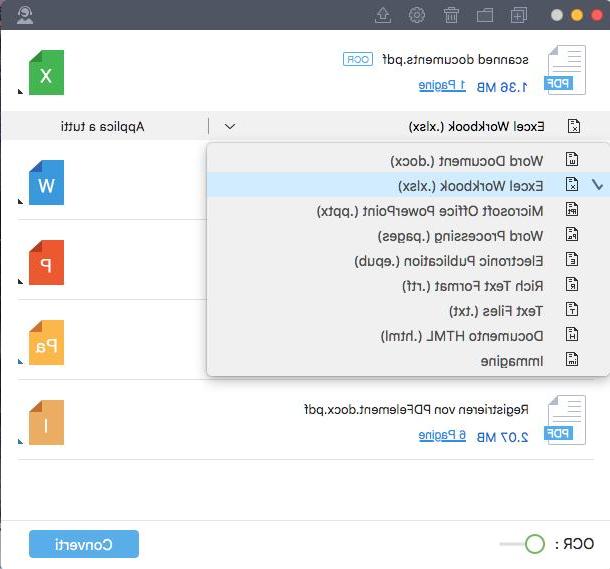 On a Windows PC, on the other hand, you can set the JPEG format by choosing "Image" in the drop-down menu on the right of the program and then going to the advanced settings to set JPG, as shown in the figure below.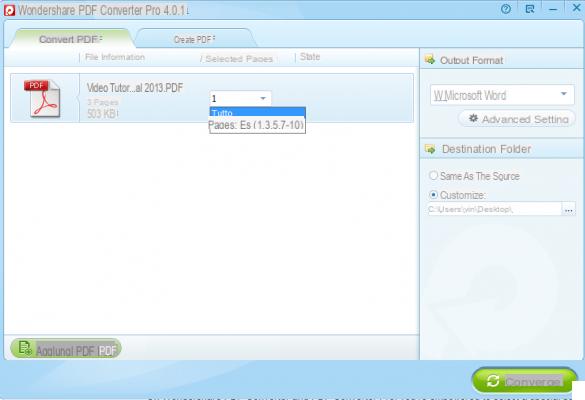 From the advanced settings, in addition to choosing the format of the images you will have the possibility to decide between the following two options:
Convert each page of the PDF into a single image
Extract all the images from the PDF file and save them on your computer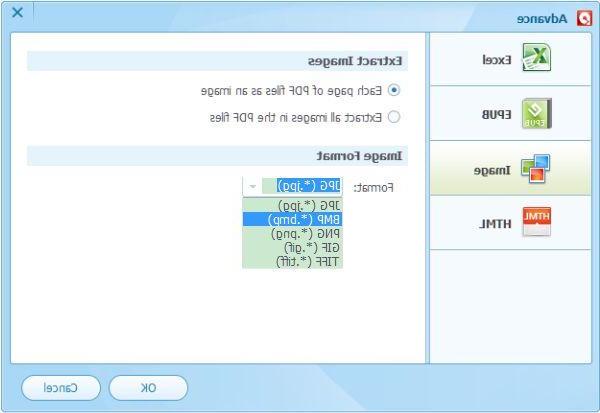 Step 3. Start converting PDF to JPEG
Finally click on the button CONVERTED and the program will start converting PDF to JPEG on Mac or Windows. After a few seconds the program will notify you of the end of the conversion and you can go to recover the images created in the output folder. That's all!
#2. PDFelement
PDFelement is a professional program used by those who work with PDF documents on a daily basis. With this program it is possible to make all the changes you want on a PDF file. Among the many functions available there is also the one that convert PDF to JPEG image (or other formats). Here's how it works.
First download and install PDFelement on your computer (Windows or macOS)


Splash screen you will see after installation: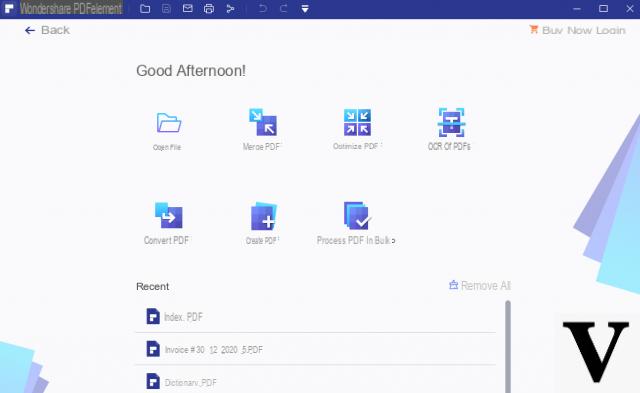 Click on the icon Open File and select the PDF from your computer. The file will be opened and displayed within the program. At this point click on the tools menu, on the option Converted and then choose "In Image"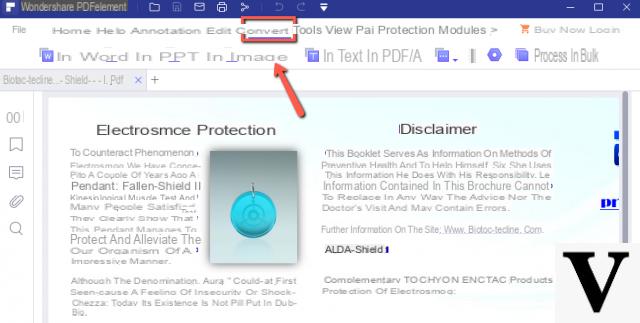 The save window will open automatically and will allow you to save the PDF as a JPEG image on your computer.
#2. PDF to Image (online)
If you don't want to download and install anything on your computer and if you have no special needs in converting PDF to JPEG, then you might as well try the free service offered by PDFtoImage.com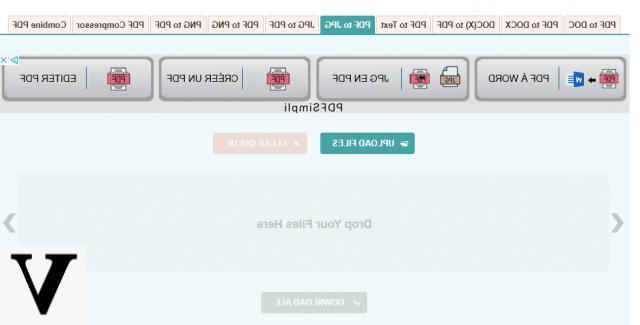 Once you have opened this website on your browser you simply have to click on the button Upload Files to upload your PDF. Immediately after uploading, the service will automatically convert each page of the PDF into a single JPEG image. At the end of the conversion go with the mouse on the converted file and you can download the .zip file that will contain the jpeg images obtained from the PDF

That's it!
As you can see, there are several solutions, even very simple to use, to convert a PDF into JPEG format images. Some solutions (such as the software ones described above) have advanced settings that also allow you to choose the resolution of the images obtained. Others, such as web-based solutions, are much simpler, are free but don't offer many customization options. The choice of the best solution is up to you, also based on your personal needs!
Great program! thanks for the tip
How to Convert PDF to JPEG -