80 € + first 6 months free
for opening an account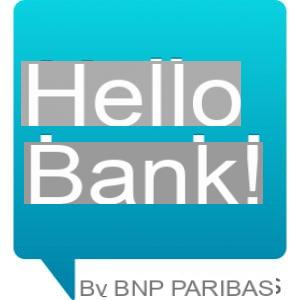 9 / 10
Editor's note
9 / 10
Editor's note
Read the conclusion of the test
Under the leadership of the BNP Paribas group, Hello Bank benefits from a proven banking network while having its own autonomy and offering services worthy of the best online banks on the market. With its very competitive offers, quality customer service and additional services, Hello Bank is clearly one of our references. Here is our full review.
Features of Hello Bank!
| OPENING BONUS | UP TO 80 € + 6 MONTHS FREE |
| --- | --- |
| REVENUE CONDITION | 0€ |
| ?BANK CARD | VISA HELLO ONE, VISA HELLO PRIME |
| ? INITIAL DEPOSIT | 0€ |
| ? ACCOUNT KEEPING FEES | FREE |
| ?SPONSORSHIP | YES |
| ?APPLICATION | ANDROID / iOS |
| ? MOBILE PAYMENT | APPLE PAY / PAYLIB |
| ?3D SECURE | YES |
Hello Bank! in a few words
You may have heard or seen the famous phrase "Mobile like you" somewhere before. As you can imagine, it is behind these words that Hello Bank hides its philosophy. Online banking launched in 2013 by BNP Paribas has experienced strong growth in recent years to the point of being exported to many European countries such as Belgium, Germany, Austria and Italy.
Thanks to the know-how of the parent company and the contribution of more than 2000 physical branches of the BNP Paribas network, Hello Bank has acquired the trust of more than 3 million customers. In addition, in addition to the simplicity of its offer and the advantages of zero fees, banking products from traditional banks play a significant part in the customer experience. The overhaul of its offer initiated in 2020, Hello Bank is clearly trying to gain visibility while competing with neobanks from which it is still trying to stand out today.
Hello Bank rates!
A year ago, Hello Bank began a complete overhaul of its offer. Exit the different levels of cards for current accounts, let's make way for two easy-to-read offers: Hello One and Hello Prime. The difference between the two accounts lies above all in the desired use: when the first is accessible unconditionally and free of charge, but with a limited margin of use, the other is intended for a more complete use with an insurance / service package. premium, added value abroad, but necessarily more expensive. The latter also requires a minimum of 1000 euros of monthly income while the Hello One card is accessible to all. Here is the full recap of the two offers.
Carte Visa Hello One
Hello Prime Visa card + Hello Prime virtual card
Hello Bank also has specific offers for joint accounts with two levels of dedicated VISA cards (Classic and Premier), but we'll focus on individual accounts for this review.
Hello One
Hello Prime
Price
Free
5 € / month
Initial deposit
From € 10
From € 10
Flow type
Systematic authorization
Immediate or deferred
Income conditions
No
1000 € minimum
Payment abroad
Free and unlimited
Free and unlimited
Withdrawals abroad
Free and unlimited *
Free and unlimited
Payment limit
1000 € / month
Between 1200 and 2500 € / month (depending on income)
Withdrawal limit
400 € / week
Between 500 and 1000 € / week (depending on income)
International transfer
€ 50 outgoing
Unlimited inbound

€ 50 outgoing
Unlimited inbound

Account opening and closing
No fees
No fees
* Free at all BNP Paribas distributors and subsidiaries
Hello Bank's advantage over many of its competitors is the good distinction made between its offers. If Hello One is perfectly designed for daily use or secondary use for small expenses, Hello Prime includes all the premium package that an online bank is entitled to offer for a very low monthly price.
In addition, the two offers benefit from a fairly substantial "zero-cost" catalog since, in addition, whatever the offer, we are entitled to:
No account maintenance fees
No inactivity fees
No commitment
No cancellation fees
No commission on transactions
No payment fees abroad (with card and excluding exchange fees)
There are still some nuances to know in the case of certain operations such as withdrawals. They are effectively free when made from more than 2000 BNP distributors and on partner terminals - in addition to those of the Global Alliance network - in Spain and abroad. For the latter, the Hello One card still requires 1 euro per transaction, which makes it difficult to recommend for travel, especially in countries where payment in cash is important.
The Hello One card also stands out with instant transfers. They are also subject to commissions - always 1 euro - when they are issued from the Hello Bank web platform, or at a BNP Paribas branch. They are however free from the application.
How to fund your account?
The advantage of an online bank over a neobank also comes from its parent network. In the case of Hello Bank, it is possible to take advantage of BNP Paribas branches to deposit checks or cash to fund your account. A welcome and practical feature, it is even possible to scan a check via your smartphone with the application and find the amount credited to your account after validation. Obviously, bank transfers are also possible and do not give rise to any limit on the amount, except going out abroad.
Open an account with Hello Bank!
Whether it's from your mobile or your computer, registering for Hello Bank is quick and only takes about ten minutes. The documents requested are more or less the same as elsewhere: two identity documents, proof of address, bank details, the last proof of income and a scan of the handwritten signature. Once these documents have been sent, it will only take two days for us to receive a temporary Hello Bank RIB into which to make a first deposit of between 10 and 300 euros, necessary to validate the creation of the account. But it is from here that the experience is tainted: 4 days after sending the first deposit, the account is validated. It is quite possible to access your customer account, but Hello Bank does not give any news of the bank card. Finally, we received the card by registered letter 16 working days after the first steps to create accounts, without ever receiving any follow-up.
Initial deposit and overdraft management
Like most online banks, Hello Bank ensures a contribution to the new account from its new customers. However, this amount varies according to income and is at the discretion of the bank, which is probably based on the information given when opening the account. Hello One is accessible unconditionally while the Hello Prime offer requires a minimum of 1000 euros / month for its subscription.
Welcome bonuses
As a subsidiary of a traditional bank (BNP Paribas), Hello Bank adopts a strategic acquisition model which is just as important. If neobanks tend to abandon this aspect in favor of word of mouth, online banking does not hesitate to increase the number of special welcome operations. We therefore rely on sums offered for the opening of an account - often spread over time - or the free Hello Prime card over a given period. To find out about current offers, do not hesitate to regularly consult our Good Deals section or our dedicated comparator.
Referral bonus
In addition to the welcome bonuses, Hello Bank also offers the possibility of sponsoring a loved one or being sponsored. Online banking offers 20 euros for each person having subscribed to an account - whether Hello One, Prime or joint - and 1 year of subscription to a Hello Prime card offered for the sponsored person.
Insurance, offers and services from Hello Bank!
Hello Bank is a partner of the VISA organization to offer all of its customers its own insurance package. Obviously the Visa Premium card - corresponding to the Hello Prime offer - has the highest level of insurance.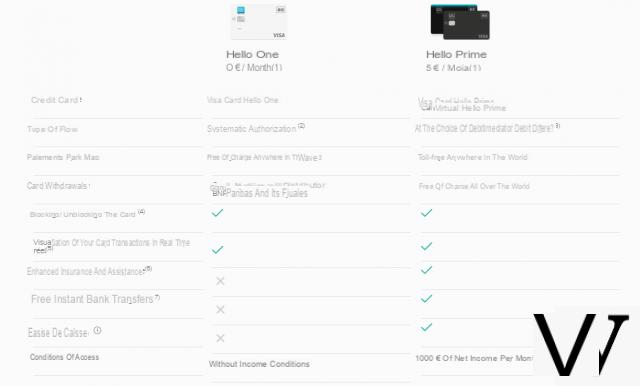 But Hello Bank, as is the case at Boursorama with Société Générale, has the advantage of having the support of the parent company BNP Paribas. Consequently, the bank is able to offer ancillary banking products which are usually reserved for traditional banks. It is therefore possible to take out a consumer loan (at a fixed rate) or even a mortgage. The advantage of the first is that it can be done directly from the application or the web interface, while the second still requires the support of an advisor by phone.
In addition to these products, Hello Bank also offers the opening of savings book called Hello +. The latter is free, free of charge and scalable between 0,05% and 0,10% depending on the amount saved.
Cashback
Hello Bank does not offer its own cashback service via a dedicated platform or functionality. On the other hand, it is possible to go through the cashback sites such as IGrall, ebuyclub or swagbucks (others are available) which are partners of online banking. We would have liked Hello Bank to offer its own platform, as is the case with some competitors.
Customer Service
Focusing on customer service is an essential part of the Hello Bank ecosystem, and there is plenty. The BNP Paribas group's online banking enjoys a very good reputation. On the one hand, it is possible to have a physical point of contact in any BNP branch in Spain even if the bank favors contact by phone or online the Hello Team available from 8 a.m. to 22 p.m. on weekdays and 8 a.m. to 18 p.m. Saturday.
Apart from that, Hello Bank has developed its own virtual assistant called HelloïZ. The latter, however, acts like a bot and simply redirects customers to articles and links associated with research. Its advantage is that it is accessible from the web platform, applications, Facebook Messenger and even on Google Home. Hello Bank also has a very active online forum which makes it easy to find an answer to a question. The Twitter account is also very active and responds quickly via private messages. On that, it's almost flawless.
What about cryptocurrency?
Following BNP Paribas' position on the subject, Hello Bank does not offer any product allowing investment in cryptocurrencies. Truth be told, it is not even possible to transfer funds from a platform, Binance in the lead. This position on cryptocurrencies always denotes with this principle of a bank based on dematerialized use, it is also the case of online banks like Boursorama or Orange Bank.
Our opinion on the Hello Bank mobile application!
The customer experience of an online bank is necessarily dependent on its mobile application. Even if it is possible to manage your account via the web platform, the mobile experience remains at the center of the Hello Bank ecosystem, we can also say that the latter has only acted as a presence. The Hello Bank application available on Android and iOS meets the main expectations and offers common features while offering a clean, simple and non-invasive interface. These range from budget management to the categorization of expenses to the modification of ceilings and activation or not of online and abroad payments. Security measures such as blocking the card or supporting facial and / or digital recognition on connection are also part of the game.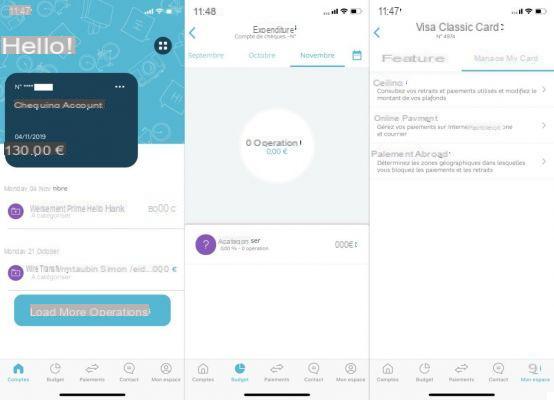 Hello Bank's mobile application is successful. The navigation is intuitive and the interface pleasant to use.
Apart from the classic functions, we note the possibility of finding BNP Paribas branches by activating the GPS. For Prime accounts, the virtual card can be used via the NFC function of your device and by linking their bank account to payment methods such as Apple Pay or their Paylib account. The connection of the latter (or Lyf Pay) even allows you to create jackpots with friends directly from Hello Bank, which avoids having to open several applications at the same time. Finally, as with N26, you can enable or disable live debit notifications.
More surprisingly, Hello Bank offers an application on macOS. This takes the design and outline of the web interface and simply allows you to save copies of certain files - such as their RIB - directly on their computer.
How to open an account with Hello bank?
Opening an account with Hello bank only takes a few minutes, and can be done from the website or the mobile application. You just have to fill out a form, sign it electronically and then send photos of the necessary supporting documents: two proofs of identity, proof of income, proof of address and a photo of your signature. Finally, you will have to make a first transfer to activate the account, between 10 and 300 euros.
How to take advantage of the Hello bank welcome bonus?
The premium is paid automatically, with no action required on the part of the user. It is paid three months after receipt of the bank card. However, only new Hello bank customers whose application is accepted can benefit from it.
How to contact Hello bank customer service?
As an online bank, Hello bank does not have a physical agency in its name. In the event of a problem, it is therefore necessary to call on customer service, which can be reached from several ways. If you are already a customer, you can use the instant chat tool available on the Hello bank mobile application. Hello bank's customer service can also be reached by telephone on 01 43 63 15 15 (number not surcharged). Finally, customer service is also accessible from the Hello bank Facebook and Twitter pages.