Do you want to sign a PDF document? Do you want to insert a handwritten signature or a certified digital signature? In the following article you will find the best answers to sign a PDF in a simple, fast and safe way!
There are many reasons why you need to put your signature on a PDF file. In recent times, the PDF format has certainly become the most used for contracts, receipts, invoices, and everything related to the world of work and business.
This is why it is often necessary sign the PDF and then send it to suppliers or buyers or others. Over time, digital PDF documents will increasingly replace paper ones (also for respect for the environment), so finding a way to sign (with handwritten or digital signature) these documents becomes a "must" for all companies but also useful for individuals.
If you don't know how to sign a PDF document below you will see how to add a handwritten signature (handwritten signature). If you want to add a CERTIFIED digital signature in your PDF file read how to digitally sign a PDF.
Guide: How to Sign a PDF
Below we will see three ways to sign a PDF with your signature (as if you were signing on a paper document). In all three cases, the program to use is PDFelement, one of the best PDF management and editing software currently on the market.
# 1. How to Sign a PDF with a handwritten signature
#2. Sign PDF with Digital Signature
# 3: Put Signature on PDF via Stamp
METHOD # 1: Handwritten Signature on PDF
In the latest version PDFelement (8.1.4) the function has been added that allows you to directly insert the PDF signature with handwritten signature. It is a very simple and convenient method if you want to put a signature in your PDF document. Here are the steps you need to follow.
Pass 1. Open your PDF inside PDFelement
First download PDFelement on your Windows or macOS computer from the links below:


Launch PDFelement on your computer and then import the PDF you want to add a signature to. You can click the "Open file " in the "Home" window or drag the file to the program interface.
2 pass. Create the signature
Go to the "Comments" tab and tap the "Company"In the submenu. Then click on the "+ Create"To add your handwritten signature.
Pass 3. Put your handwritten signature in the PDF
Now the "Add signature"And there are three options for adding a handwritten signature, including"Draw","Type","Charge".
The "Draw" option allows you to write your name directly on the document. Here are three colors to select. You can choose one of the ones you like to apply. After writing your name, click "OK" to insert your handwritten signature in the desired place on the PDF page.
Or you can also choose to type a handwritten signature by clicking on the "Type". In this acso you can directly type your name in the writing field. More conveniently, there are five handwritten fonts among which you can select the one you want. Once done, tap "OK" to enter your handwritten signature.
Finally you can also upload the image inside your signature. To do this, tap "Charge"To choose an image. Also, there is one thing to note: it is best to upload the image with the white background. After uploading the image, tap "OK"To sign the PDF file with your handwritten signature image.
Method # 2: Digitally sign PDF
1 pass. Launch PDFelement and import the PDF
To digitally sign a PDF, you need to open PDFelement and import the PDF. Then go to the "Protect"And click on"Signature document". Then enter your digital ID code and password. If you don't have a digital ID, create one with your name or email address by clicking "I want to create a new digital ID" and then tap the "NEXT".
2 pass. Create digital ID (optional)
There are two options for creating and saving your self-signed digital ID. After selecting one of them as needed, click on "NEXT"To proceed.
You can now enter your identity information to generate your self-signed certificate. Once done, tap "NEXT"To go to the next step.
Then you can set the file name, location and password to save the new digital ID file. Next, click on the "end"To start signing the document.
Pass 3. PDF signature with digital signature
Now you can enter your password to sign the PDF file. If necessary, you can also click "Lock document after signing" to protect your PDF document. After that, tap the option "Company"And in the" Save as "window that opens you can save the signed file. Done! The digital signature will be inserted in this document.
Method # 3: Sign PDF with Stamp
Step 1. Download and install PDFElement
PDFelement is an "all-in-one" PDF tool that allows you to edit, convert and even "sign" any PDF document using digital handwritten signature. First click on the download button to download the installation file. Then double-click the .Exe file to install on your computer. If you have a Mac you will need to download the trial version for Mac OS X.


Step 2. Scan your signature (handmade)
Sign your name on a white piece of paper. Then scan through a scanner or just take a snapshot of it. Save this image in JPG or PNG format.
Step 3. Configure your signature
Start PDFElement and upload your PDF by clicking on OPEN FILE from the home screen: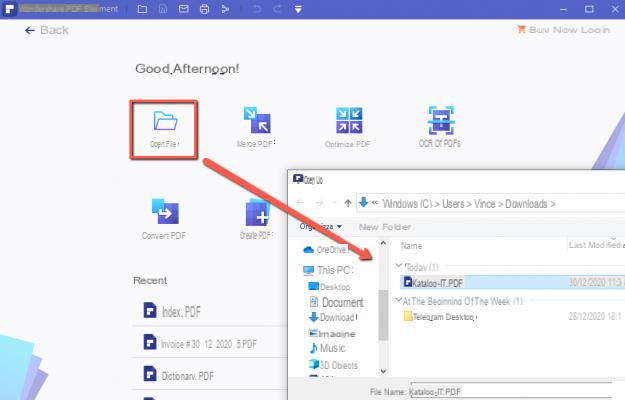 After opening the PDF in the program click on the menu at the top ANNOTATION and then click on "Create Custom Stamp". A pop-up will open from which you can import the handwritten signature scanned previously. Find the signature image, open it and click on NEXT.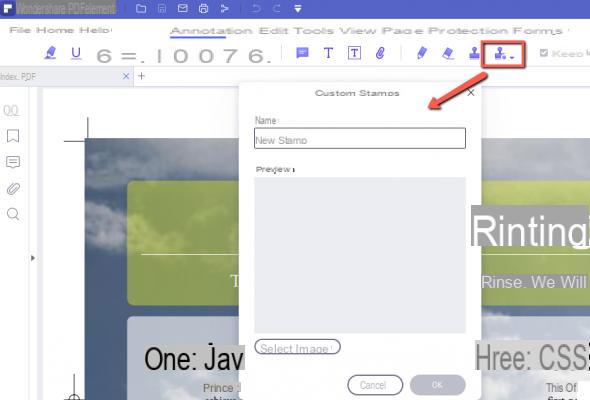 In the next dialog you can sort the custom stamp into a new category or put it into an existing category. Enter a name for the digital signature to be created and click OK. This way you can import your signature into PDFElement.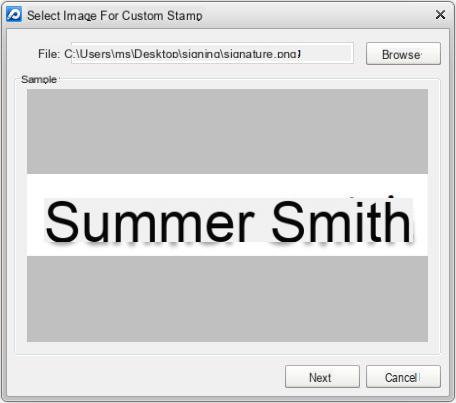 Step 4. Sign the PDF file
To sign a PDF file go to the Home menu, click on the menu "Rubber stamp"And then go to"Company"To select the signature to insert in the PDF file, in the desired location. All really simple and quick to do!
the scanned image of the handwritten signature has no legal value. it is not a signature. it is a mere aesthetic decoration. the resulting document is a photomontage from which anyone could in turn extract the image to put it elsewhere. https://it.wikipedia.org/wiki/Private_writing
It's true .. and that's why PDFelement also offers the possibility to insert a certified digital signature.
Thanks I was in a Czech alley!
Clear and detailed article. Even the program is not bad, it allows you to insert certified signatures or handwritten signatures in a simple way on any PDF document.
Congratulations to the editors of Softdtore.it
Guide: How to Sign a PDF