If you have a book, brochure, catalog or flyer in PDF and you are looking for a simple, fast and original way to share this PDF online (perhaps even on facebook or other social networks), or even to share it offline, in this article you may find exactly the solution you were looking for.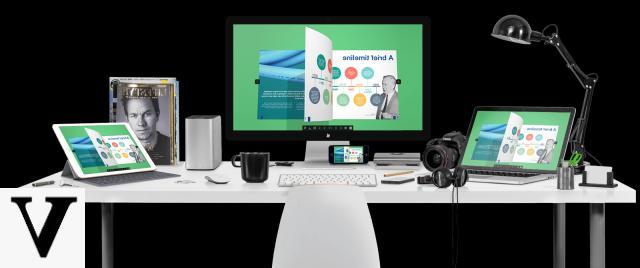 In reality there is no single solution for this operation but multiple possible solutions. Below we want to point out three solutions of which the first is an ONLINE solution (and free) and the others are software solutions that can also be used for OFFLINE use.
#1.FlipbookPDF.net (Online)
#2. MyFliboook (Windows)
# 3. Flip PDF (Windows and Mac)
# 1. Create Online Browsable PDF
If you don't want to download and install any software on your computer and if you want a system that allows you to create browsable PDFs from any computer and even from a smartphone / tablet, then we recommend that you try FlipbookPDF.net
FlipbookPDF is an online service, also available in a totally free version, which allows you to directly convert any PDF file into a flipbook. Its operation is trivial to say the least. Here are the 3 steps to follow:
Step 1. Access the FlipbookPDF.net website (https://flipbookpdf.net/it/)
Step 2. Click on the button BROWSE and select the PDF to convert
Step 3. Click on CONVERTED

Immediately after the conversion, the system will show you two links: the first is yours flipbook flipbook and the second is the area link ADMIN from which you can make various changes and customizations such as changing the logo, changing the background or changing the size (standard size A4 used for catalogs & magazines, or dimensions A5 usually used for brochures)

With the first link you can immediately view the Browsable PDF and share it with whoever you want via email or social network.
In addition to the "online" version of the browsable file, you can also opt for the "downloadable" version: by clicking on DOWNLOAD you can in fact download the browsable PDF in HTML5 on your computer. Once downloaded, you can manually upload it to your website or do other "offline" operations.
On FlipbookPDF.net there is also a version "PRO"Which, unlike the" FREE "one, offers additional functions such as the ADMIN area with the management of the flipbooks created, the ability to upload infinite PDFs of unlimited size, logo and background customization, and so on. The cost of this "Premium" version is only € 29.90 per year.
#2. MyFlipbook (software per Windows)
If you are looking for a software that works in a similar way to FlipbookPDF seen above but which also allows you to:
Create a SINGLE HTML file with the browsable PDF that can be used both Online and Offline
Automatically import all links from the original PDF
Add Youtube videos inside the flipbook
then you might try MyFlipbook. It is a Windows PC compatible program that automatically converts PDFs into browsable catalogs for use online and offline (on any device).
You can download the free demo version from the following link:

Install and wait for the main screen to open: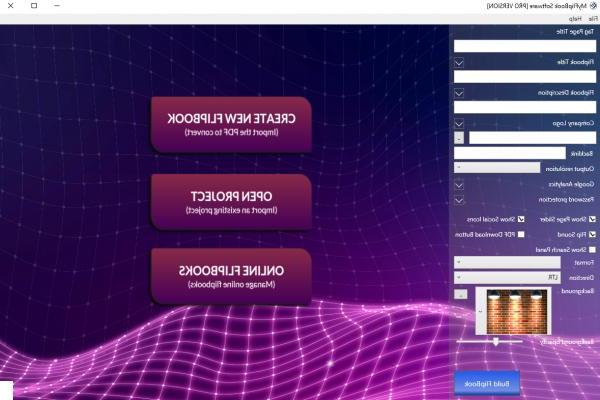 At this point, just press on Create New Flipbook and select the PDF from your computer to start converting to Browsable PDF. The created Flipbook will appear in the central interface of the program: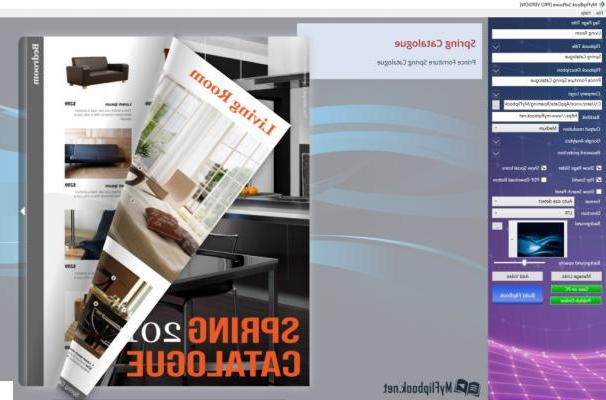 Before saving and sharing the created flipbook, from the left sidebar you can add a title, description, change logo (only with PRO version), add google analytics, set a password protection, activate the search form, change background image etc..
You can also manage the links by clicking on Manage Links (any links in the PDF will be automatically imported). By clicking on Add Video you can also insert Youtube videos inside the browsable PDF
When everything is ready click on Save On PC to save the flipbook to your PC. A SINGLE file will be saved that you can send via email, or upload it to your website or transfer it to any device (including tablet and mobile phone) and use it to view the Flipbook even in Offline mode.
If you don't have a website you can also click on Publish Online and use the MyFlipbook Hosting service to publish your Flipbook!
# 3. Create Flip PDF with Flip PDF
Flip PDF is a program (for PC and Mac) capable of transforming any PDF file into a flipbook, that is, a file that can be virtually browsed online. Almost certainly you will have already had to deal with this type of files: almost all the catalogs and flyers found on the web are now "browsable" through the browser itself so that you have the real feeling of leafing through a real document.
Thanks to Flip PDF you can create a browsable PDF in 5 minutes. Here are the main steps to follow.
Step 1. DOWNLOAD and install the program Flip PDF on your computer (Windows or Mac). There are two versions of Flip PDF: standard and professional. The difference between the two versions is that the Standard version converts PDFs to browsable files as they are; the Professional version, on the other hand, also allows you to make changes before conversion such as adding or removing pages, inserting text or images, adding flash elements or embedding videos, etc. Here are the various download links on a Windows PC or Mac:
In both cases, when the program is started, a first window will open informing you that it is a demo version. Click on PROOF to continue using this trial version which has all the functions and the only limitation is the fact that a message appears on the browsable output file.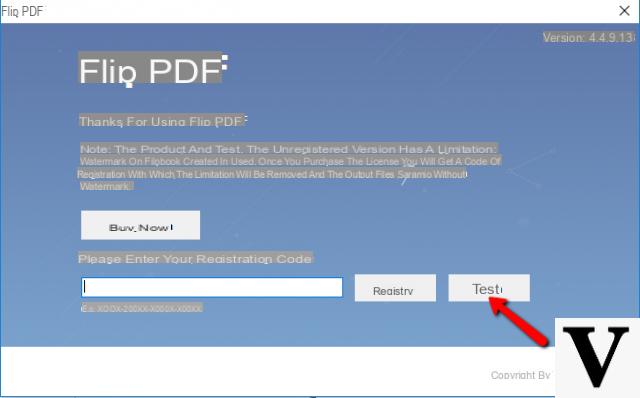 A window like this will appear immediately after: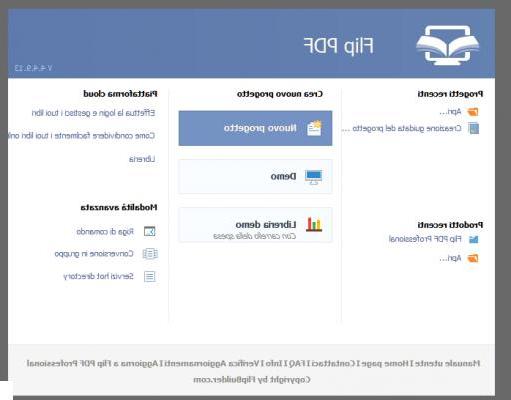 Step 2. Import the PDF to be transformed into Browsable PDF
Click on NEW PROJECT and the program will ask you whether to view the project in Flash or HTML5 format. If you don't know the difference, know that all modern "browsable files" are created in the HTML5 format which is also compatible with any mobile device (smartphone, tablet, etc…).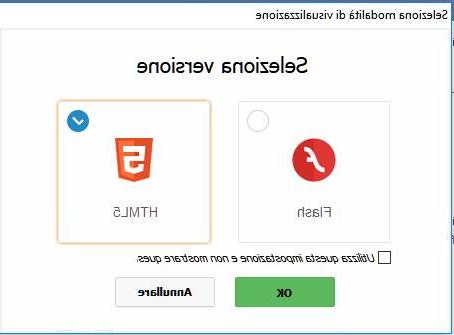 Once you have made your choice, the following window will open and from your computer you can import the PDF document of your brochure, book, flyer or catalog that you want to make browsable "online". Before uploading the PDF, you can possibly modify it via PDFelement by adding or removing images, editing the text, etc ...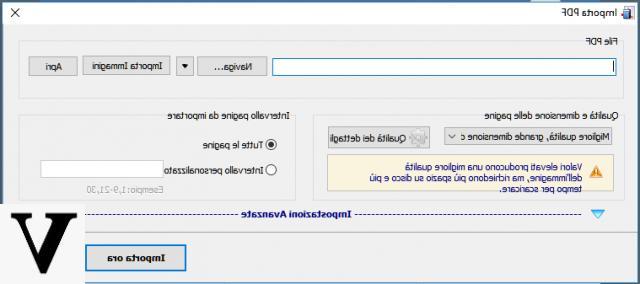 Immediately after importing the PDF, the software work screen will open with all the editable parameters on the left and the preview of the browsable PDF you are creating on the right.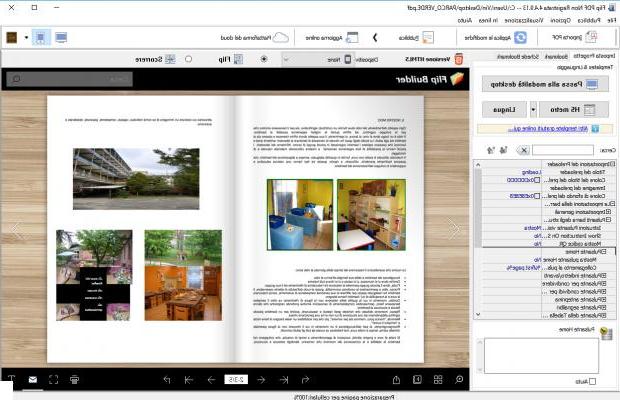 Step 3. Customize the Browsable PDF
At the top left of the program you can immediately choose the model (template) to apply to your browsable file. Each model has features that distinguish it such as the colors, the control buttons that appear on the flipbook and the layout.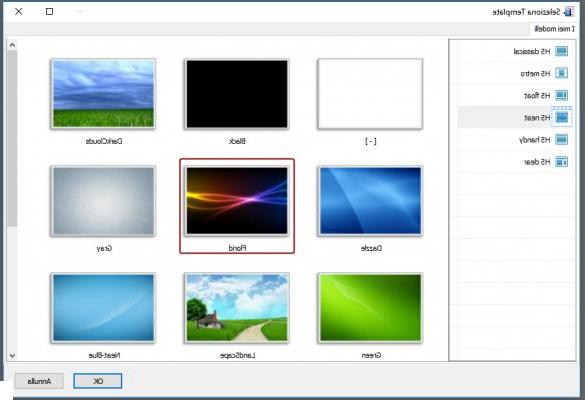 After choosing the model Basically you can apply customizations by acting on the individuals parameters that appear on the left sidebar. For example, you can change the size, activate or deactivate buttons and functions (such as downloading or printing the document), change the display settings, etc ...
After each modification click on the top APPLY CHANGES and preview on the right.
Step 4. Export and publish the Browsable PDF
When everything is ready all you have to do is export and publish the newly created flipbook. To do this click on PUBLISH at the top and from here you can choose different options. The export window that will appear will be this: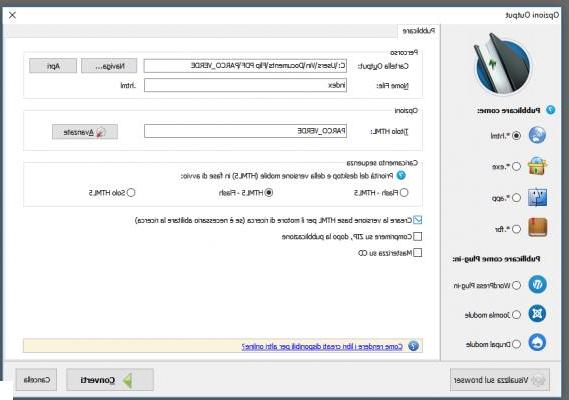 Choose the output format (from the left it is recommended to select *.HTML if you want to publish the browsable PDF online) and then click in the center of the window on the box "HTML5- Flash"So that both the mobile version and the Flash version for computer are created (but with the opening priority of the HTML5).
Finally click on below CONVERTED. Several files and folders will be saved on your PC. Now move all these files and folders to your server (via FTP), making sure to put them in a specific folder (eg call the folder "pdf-browsable").
Once the files have been uploaded to your server, all you have to do is open the browsable pdf which can be reached at: http://www.yoursite.com/pdf-sfogliabile/, where obviously instead of yoursite.com you will have to write the name of your website.
NB: Flip PDF also allows you to publish the browsable pdf directly on WordPress, burn it to CD, post it on a page Facebook, import it in Joomla, etc ... for each of these types of publication you can find the related detailed guide on this page: http://flipbuilder.it/support/
Here are a few example of browsable PDF (click on the image to open the flipbook on another page):
Hello,
I would like to know if it is possible to prevent the user who received the browsable pdf from distributing it to others without the author's permission.
You could upload the flipbook on a web page of your site, where you can insert a password protection… I don't think anything else can be done.
hello, I should create a browsable pdf for a pizzeria ..
I wonder if it is possible to download and send the customer a file that is always browsable and not linked to the internet connection
I hope I was clear
Yes, you can download it, zip it and send it to the customer. That customer can then upload everything to their website to offer it to site visitors.
Thanks for the tip. FlipbookPDF is a really great service. Simple and inexpensive.
Hello,
I need to insert a PDF flip into a Keynote presentation (or even powerpoint is fine).
I downloaded the trial version of Flip PDF, but I don't understand if it allows you to save it in a format that can be inserted in the software that I have to use ...
can you give me some advice?
thank you
A flip PDF unfortunately cannot be inserted into a presentation .. what you can do at most is insert a link in the presentation that opens (online) the browsable PDF file.
If you want to insert a "static" PDF in a presentation, read this other article: https://www.softstore.it/come-inserire-pdf-in-powerpoint-anche-come-allegato/
Good morning,
I contact you because I need to convert some pdf catalogs with different deadlines in html5 or browsable but including links.
It is
3 bi-monthly catalogs (one with a single version, one divided into 6 different versions and another in 8 different versions)
1 quarterly catalog (divided into 4 different versions)
1 monthly catalog (divided into 6 different versions)
The differentiation of the versions consists in the fact that the first four pages of the catalog advertise different products and require different links and that all the links of the single catalog must contain a specific referrer in order to be able to trace the origin.
On average each catalog contains from 35 to 50 pages and an average of 5/6 links per page.
I would need to know approximately the annual cost of your service, quite quickly.
thank you so much
Hello
with the Flip PDF Professional program you can do all this independently. He just has to buy the program license and then he can create all the catalogs he wants (starting from the related PDF files), and modify them by inserting links or other. There is no limit to the number of catalogs that can be created.
If, on the other hand, you want a complete service that does this job of converting and adding links for you, send an email to info@flipbuilder.it and you will receive a detailed quote.
Flip PDF is also available in a "professional" version for those who want to add videos, flash objects, special effects, text, etc. to their browsable magazine.
Create Browsable PDF: Brochures, Catalogs and Flyers -