Over the past thirty years, the PDF (Portable Document Format) have gone from being a type of file no one had ever heard of to being the most popular document format in the world today. PDFs are self-contained, flexible and cross-platform compatible, and relatively light and easy to share; you can view a PDF even on basic hardware like a budget smartphone. The best thing about PDFs is that they show the same content and layout no matter where you look at them - a PDF on your phone will look the same as a PDF opened on your desktop. Even web browsers can read PDF files, making them almost universal in their accessibility.
However, this platform independence does not apply to human languages: an English PDF can only be read by someone who knows English. If you are working or creating documents and need translate a PDF file in a different language, there are three basic approaches to doing this. You can hire a human translator to convert the document to a new language, you can use a commercial software to translate it, or you can use the service Google Translate. Below we will see in detail these three possible solutions for translate a PDF document.
Translate a PDF file manually
Translate a PDF file with software
Translate a PDF file with Google Translate
# 1. Translate a PDF file manually
CASE 1. If you have the source file that was used to create the PDF, you can use a third-party translation service to convert the document to the desired language and then save or print it again in PDF format. Depending on what or how many languages ​​you need, this may be the way more accurate to get a well translated PDF document. Human translation is typically even better than machine translation, especially for complicated or scientific texts. Finding a translator is not difficult: there are many professional translation companies on the Internet and you can also search on "freelance" sites like Upwork. On these sites just send a translation request and several freelancers will offer themselves for the job.
CASE 2. If you don't have the source file, but only have the PDF, you can edit it directly and translate the texts manually using a PDF Editor program such as PDFelement. Once you have installed this program on your computer, you will need to launch it and then import the PDF file you want to translate into it. Once the document has been loaded into the program, you can start editing the PDF text by replacing it with the text correctly translated in the desired language.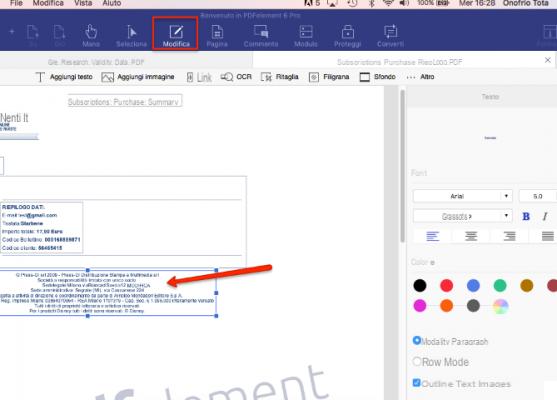 As you can see from the figure above, you just have to select the function MODIFICATION and then with the mouse select the textual area to modify.
#2. Translate a PDF file with software
If you often need translate PDF files, you could invest in some then professional translation software or online service that can do that work for you. If you only need it occasionally, a free service might be just what you need.
One such tool (for an occasional translation) is DocTranslator. It is a totally free and web-based document management and conversion service. With it you can also translate a PDF file into one of the 104 supported languages. DocTranslator is run by volunteers and does not require any payment (unless you want to make a voluntary donation).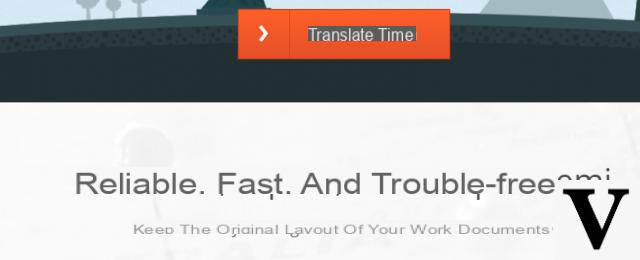 If you have the source file of the PDF in Microsoft Word format, you can use Microsoft Translator for Word which allows you to translate the document and then convert it to PDF. If you don't have the source file in Word, you can first convert PDF to Word and then translate it and then reconvert it. The word translation tools are pretty good, but not as excellent as human translators would. However, if the document is formatted correctly in Word, you have the advantage that the translated document retains the same layout and formatting.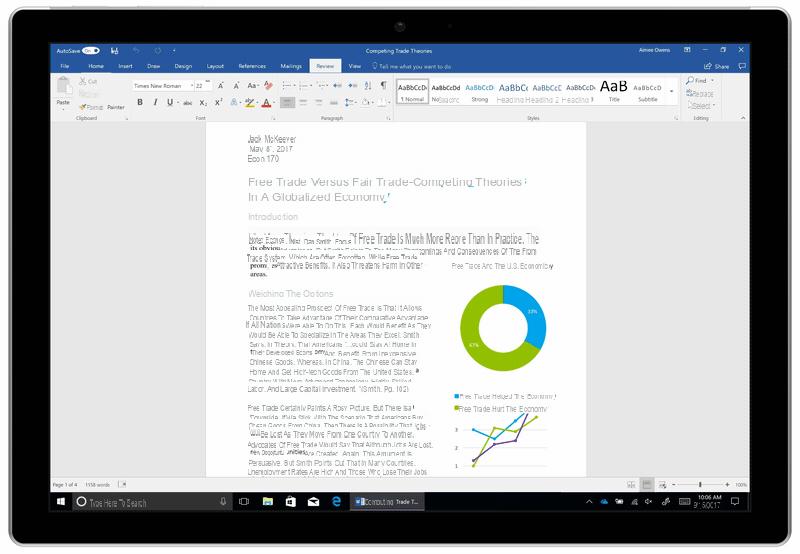 This method works well for professional documents and presentations, but you have to hope the software did the right translation. For internal or personal documents, this shouldn't be a problem.
# 3. Translate a PDF file with Google Translate
Google Translate is the most powerful translation service that allows you to translate any text online, but it can also be used to upload a document and have it translated. The upside is that it is free and fast. The downside is that Google Translate doesn't respect layout or design and can't work with PDFs that are too large. If you only have a PDF and you don't have the source file then you need to decide if you want to preserve the layout or not before uploading and translating it
Here's how to use Google Translate to translate PDF documents:
Go to Google Translate.
Click on the "Documents" tab at the top



Upload the document and select the source language and the target language
Click on Translate and wait for the process to complete. It may take a few minutes depending on the size of the loaded document. The progress of the translation will appear at the bottom left.
At the end of the translation download the translated file and use it as you see fit.
You can also access the Google Translate function from Google Docs, so if you already have the document in Google Drive, simply log in through Docs and select Translate from the main menu.
https://www.softstore.it/come-tradurre-un-documento-pdf/
How to Translate a PDF Document -