Looking for an easy-to-use free messaging service on any device? Create a Gmail account: you will have a convenient address and many functions associated with Google services.
Gmail, Google's electronic mailbox, is clearly one of the most popular services on the Internet, with more than 1,5 billion active users worldwide in 2020.It must be said that it has many strengths and that Google is doing everything to make it essential.
First, Gmail is completely free. And messaging offers a comfortable storage capacity of 15 GB as standard, which allows you to keep many messages with their attachments without having to clean regularly. We should add that Gmail is completely independent from the operators, unlike the messaging systems integrated into the formulas of Internet service providers (Orange, Free, etc.): you can therefore keep your Gmail address even when you change operator.
Then, Gmail can be used in different ways: in webmail mode - i.e. with a classic web browser like Chrome, Firefox, Edge, Internet Explorer, Safari, Opera, Brave, etc. -, which makes it possible to access it under Windows as well as under macOS or Linux; with a dedicated mobile application, available on Android as well as on iOS (iPhone and iPad); or with a specialized messaging software - we speak of an e-mail "client" - such as Thunderbird, Outlook, Courrier or Mail.
Finally, Gmail has a lot of very practical functions that are constantly evolving. These include, for example, the system of classification by filters, labels and tabs, automatic recognition of spam, the possibility of scheduling mailings or even creating an almost infinite number of alias addresses. All this without taking into account the ease of access to the various Google services automatically associated with Gmail.
To take advantage of it, nothing could be simpler: just create a Gmail account. An operation that only takes a few minutes.
What is the difference between a Google account and a Gmail account?
We very often confuse Google account and Gmail account. And for good reason: Google is doing everything to associate the two types of accounts! However, there are some differences that are useful to understand.
A Google account is a user account allowing access to several Google services in a personalized way with a unique identifier: Google Drive, for online storage (in the cloud), YouTube, for videos, Android, for phone or tablet users, etc. A lot of information is kept by Google when certain services are used while being logged in with a Google account (history of searches carried out with the Google search engine, videos seen on YouTube, positions saved on Google Maps, etc.), this which makes it easy to find them. To identify yourself on a Google account, you need an email address. You can use an address from any email service, but Google strongly encourages the use of Gmail, hence the confusion between the two types of account.
A Gmail account is an electronic mail account. Unlike a Google account, it is systematically associated with an email address of the type xxxxx@gmail.com. But it is possible to add and use "external" email addresses to manage multiple email accounts in the same interface. In addition, the creation of a Gmail account - therefore an @ gmail.com address - automatically generates the creation of a Google account associated with this address.
In short, to put it plainly, you can have a Google account without a Gmail address. But if you create a Gmail account, you will automatically have an associated Google account.
How to create a Gmail address from a Google account?
As we said, Google account and Gmail account are intimately linked. So much so that the creation of a Gmail account necessarily involves the creation of a Google account!
If you have neither, you can perfectly create a Google account by following the method indicated in our practical sheet and by creating a Gmail address at the same time, by entering an identifier in front of the domain name @ gmail.com (for example, firstname.lastname@gmail.com).
If you have already created a Google account to access certain Google services like Drive or YouTube, it may already be linked to a Gmail address without you knowing it. This is not always the case, however, as registering for a Google service or creating a Google account can be done with an email address from another service. You must then test your Google account to find out if it is already linked to a Gmail address.
To do this, log into the Gmail site with your usual web browser.
Click on the button Sign in at the top right of the page.

In the login form, enter your Google Account ID, then click Next.

If your Google account is linked to a Gmail address, a new window will appear asking you for the account password. Enter your password, then click on the button Next.

On the other hand, if an error message appears, it means that your Google account is not linked to a Gmail account and that a new one will have to be created.

You will then be automatically redirected to the Gmail interface.




How to create a Gmail account with a web browser?
The easiest way to create a Gmail account is to use a simple web browser, such as Chrome - Google's browser -, Firefox, Edge, Internet Explorer, Opera or Safari. This method is the only one possible with a computer. With a mobile device,
With your web browser, go to the Gmail site.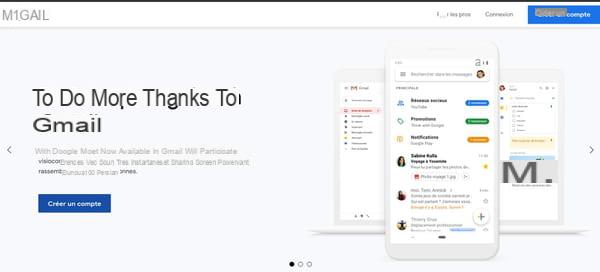 On the home page, click the blue button Create account, top right.
You arrive on the creation page of the Google account which will be associated with your Gmail address.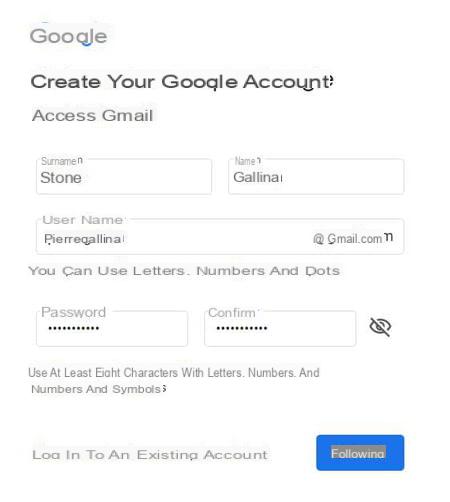 In the registration form, enter your first and last name in the appropriate fields.
Then enter the username you want to use for your email address. It's that name - or. this identifier, if you prefer - which will be used in the first part of the address before the @ symbol. With Gmail, you can use letters, numbers, and periods in your username. For example jeandupont, jean.dupont, jdupont, j.dupont, etc. Of course, capitals and accents are not allowed. You can use a combination like firstnamename or lastnamename, but you don't have to.
If the username is already taken by someone else, Google will let you know by offering you alternative names. In this case, experiment with varying the composition of the name until you find a free combination that suits you.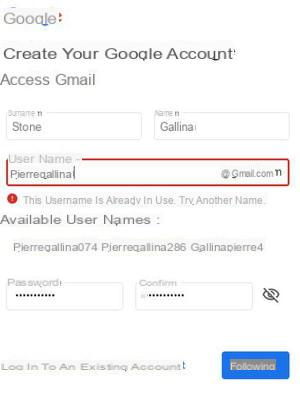 Then enter a password and confirm it in the neighboring camp. You must use at least eight characters by combining letters, numbers and symbols.
Once the form has been completed, click on the button Next.
You access a new form.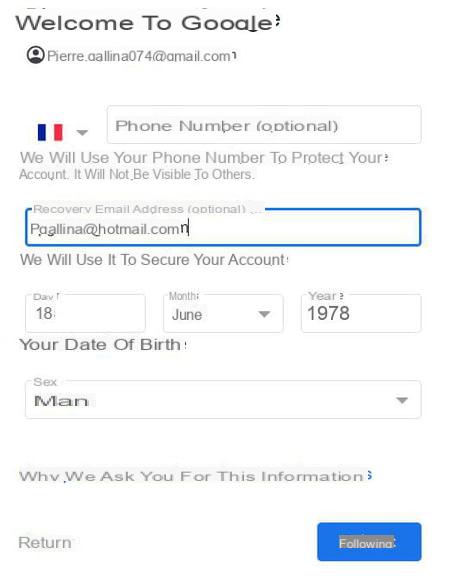 Successively enter your telephone number, an emergency e-mail address - to be able to access your account in the event of a problem -, your date of birth and your gender. Only the last two elements are required, the phone number and the recovery address being optional. However, it is prudent to use a recovery address in the event of forgetting the password or hacking the account.
Once the form is completed, click again on Next.
The following screen presents the privacy policies and terms of use of the Google service.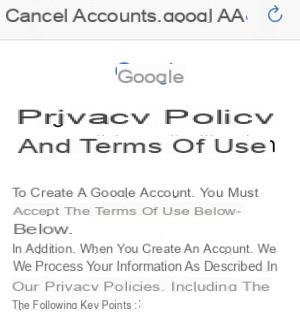 Go through the terms of use, then, at the bottom of the page, check the boxes I accept the Google terms of service et I agree that my information will be used as described above and detailed in the privacy policy. Both boxes must be checked to complete registration.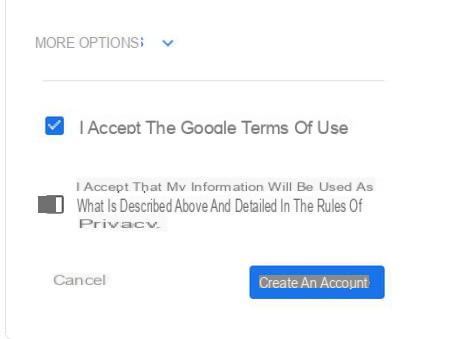 Then click on the link More options to view a list of options related to personalizing and saving personal data from your Google Account. You will be able to configure the recording of your activities on the Web, your YouTube history and configure the personalization of the ads. We strongly recommend that you configure these options to limit Google profiling and tracking!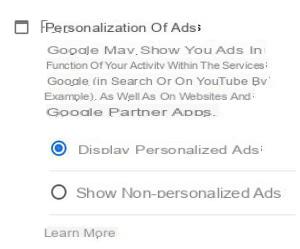 Finally, click on the button Create an account.
In the confirmation window, click on the button To confirm.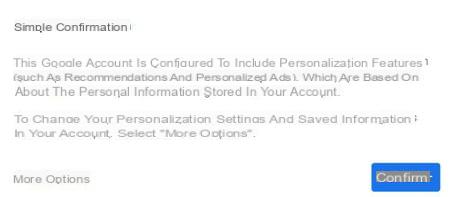 Your Google account is created and you are directed directly to the mailbox of your new Gmail address.
How to create a Gmail account on mobile?
It is of course possible to create a Gmail account with a mobile device (phone or tablet). But unlike a computer, you have the choice between several methods since you can go through the Gmail mobile application, by adding accounts in the settings of the mobile or even through a web browser in the form of an app. However, whether you are on Android or iOS - therefore on iPhone or iPad -, and whatever the point of origin, the procedure is the same: you will invariably be redirected to the Gmail mobile web page (either via the browser , or via a dedicated interface). But the easiest way is still to go through the Gmail application, since you will be using it to access your account.
If the Gmail app is not already installed on your device, download it from the Play Store (Android) or the App Store (iOS).
Once the application is installed on your mobile, open it and tap on the link Create account.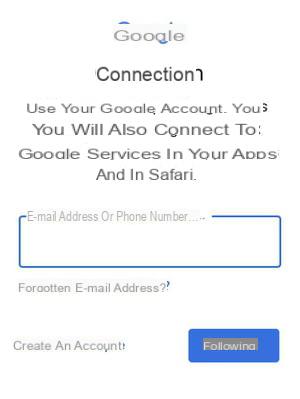 Press For me in the context menu.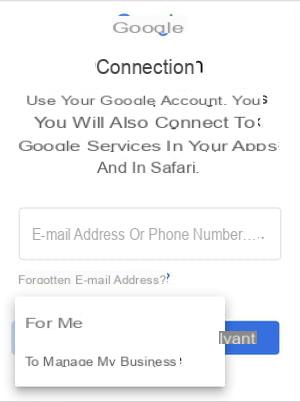 You then go to the actual account process, which is similar to the one described above for creating a Gmail account with a web browser. You will have to enter your first and last name, choose your username, etc. Fill out the different forms by clicking on Next each time, as described above.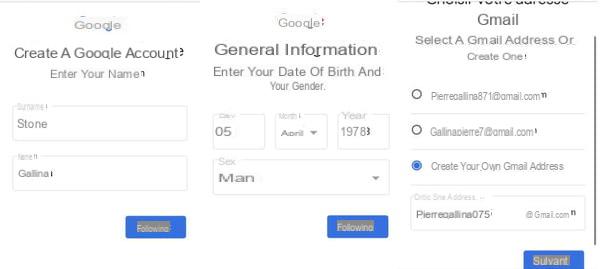 As with the web version, you will access the inbox of your new email address after the last confirmation step.
Create a Gmail account: the easy way