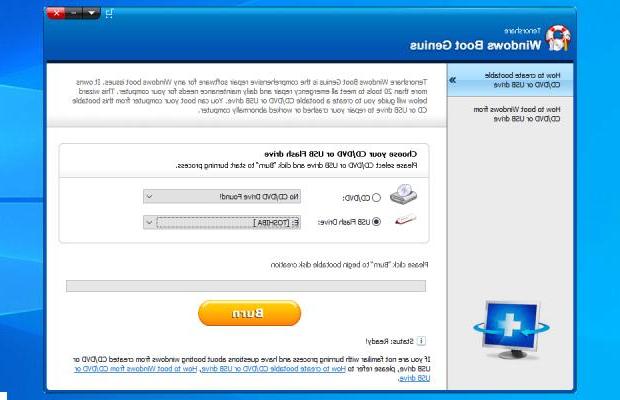 The user-friendly interface of Windows Boot Genius simplifies the most complex repair procedures in just a few clicks, making it an ideal software for both experienced users (professionals in the IT field) and beginners. The program is in English but it is really simple and intuitive to use.
Below is the link for the download of Windows Boot Genius (it weighs about 300 MB) and the purchase link to obtain the serial code, which is essential for installing and using the program.
Download Buy Now 25%
Support Windows 10 / 8.1 / 8/7 / Vista / XP
Windows Boot Genius functionality
Create Rescue Disk - Windows Boot Genius creates boot CD / DVD or USB key thanks to which you can then access the PC to be repaired that has crash problems or problems starting Windows. This startup disk can be created on another working Windows computer and then used on the problem PC.
Windows Rescue - With the startup disk created with Windows Boot Genius you will have a complete solution for all Windows crash problems or startup problems caused by virus infection, appearance of the blue / black screen, and more ... In short, you will have all the tools to Repair Errors Windows.
Password & Key Finder - The startup disk created can help you to reset your Windows password if you have forgotten it or to recover your Windows and / or Office license keys for possible reinstallation of programs.
Data Recovery - Windows Boot Genius allows you to recover deleted data from internal / external hard drive or formatted / corrupted / inaccessible partitions.
Disk Tools - Complete disk / partition management of your PC with functionality for creating, cloning and deleting disks / partitions and more…
How do I use Windows Boot Genius
As already mentioned, Windows Boot Genius is a software that creates a recovery disk, which then allows you to access the computer to be repaired to perform various operations. The recovery disc can be created on CD, DVD or on a USB stick. Once the recovery disk has been created, the PC to be repaired must be started not via the hard disk but via this disk.
Here are the steps to follow to use Windows Boot Genius:
Step 1: Insert a CD / DVD into the CDROM or connect a USB stick to your computer.
NB: You can create this recovery disc from any other computer with a Windows operating system. Once you have started and activated Windows Boot Genius you will have to choose what type of boot disk (CD or USB stick) to create and then click on BURN to proceed and create it.
Step 2: Start the PC to be repaired via the created CD / DVD or USB stick.
To boot a Windows computer from recovery CD / DVD or USB stick, you will need to enter the BIOS and set the Windows boot parameters by choosing the priority of the disks to be scanned. Find detailed guides at these links:
> Start Computer from USB stick
> Boot Computer from recovery CD / DVD
Step 3. Perform Data Recovery or Repair via Windows Boot Genius.
Once the PC is successfully booted via CD / DVD / USB created in the first step, the following window will open:
Clicking on BOOT FROM LIVEBOOT yes the main window of Windows Boot Genius, shown below:
From the home screen you can immediately choose the operations to be carried out.
You will for example fix, repair the Windows operating system corrupt (or that goes in CRASH) from the card WINDOWS RECOVERY.
Or you can perform data backup and data recovery from a corrupt disk (from the section DATA RECOVERY).
Other interesting features are that of cloning, hard disk backup and recovery, Windows password recovery, and search for Windows and Office license codes (from the section Password & Key Finder):
Boot Genius -