Who owns a PC with an operating system Windows (eg. Windows 10) will have noticed that the default app on your computer that allows you to open photos is not the best. It is no coincidence that more and more Windows users are looking for a way to install the old version of "Windows Photo Viewer" present on the old Windows 7 because it was much more stable and faster to use.
Or many others search the web for other programs (preferably free) alternative to the default one, which can be used to view and open photos on Windows without slowdowns and without blocks. But what is the best program to open photos on Windows? Below is a list of possible programs you might try, sorted by (our) preference:
New Photo Viewer for Windows
JPEGView (Windows)
IrfanView (Windows)
FastStone Image Viewer (Windows)
XnView (Windows)
These above are in our opinion the 5 best photo viewers for Windows They can be a good alternative to the Windows 10 Photos app. Some of the programs listed are not only image viewers, but also image browsers. In addition, all the programs in the list can be used for image editing. If you are looking for the perfect image viewer keep reading the article and our reviews for each of these programs.
# 1. Photo Viewer
It is a new and powerful program to open photos on Windows that will surprise you both for the speed with which it manages to view photos and for its versatility. It supports hundreds of image formats and offers all the functions that such a program should have: browsing and searching for photos, zooming, printing, image format conversion, rotation, full screen, slideshow, and much more.
This program can be downloaded Free from the following button:

After installing and starting the program you will see a configuration window where you can select "English" as the language. Then the main screen will open and you can start opening all photos with it: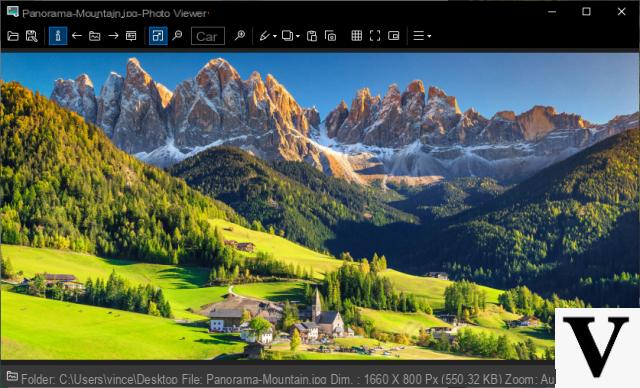 To open photos you can simply drag them from your computer into the program or click on the menu at the top right on File -> Open File and select the photo from your PC. In addition to opening photos of common formats such as jpeg, jpg, png, bmp, gif, tiff, with Photo Viewer you can also open files PSD (without photoshop), SVG, EXIF, .emf, , .heic, .ico, .pcx, .svg, .tif, .tiff, .webp, .wmf, .xpm, .raw, .psd, .tga, etc…
It is advisable to set this program as the default for opening all photos. To do this, just select a photo with the right mouse button then click on "Open With" -> "Choose other app" and then set Photo Viewer as the default program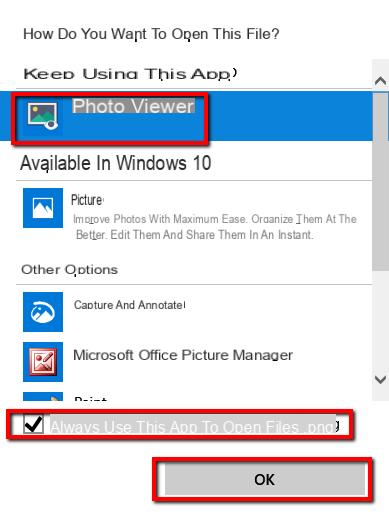 Thanks to the many tools in the top bar of the program you will have full control of your photos and you will be able to view the images as you prefer.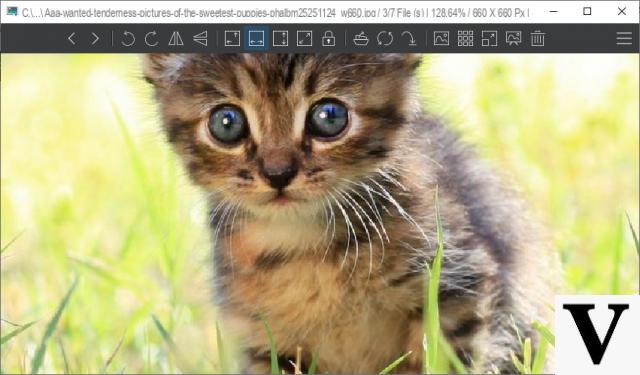 #2. JPEG View
JPEG View is a free photo viewer that allows you to view images in full screen and frameless mode. It is perhaps a little less cared for than the first solution described above but it is still a good alternative to the Windows Photo app.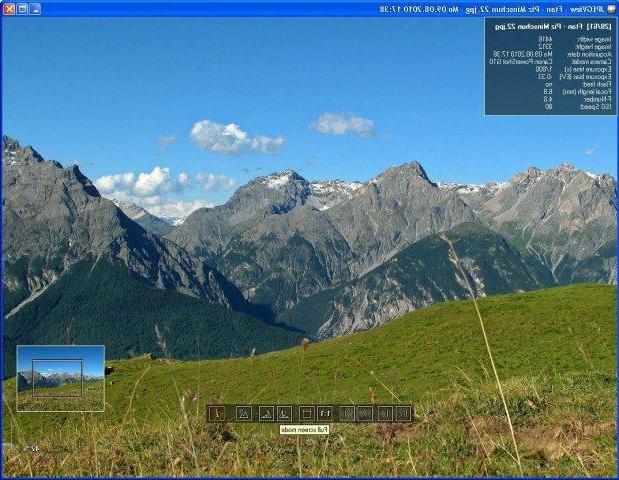 Another useful function is the one that allows you to take notes. It allows you to add notes to selected images as you work with them. The software provides multi-page TIFF file extraction as well as media file extraction from archive. You can also edit your photos. JPEG View offers a wide range of image editing tools: automatically improve image quality, normalize and sharpen your photos, rotate and flip, resize and crop, adjust hue, saturation, exposure and more. Batch processing of files is also available.
#3. IrfanView
IrfanView is one of the best software for open photos on Windows. The app has a simple interface, so it's easy to use and ideal for beginners. IrfanView offers several useful functions: you can rotate and flip images, add borders and frames, change the color depth. With this program, you can also set an image as your desktop wallpaper. If you want to view a large image you can use the a mode full screen. Also, this software provides batch processing which allows you to process media files very fast. The latest version of the app is available for download and installation free. In addition, the software developer also provides a number of additional plugins.
#4. FastStone Image Viewer
This app for the viewing photos is another good alternative to Windows Photo Viewer. This program is very useful not only for open photos from your photo gallery, but also to explore and organize them. Allows you to to sort your photos by date, event or place. This photo viewer is available for multiple platforms. The program interface is pretty simple. Provides a small preview window on the left side of the program. The software offers a number of useful tools for the editing. You can adjust colors and lighting, reduce noise, add different effects, watermarks and text, remove red eyes and many more. Another useful option is the comparison of selected images. The software provides scanning of images from the scanner, printing of selected images and sending by e-mail. This image viewer is available Free for personal use. But keep in mind that for commercial use you need to purchase a license.
#5. XnView
This software is another example of a good image viewer for Windows. XnView is an image viewer and image browser with an intuitive interface. You can enable image preview to view images in their respective folders. This image viewer supports many popular formats, such as JPEG, PNG, TIFF, RAW and other. It also allows you to open video files and audio files. The most popular formats are available for loading and saving by default. If you want to open files in another format, you need to change the program settings first.
Here are some features of the program that are worth mentioning:
you can view selected photos as a slideshow
you can add text and watermarks to images
allows you to convert photos to grayscale, correct and swap colors
allows you to send your photos by email
allows you to capture the screen
The program also allows you to view and edit HD images. This software could become a good replacement for Windows 10 Photo Viewer.
i just downloaded it i will give a comment later
Ever since Windows removed the old Photo Viewer, it's really a mess to open and view photos. I'll try the photo viewer described in the article, which looks really well done ...
[Free] Program to Open Photos on Windows -