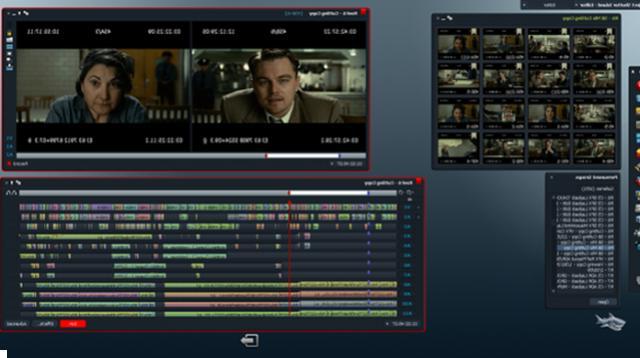 In this post we want to deepen what we have already written in the article of the best software for video editing, going to see what are the tools (free and not) made available to Windows users.
With smartphone cameras improving every day, the equipment used in the past to make videos is becoming less and less indispensable. Also video editing programs they cost a lot until a few years ago, but today they are not anymore and they are within everyone's reach. Indeed there are also free apps on the web that you can use for create and edit videos of professional quality. Here are what we think are the best video editing apps, some of them even free. The following programs are for Windows users.
1) Filmora Video Editor
2) Davinci Resolve
3) Hitfilm Express
4) Shotcut
5) Lightworks
6) VideoPad Video Editor
Filmora Video Editor
Filmora is a video editing program that is characterized by ease of use and the many functions (both basic and advanced) made available to users. With this software you will be able to create professional looking videos, full of special effects and complete from every point of view. Here are some features of Filmora:
It offers all the video editing tools needed for any project
Graphical interface designed to be simple to use
It supports any video, photo and audio file format
Different working modes and different output formats
Special effects, transition effects, intros, credits, green screen, pictureinpicture, and so on.
You can download the free trial version of Filmora from the following buttons (for Windows and macOS):
After installing and opening the program you will see this splash screen:
After choosing the working mode and resolution of the video, the screen will open with all the video editing tools at your fingertips.
By dragging the video files down to the relative video track of the timeline, you can start making all the desired changes: merge / cut / resize video files, add text on the video, insert special effects, add transition effects between one scene and another, optimize the audio track of the video, overlay elements, apply filters, add a soundtrack, insert credits, intros with special effects and so on.
Among the "advanced" video editing tools we can mention that of the "green screen", the PIP (picture in picture), split screen (side by side of several videos), tiltshift, automatic scene detection, and so on. In addition, thanks to the large library of special effects you can apply to the video all the main effects that are seen in Hollywood movies!
Davinci Resolve
Davinci Resolve is a professional-grade video editor developed by Black Magic Design. It is the free version of Davinci Resolve Studio, which is an industry standard VFX suite, color grading and audio editing. It's the go-to product if you're interested in powerful, professional-grade video editing, with features like timeline-based editing, keyframes, advanced media management, plugin support, and more.
Due to its penchant for professional use, DaVinci Resolve isn't the easiest software to use for beginners. If you decide to use DaVinci, you should first study it through the many tutorials on the net.
It might not be the best choice if you just need to clean up and share some home videos, but it's a great tool if you want to take your videos to the next level. The free version has most of the features of the paid version, with the exception of some premium filters and a maximum export resolution of 3840 × 2160.
Hitfilm Express
Hitfilm Express is a tool of video editing and video creation completely free designed for professional videos. While mainly used for VFX and video compositions, it includes many basic editing features. It's a great choice if you want to start exploring the world of visual effects.
The interface of Hitfilm Express it is simpler than Davinci, but it must be studied in order to use it fully.
Hitfilm Express is available for Windows PCs and Macs and supports 64-bit versions of Windows 8 and Windows 10. Hitfilm is even more demanding than some of the other editors we're covering on this page, so you'll need a computer that's powerful enough to ensure smooth performance.
The free editor includes many features and you can expand it by purchasing additional and more advanced tools.
Shotcut
Shotcut is a free, open source, cross-platform video editor available for Windows, Mac and Linux based computers. While being free, this program has many professional editing features too, such as 4K video support, network stream playback, color grading, and more.
Shotcut supports almost all popular video formats, so no matter what video source you use, you will be able to edit and export it in the format of your choice.
Shotcut supports Windows 7 and later and is available for 32-bit and 64-bit systems.
Lightworks
Lightworks is another free video editor for Windows. It's laid out a little differently than other video editors, but it's customizable enough to let you make it look and work the way you like it. It is also powerful enough to have been used by professional editors in numerous Hollywood films (Wolf of Wall Street, The King's Speech, Bruce Almighty, to name a few). Despite being made for professional use, Lightworks is also suitable for basic video editing.
It is available in a free version or in a version For, subscription based. The free version has some limitations. While basic editing tools are present and all import formats are supported, the free version can only export web-compatible videos (MPEG4 / H.264) with a limit of 720p, with an option to upload directly to YouTube . You also won't have access to advanced features like timeline rendering and FX plugins.
If you can live with these limitations, however, it's a good choice as a basic video editor.
VideoPad Video Editor
VideoPad Video Editor is a free video editor specially designed for home users. It has a simple interface and many effects are made available. For advanced users, VideoPad also has an audio mixing function, chroma key (green screen) support, color correction, video speed controls and many other features to enjoy. It also supports importing and exporting the most common video formats.
VideoPad is available for Windows 7 and later (64-bit only), Mac OS 10.5 and later, and Android. You can find more information on their official website.
Best Video Editing Programs for Windows (Free) -