If once the most used format for generating and sharing documents was Word (.doc), today the "standard" format used in this area is certainly the one PDF. This format has become widely used (especially in Europe) in both commercial and professional spheres. Anyone who has a company, an office or a professional studio cannot fail to be equipped with programs capable of not only opening PDF files but also editing or creating them from scratch. Below we want to list the ones that are in our opinion i best programs to edit PDF, better both from the point of view of the functions offered and from the point of view of usability and price.
# 1: PDFelement
# 2: Nitro Pro
# 3: Adobe® Acrobat® XI Pro
# 4: Foxit Phantom PDF
# 5: Soda PDF
What is the Best PDF Editing Program?
The Best Programs to Edit PDFs
1. PDFelement
PDFelement is professional software designed for edit PDF on Windows but also edit PDF on MacOS. We have placed it at the top of this ranking for several reasons. First of all, there is the fact that PDFelement is available in one version FREE SHIPPING which allows you to test all the functions it has (and there are so many) in the field. Here is the link to download the free version of PDFelement for both Windows and MacOS systems:

Another great advantage of this program is that, if you intend to purchase the license of the full version, the price you would face is very "honest". Value for money really great. It is no coincidence that many former users of Adobe Acrobat (which has an exaggeratedly higher price) have switched to PDFelement.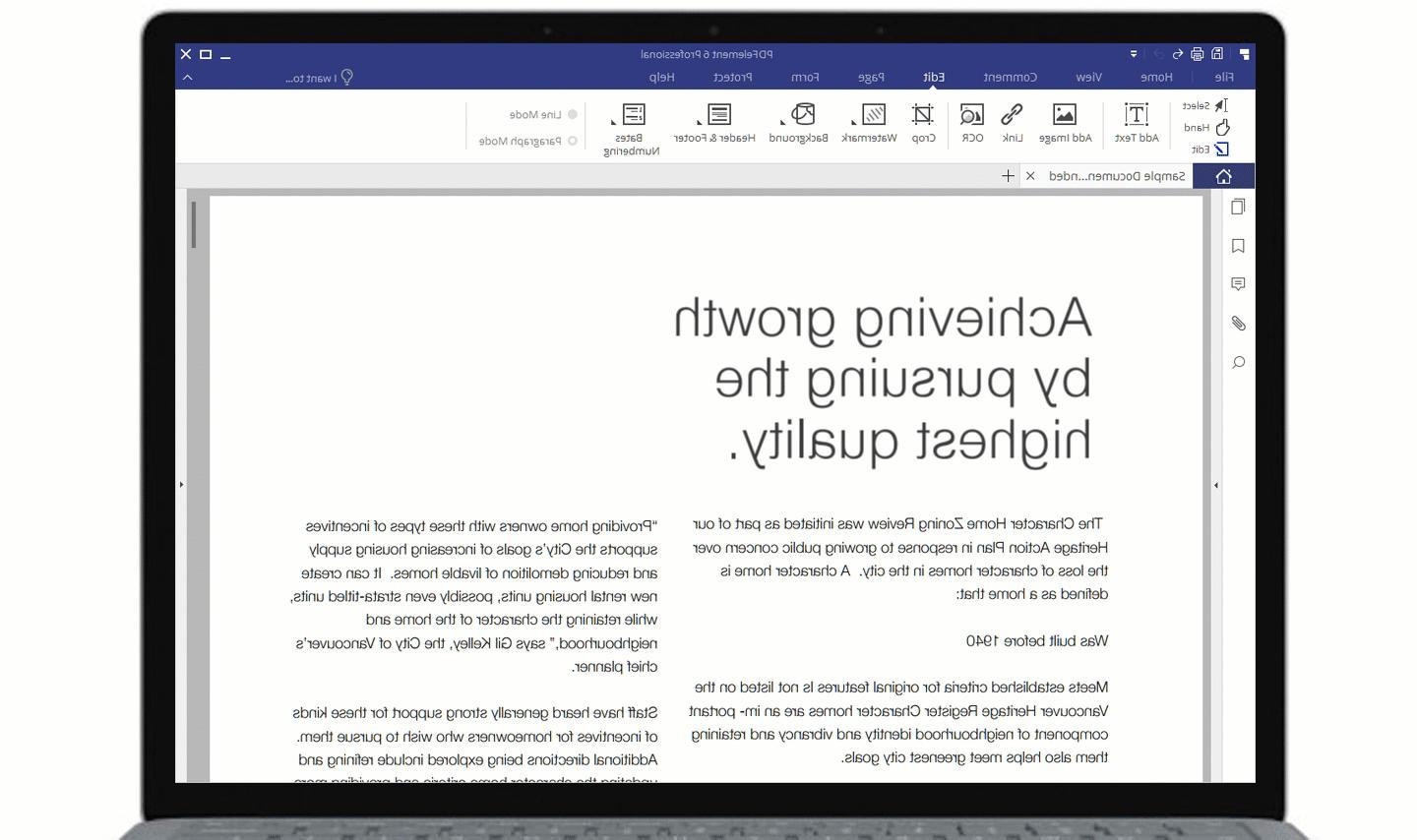 For
PDFelement has ALL the features also present in Adobe, which is why it represents a valid and convenient alternative to Adobe
One version available demo free trial
Very intuitive program interface that allows even the less experienced to edit PDFs quickly and easily. See fig. below (program home screen):

It integrates an OCR technology that is useful for modifying the content of scanned PDFs as well.
disadvantages
With the demo version a modified PDF is created on output but with a watermark overlay
Price
Professional version (i.e. with OCR function) for only € 99,95 + VAT; lifetime license and always free updates!
[VIDEO TUTORIAL]
2. Nitro Pro
The program PDF Nitro Pro represents another excellent solution for those who want to edit PDF in a simple and effective way. It has a wide range of features for editing, creating, combining, annotating and sharing PDF documents. In addition to the basic functions, Nitro Pro allows you to compile, sign and secure PDF documents. This program is only compatible with Windows computers and has a price (in the "personal" version) of about $ 159,99 (therefore significantly higher than PDFelement seen in the first point).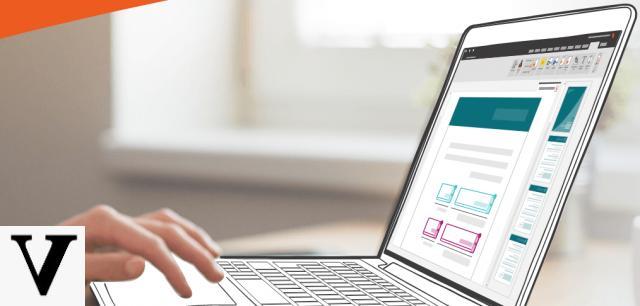 Advantages
Simple and intuitive to use
Includes OCR technology, which is essential for analyzing and editing scanned PDFs.
disadvantages
Not very competitive cost
Trial version available but very limited
Price: As mentioned, the personal use license costs $ 159,99
3. Adobe® Acrobat® XI Pro
Until a few years ago, the "leader" program for editing PDFs was definitely Adobe Acrobat PRO. Today it is still among the best PDF Editor software on the market but its high costs (prohibitive for many) do not place it in the first place. We rank it on the podium in third place because it still represents the innovative professional solution for those who want to process and edit PDFs. The conversion, annotation, PDF protection, and much more are also excellent. It is available for Windows and Mac systems.

Advantages
It has very advanced features
Simple to use
Powerful OCR technology
disadvantages
Very high price (despite trying to disguise it by offering "monthly" subscriptions)
Price: About $ 299 one-time or $ 15-20 per month with subscription.
4. Foxit Phantom PDF
Foxit Phantom PDF is a very simple and effective PDF editing software. It was designed for Windows PC and has almost all the features a PDF Editor should have: PDF text editing, PDF merging and splitting, annotation, PDF sharing, form creation, PDF conversion, PDF signing and security.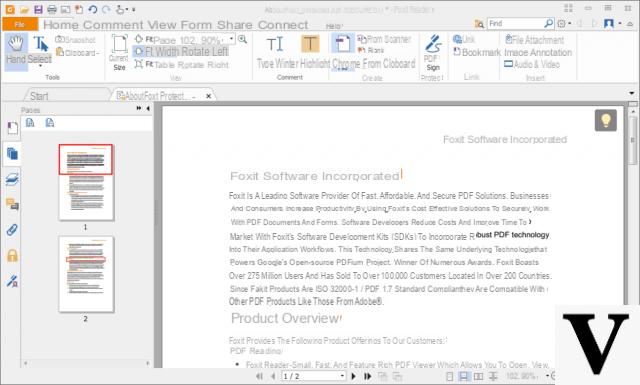 Advantages
Presence of a free trial version valid for 14 days
Very effective OCR function
disadvantages
A little limited demo version
Slightly cluttered user interface
Price: The standard version (for personal use) costs $ 129 one-time fee. That business costs around 159.
5. Soda PDF
Soda PDF is another great program designed to help people edit PDF quickly and easily. Certainly the most famous is the instrument Soda PDF Online allowing edit PDF online directly and free of charge.
Even the "software" version of Soda PDF, however, is not bad because it has all the useful functions to customize, edit, correct and save a PDF.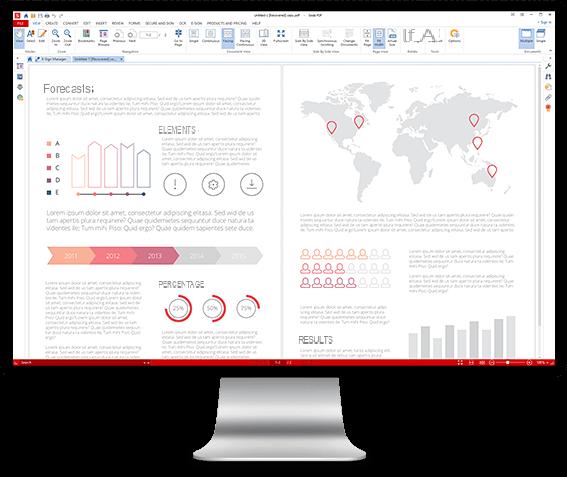 Advantages
The very effective OCR function
It allows you to edit, protect and sign PDFs
disadvantages
Cost not convenient considering that with 84 € you buy a license valid for only 1 year
Security and signature functions are included only in the Pro version, the one that costs the most.
Price: The premium version costs € 84 but the license is only valid for 1 year.
Compare PDF Programs
After having seen and briefly described those who are the best programs to edit PDF, we want to offer you more information to make it easier for you to choose your best PDF Editor program. More precisely, we want to share an analysis conducted by some experts in the sector who for each program have enclosed all the functions in a single value, called "Performance rating". Below you can see the results of the analysis and the comparison between the various programs. Again PDFelement stands out as the best program in the industry. Adobe Acrobat Pro and Nitro Pro follow.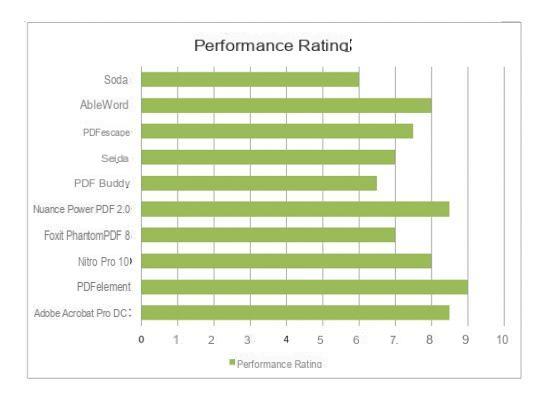 I use pdfelement and it's number one for me
Well, yes I just tried it. It's amazing how fast it loads PDFs and allows them to be edited. It just feels like working on a PDF document. However, the other programs mentioned in the article are also excellent for those who want to edit PDFs in a simple and intuitive way.
Forget online or free solutions ... from personal experience I can tell you that they are only "only"
Best Programs to Edit PDF -