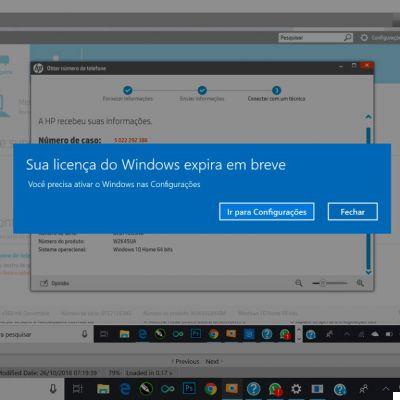 Just take a tour of the official Microsoft community (at https://answers.microsoft.com) to understand how many people suddenly find themselves with a message like "windows license expired"Or"windows license is about to expire"(As depicted in the image above).
When buying a PC, no one has the problem of the Windows license installed on it because we assume that it is a license that is valid forever. But apparently this is not the case because there could be a Windows version activated only for a certain time and when it expires the message of the Windows expiration. What to do in these cases? Below we try to give more information about it and point out some possible solutions to the problem.
How to Check Windows License Status
A good place to start is to check the Windows license status (Windows 10, Windows 8.1, Windows 8 or Windows 7). This way you will be able to understand if you have an active license. If not, you will be prompted to purchase a new Windows license. But let's go on step by step.
To check the Windows license installed on our PC:
1. Open EXPLORE FILE
2. In the left pane, right-click on "This PC"Or your computer name, if you have a custom one. This brings up some other options. Select the option "Property".
Alternatively, you can log into the control panel and go to "System and security> System".
3. At the bottom of the window that opens, under the writing Windows activation, you will be able to view the activation status.
If by chance you read something like this "Windows is about to expire", Then you should try to follow these solutions.
Solution 1: Restart the Windows Explorer project
Right-click on an empty area in the desktop taskbar and select the option "Activity management". Then switch to the tab Processes from the top of the window.
In the Processes tab, search Explore Resources, right click on it and select the option "Restart". Alternatively, select Windows Explorer and click "Restart" in the lower right corner of the window.
Solution 2: Enter a Product Key
If you have lost your Windows product key (i.e. serial number) try to recover it using this program.
Or open the Command prompt with administrator privileges and enter this command:
Under the wording "OA3xOriginalProductKey" the serial number of your Windows will appear. At this point go back in System and security> System and at the bottom of the window click on "Change product key".
In the pop-up that opens you will need to enter the product key copied from the command prompt and click "OK". You may need to restart your computer later.
Solution 3: Reset license status
Most of the time the problem is solved by simply resetting the license status. The reset process is pretty straightforward.
1. Open Command Prompt with Administrator privileges. Type the command
Once this is done go ahead and restart your computer. Hopefully this will solve the problem.
These solutions proposed above are very simple to try and do not require much computer experience. They should help you solve the problem "Windows is about to expire". But if none of the above solutions work then consider contacting the vendor and / or taking your computer to a qualified technician to fix the problem. In the worst case scenario you will have to proceed to purchase a new Windows license. HERE on Amazon There are different types of Windows licenses that you can purchase at an affordable price.
Hi but if my license has really expired !! What to do, do I really have to buy it?
Yes, it must be purchased
Thank you very much, I used the second method and it worked perfectly. TOP
I solved with solution 2 thank you very much
Unlike other comments, I activated p.to3 and solved it very easily. Thank you very much!
hi I need to renew the license
IT DOESN'T WORK, ABSURD !!!!!!!!!!!!!!!!!!!!
no it's not absurd ... it can happen ... different versions ... different updates ...
Windows License Expired or About to Expire? -