Summary
Windows XP Pro, SP3, 32 bits
Windows Vista Ultimate, SP2, 32 bits
Windows 7 Pro, SP1, 64 bits
Windows 8.1 64 bits
Windows 7 and Windows 8.1: updating with GWX
And after the update?
While Windows 10 has now been available for download for a few days, we wondered how the update from different Windows editions would be managed. After a criticized version 8, timidly updated to 8.1, this edition of Microsoft's operating system is raising a lot of expectations. Especially among Windows 7 users, if one relies on the sarcastic, but widespread assumption that the publisher really succeeds one in two OS.
You are using Windows XP
You are using Windows Vista
You are using Windows 7
You are using Windows 8.1
Updating with the Get Windows 10 app
And after the update?
Microsoft communicates on the update device for holders of a valid Windows 7 and Windows 8.1 key. The move to Windows 10 will be free during its first year of availability. Okay, but can you migrate to without losing your personal data and system settings? And what about computers running OS older than Windows 7? We tested this, with the latest available version of Windows 10 from Windows XP, Vista, 7, 8 and 8.1, all installed on virtual machines.
Let us first distinguish two concepts: updating and upgrading. As Microsoft explains, the first "modifies an existing OS by changing or deleting files", the second "installs the new OS, migrates data, drivers, applications and settings from the old OS to the new one, then erase all files from the old OS ". Migration to Windows 10 is therefore an upgrade, the updates that the new system will receive following its launch will be updates. That's done !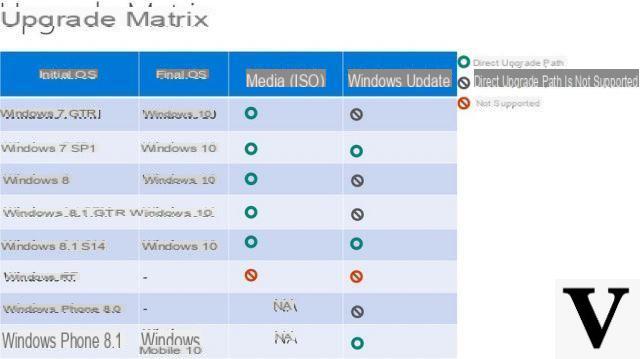 As shown in this table, Windows RT, the ARM edition of Windows 8.1, is not affected. The terminals will therefore not pass on the next Microsoft system. However, the publisher has promised an update with "certain features of Windows 10" scheduled for September. It will be Windows 8.1 RT Update 3.



Windows XP Pro, SP3, 32 bits
Ah! Windows XP, what memories ... After having made all the updates until Service Pack 3, we connect the USB installation key of Windows 10, in 32-bit version to stick with our base system. The message returned by XP after we click on the Setup.exe is surprising to say the least: "Setup.exe is not a valid Win32 application". Here then ? It's weird, the same executable will run smoothly under 32-bit Vista. It is therefore a failure, that said in accordance with forecasts since Windows XP could not already migrate to 7 without having to format everything.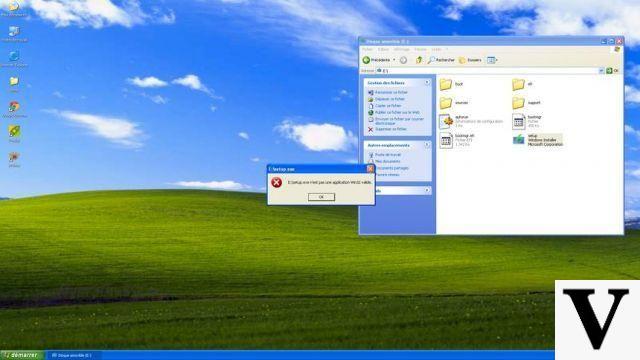 Microsoft obviously hasn't even considered that people might want to switch from XP to Windows 10. At the same time, why would those who have resisted so far be interested in Windows 10?



Windows Vista Ultimate, SP2, 32 bits
This version of Vista is an update, installed on top of the previous XP Pro system. We therefore remain in 32 bits, and undertake the interminable updates of Vista, to reach Service Pack 2. By the way, we must allocate 4 GB of RAM to the virtual machine for Vista, while XP is satisfied with 1 GB or even 512 MB ... The verdict here is very clear: "The installation of the Technical Preview of Windows 10 can only be executed from Windows 7." In case the message, it reads: "The Windows 10 Technical Preview was not designed to be installed on devices running Windows XP and Windows Vista".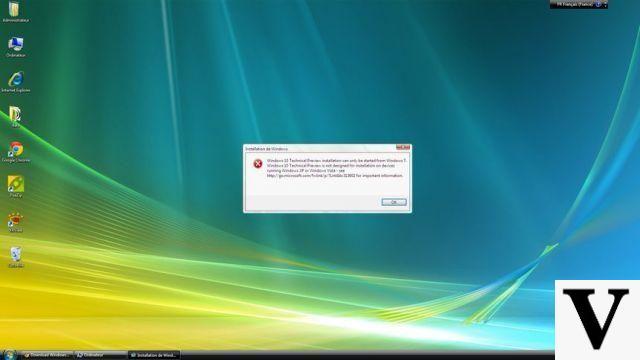 Vista users, you are left for a total reinstallation of your machine if Windows 10 tempts you.
Windows 7 Pro, SP1, 64 bits

In this case, the transition goes smoothly. The only prerequisite is to have at least 8 GB of free space available on the system hard drive. For this example, we did not use a virtual machine but directly installed Windows 10 on a version of Windows 7 in place. To do this, we downloaded the 64-bit ISO and then created an installation USB key with Microsoft's utility, Windows 7 USB / DVD Download tool. We then run the setup.exe on the key, the process is underway!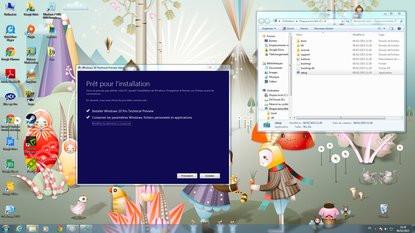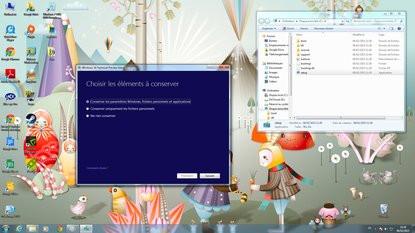 After searching for an update, the window that interests us finally appears, offering three choices for the installation of Windows 10:
keep settings, files and applications;
keep files only;
keep nothing at all.
We check the first, the migration from Windows 7 to Windows 10 will be a success since data, settings and applications will be effectively preserved. Except for a few details, such as the wallpaper or connections to secure services.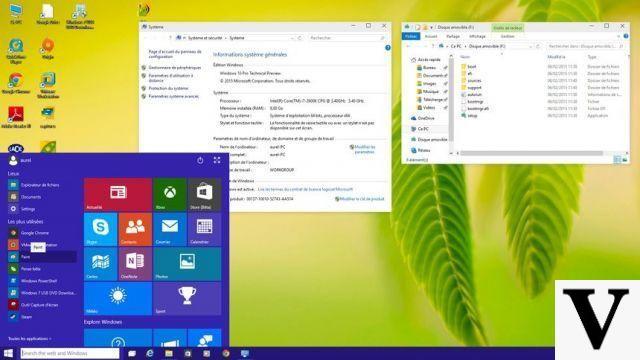 The update is complete, our data and programs have been preserved.
Windows 8.1 64 bits
We did not attempt to reproduce the migration scenario from Windows 8, estimating that the majority of users will already have switched to 8.1, a perfectly painless update. Do this if you haven't already or go straight to Windows 10 from Windows 8, the process is the same.
To do this test, we used a laptop already running Windows 8.1, in 64 bits. Previously, we tried to update our Windows 7 Pro to Windows 8.1, but our test version of 8.1 being Enterprise, keeping data and apps is not possible.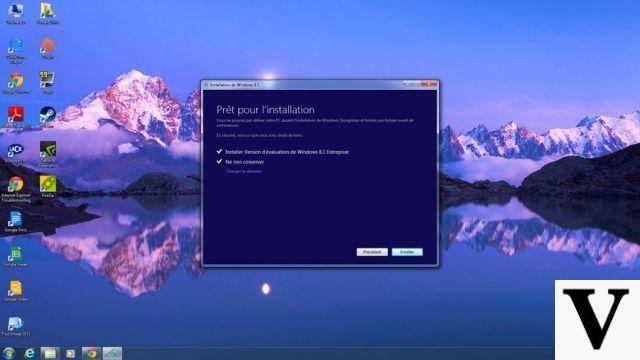 The Enterprise versions are only compatible with themselves ...
No surprise here, the migration from a standard version of Windows 8.1 to the Technical Preview of Windows 10 operates in the same way as with Windows 7. The data and settings are therefore retained.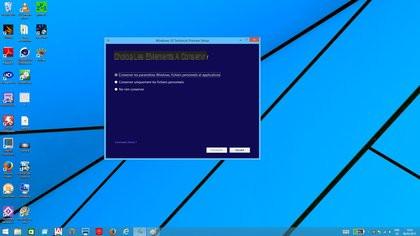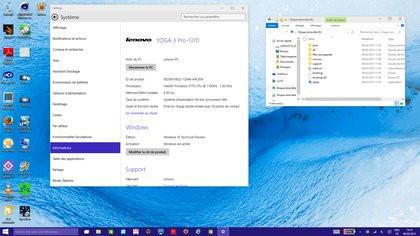 Windows 7 and Windows 8.1: updating with GWX
The owners of a machine equipped with Windows 7 and 8.1 can, since June 1, "reserve" their update to Windows 10. Microsoft has indeed deployed a small specific program called GWX (Get Windows X) or Get Windows 10 in Spanish.
GWX invites users to specify their email address in order to be notified when Windows 10 is available for their machine. The update, weighing 3 GB, will be deployed in waves and the first to benefit will be the Windows Insiders, that is to say those who have tested the system in an experimental version. Note that you will have to reserve this update on all of your PCs.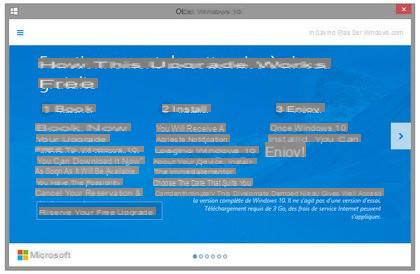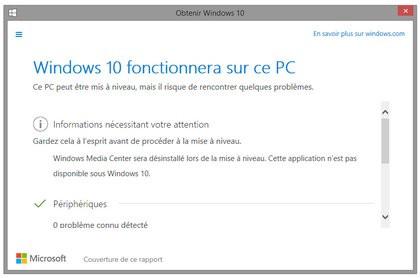 This small software also analyzes the machine in order to check the compatibility of the components but also to identify possible problems with certain installed applications.
Be careful if you have Windows 7 RTM, Windows 8 or 8.1 RTM, migrations can only be carried out by installing an ISO image (and not via Windows Update).
And after the update?
Once Windows 10 is installed on your machine, you will certainly quickly take control of the system, but will also observe some changes made by Microsoft, and in particular the withdrawal of certain applications and features.
As a result, Windows Media Center Player will be removed and not available for download. In addition Windows 10 will no longer be able to read DVDs, although Microsoft specifies that some users may have a specific application later.
Note also the abandonment of the desktop gadgets of Windows 7, inherited from Vista. Exit also games Solitaire, Minesweeper and Queen of Spades preinstalled with Windows 7. For these, new versions will be available in the Windows Store. Finally, Windows 10 stops supporting floppy drives by default. You will need to retrieve the necessary drivers via Windows Update or on the manufacturer's site.
Article originally published on 26/03/2015 @ 15:19:17