Increasingly technological, our modern cars sometimes integrate features that we find in our own smartphones. But beyond that, it is the smartphone manufacturers who are taking a very close interest in this rapidly changing industry, with different objectives. The most ambitious even want to market their own car.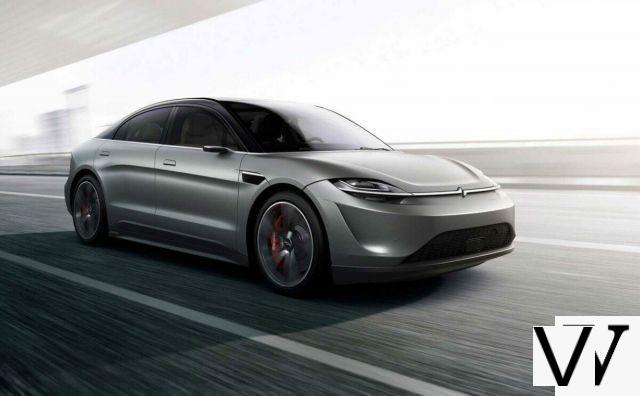 The Vision-S, a concept car developed by Sony
If you are looking for a new car today and are on a sizeable budget, your favorite auto dealer has surely praised you for the many technologies and other driving aids available within the range. car you covet. Rarely as standard, often optional, these technologies are gradually taking precedence over the very essence of the automobile. And even if the "purists" do not necessarily see that with a good eye, Technophiles today find many similarities between the modern car and the world of the smartphone.
With the arrival of infotainment systems and on-board computers, the automobile had already passed a milestone. But with the deployment of connectivity, it's a whole new world that opens up to your car, she who will soon be able to communicate with other automobiles and even with infrastructure. Obviously, today, this represents a rather small quantity of models, quite simply because we are still at the beginnings. These technologies are still found in cars that are fundamentally still quite expensive, in any case much more than the average basket of the Spanish customer, to name but one.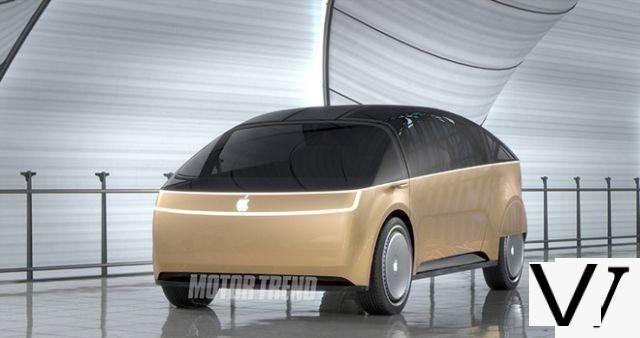 Concept d'Apple Car //
Today, the bridge between the world of tech 'and that of the automobile is well open. Some manufacturers even entrust the development of their infotainment system to these companies, as evidenced by Volvo, which has partnered with Google to offer an on-board system running on Android, with applications such as Google Maps for navigation or even the Google Assistant for voice control. It now goes well beyond Android Auto and Apple CarPlay systems.
Moreover, these applications (and not the OS) will soon be made to disappear, at least for Android Auto, with the arrival of a "driving" function on Google Assistant during the deployment of Android 12. In itself, this will not change much for the user, who will still have access to their favorite applications available for their car at their fingertips.
But the giants of the tech ', and more particularly the manufacturers of smartphones, now intend to go a little further. We have already seen the association of several manufacturers with automobile manufacturers for the development, among other things, of driving assistance technologies with the aim of eventually arriving at partially, or even completely, autonomous cars.
Xiaomi, growing ambitions
Some manufacturers intend to emancipate themselves from traditional car manufacturers by offering their own cars. Among the latest to date, we can for example cite the Chinese manufacturer of smartphones and electronic devices Xiaomi, with the announcement of the creation of a dedicated subsidiary last September. World number two in smartphones (it depends on the quarter), Xiaomi also produces touch tablets, connected watches, wireless headphones, electric scooters, electric scooters and electric bikes.
In a context where electronics today control a large part of the automotive market - as evidenced by the current shortage of semiconductors - Xiaomi has several strengths, including mastery of the electronic chip market to work on your own car, electric of course.
For the moment, the Asian company is still rather evasive concerning the development of its car, in particular its date of marketing. But last April, Xiaomi CEO Lei Jun said the brand's first model would likely be "a sedan or an SUV". For once, if Xiaomi intends to revolutionize the electric and connected automotive sector, it should not revolutionize the segments.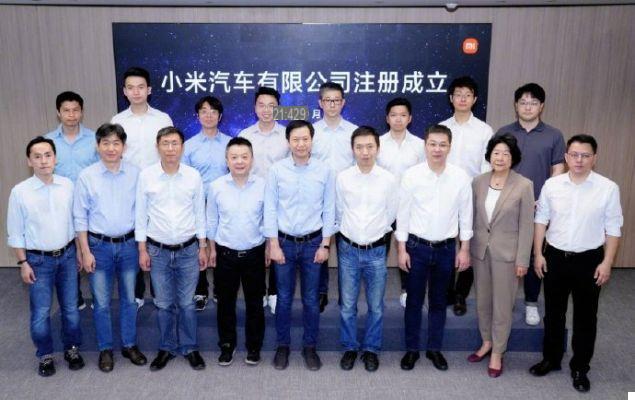 Lei Jun and his team at the legal creation of Xiaomi Automobile //
Still, today, improvising a car manufacturer without experience (but with the means, and even a lot of means) is quite ambitious. It would therefore not be surprising to see Xiaomi partnering with an automotive giant. In August, Evergrande, one of China's most indebted groups, announced talks with Xiaomi over its Evergrande Auto subsidiary.
A track undoubtedly to jump the stages of a development at forced march as appreciates them Lei Jun. Remember that Evergrande Auto was founded in 2019 and aims to revolutionize the electric. But for now, the company still does not sell any vehicle and has incurred 4,9 billion yuan (640 million euros) of losses in the first half of 2021.
Apple back in the dance?
Let's leave China, and now go to the United States where, there too, the manufacturers of smartphones, but not only, are very interested in the automotive industry. Without much surprise, we find Google and Apple. Google, which has dreamed of its first vehicle for almost two decades before collaborating with various manufacturers such as Toyota or the former FCA group, which have now become Stellantis since its merger with the PSA group. In 2016, Google announced the creation of Waymo, a division which aims to develop autonomous driving.
To learn more
When Elon Musk proposed to Apple to buy Tesla
For its part, about 7 years ago, Apple launched the "Project Titan", with the aim of producing its own electric vehicle. In 2016, more than 1000 employees were working on this project. A project which, since, took the lead in the wing. For now, information about the future "Apple Car" is trickling in: Reuters recently unearthed the Titan project, indicating that the company would again prepare a car built in-house and with a battery advertised as "revolutionary" .
This new battery would only use one cell. The latter would in fact group together several in order to save space. Thus, Apple could use this space to manufacture more compact cars, or on the contrary with more autonomy, everything will depend on the segment in which the American firm wishes to interfere. Still according to Reuters sources, Apple is considering replacing the lithium-ion used in batteries with LFP, lithium iron phosphate, which would heat less and would therefore be safer.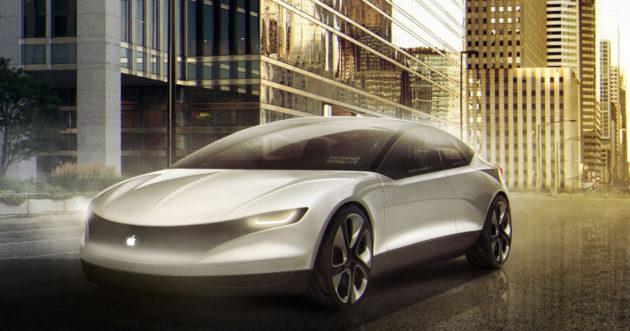 A style study on the Apple Car
Forget the plan to sell a service to other manufacturers, we find the DNA of the firm to design from end to end a product that it could market directly to consumers. Some rumors about a possible collaboration with Hyundai and Kia followed but all were denied by the Korean manufacturers. This model could see the light of day in 2024, although this project could be delayed with the departure of the head of the automotive division at Apple last September.
Huawei, the most advanced?
Now let's come back to China where, clearly, a lot is happening. Baidu, the Chinese Google of sorts, recently announced an agreement with the Geely Group (of which Volvo is a part) to autonomously design electric vehicles.
As for smartphone manufacturers, let's not forget Huawei, which extended its partnership with Changan Automobile at the start of the year for the development of semiconductors for the automotive world. Recall that Changan is currently managing a joint venture with Ford for the local production of the Ford Mustang Mach-E. Also according to Reuters, Huawei is also in talks with BAIC BluePark New Energy Technology.
But Huawei is still fairly cautious and said at the start of the year, through one of its spokespersons, that the company "was not an automobile manufacturer". However, several sources indicated in early 2021 that Huawei could present its first in-house-designed electric car in 2021. Today, that seems quite compromised, except surprise, the pandemic having surely had consequences on this project, without forgetting the many obstacles which could come up against a company of which the automobile is not the basic profession.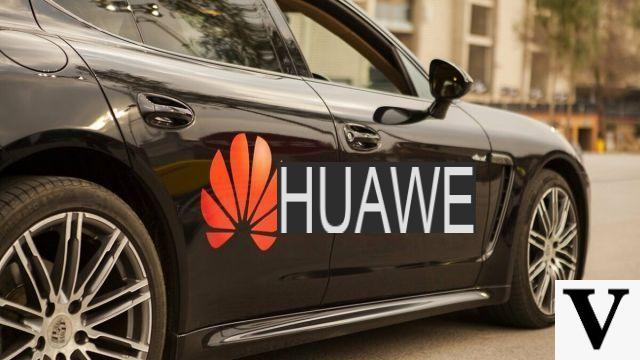 And in Europe?
What about Europe in all of this? Not much is happening, at least on the side of the few smartphone manufacturers. Let us quote however the project of Dyson, famous British company of household appliances, where James Dyson had spent more than 500 million euros to develop an electric SUV intended to compete with the Tesla Model X… before finally giving up the weapons. We could have hoped for better.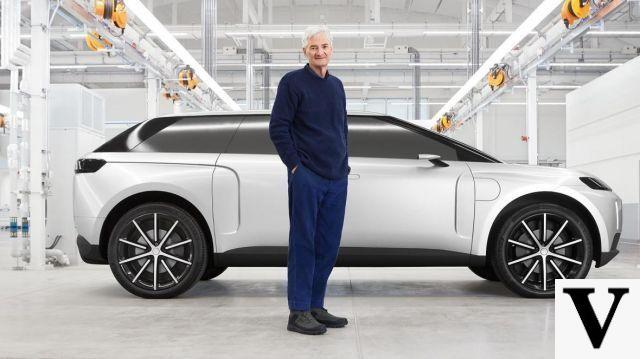 What about Samsung, LG and Sony?
So let's go back to Asia - not China this time - but to South Korea and Samsung. The company revealed last year its intention to develop a solid battery capable of storing enough electrons to allow an electric car to travel more than 800 kilometers on a single charge. The other Korean giant, LG, entered into a joint venture with supplier Magna-Steyr last December for the production of components for electric vehicles.
Finally, for the moment, it is a bit like Sony that has gone to the end of things, since the Japanese company has unveiled a real car, and which drives what is more, with the concept car Vision S presented at CES in Las Vegas in 2020. Unfortunately, Sony has already refuted its intention to market its vehicle, announcing that 'it was rather a rolling laboratory built in collaboration with Magna Steyr, for the sole purpose of testing technologies while freeing themselves from an already existing architecture.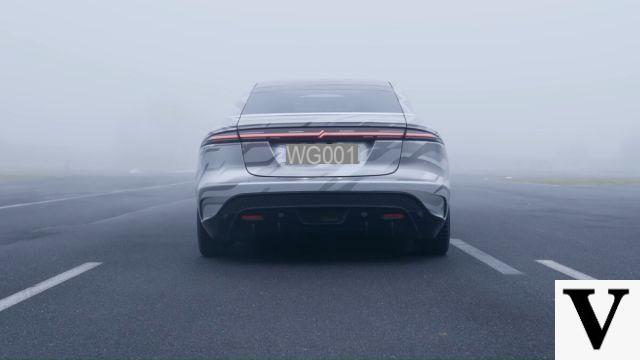 The Sony Vision-S concept car on the road
In a general way, this concept car was nothing really revolutionary as one would expect from a car developed by a tech giant. It is equipped with a level 2+ semi-autonomous driving system, like most high-end German sedans, although Sony hopes to be able to reach level 4 without too much delay, which is a phase where the car can navigate. only under certain specific traffic conditions (well-defined sections of the motorway, traffic jams, protected areas without pedestrians, or non-autonomous cars, etc.).
To learn more
Autonomous cars: what are the differences between the levels of autonomy?
On the other hand, this concept car will not really go unnoticed: certain technologies will soon be found in cars developed by more "traditional" manufacturers, such as a 360 ° audio system for optimal sound immersion, or even a facial recognition system to access and start your car.
When will the real first car be?
As you will understand, the manufacturers of smartphones and the giants of the tech 'are still at the beginnings in the field of the automobile "pure", even if they become today almost ubiquitous within our modern cars. . But as you are surely not without knowing it, the automobile today is certainly one of the most complex industries, and few companies get into this field without the support of a large automotive group and without substantial financial means.
And to the question, "when will we see for the first time a car designed by a manufacturer of smartphones?" ", We would be tempted to answer you that" it is not tomorrow the day before ", unless Huawei presents a model before the end of the year 2021. And it will always remain to know when it will be marketed and if it This is not yet another concept car that will not see the light of day, or not, for several years.