Have you ever wondered how to get the most out of your WhatsApp application? The official Whatsapp app has several limits such as the size of the file to be shared, or the scarce integrated privacy options, or the inability to fully customize the appearance of the app…. How can you overcome all these limits? The solution is there and it's about using a version Courage (i.e. modified) of WhatsApp. Below we will see the best ones modified versions of Whatsapp, however, always considering that they are unofficial versions and therefore to be used with caution.
Part 1: WhatsApp Mod? What is it about
Part 2: Best WhatsApp Mod App
Part 3: How to backup and restore chats on a Mod Whatsapp version
Part 1: What is a WhatsApp Mod
A "mod" WhatsApp apk is, as the name suggests, a modified version of the WhatsApp application. These mods were designed by third party developers or individuals who wanted to add a higher level of functionality to the app or add features that did not previously exist.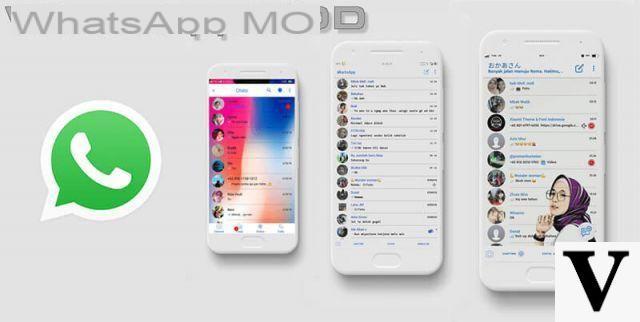 These mods were then made agolable to the public by the developer, so that everyone could enjoy the benefits. Below we will see the best mod versions of WhatsApp and in addition to describing each of them in detail, we will tell the PROS and CONS.
Part 2: Best MOD Versions of WhatsApp
#1 – GBWhatsApp
GBWhatsApp is one of the best known mod versions of WhatsApp and appreciated by thousands of users all over the world. The mod introduces a ton of new features, including the ability to use multiple accounts with the same app.
GBWhatsApp features
Full control of the WhatsApp app design
Hides and password protects certain conversations and message threads
Regularly updated app
Full control and management of privacy settings (blue tick)
Support all android devices
Removes the size limit of the sent file
# 2 - WhatsApp Plus
WhatsApp Plus is a very similar mod to GBWhatsApp, and the two things go hand in hand when it comes to figuring out which one is the most popular. This mod adds many advanced features to the existing app, as well as carrying the essential anti-ban feature that prevents WhatsApp from revoking access to WhatsApp.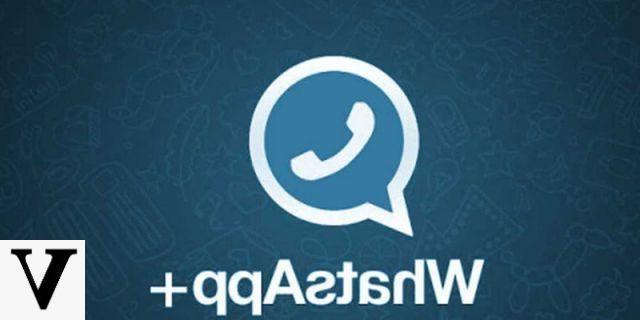 WhatsApp Plus functionality
It allows you to create virtually unlimited group conversations for up to 256 people
Increase the file upload size limit to 30MB
It does not compress the image quality when sending
Schedule WhatsApp messages
Full control of your privacy settings
Integrated anti-ban function
#3 – FMWhatsApp
If you are looking for a mod whose main function allows you to perform multiple accounts through the same app then FMWhatsApp is the mod you need. The mod also offers a number of other features to enhance your experience and even use a couple of themes to choose from.
FMWhatsApp functionality
Send files over data or Wi-Fi networks up to 1GB in size
Comes with over 30 ticks and designs
It comes with a range of dedicated pre-built themes to choose from
Lock individual conversations using a password
It supports sending videos up to 5 minutes long
Support multiple phone numbers and WhatsApp accounts through the same app
# 4 - WhatsApp MA
Some consider WhatsApp MA as one of the best WhatsApp mod apk, and this is because in addition to improving all the traditional features of WhatsApp by unlocking its true potential, the mod also adds other basic but essential features to give you everything you need.
Features of WhatsApp MA
Switch between dark and light theme modes
Access, view and delete all your WhatsApp log files
One-click private mode to hide your online status
Full control over fonts and font sizes
Integrated preview for media files without having to download them
#5 – YoWhatsApp
YoWhatsApp, more famous as YOWA, is perhaps one of the most aesthetically beautiful mods for WhatsApp and is a must for those looking for a fluid and captivating experience. Developed by Yousef-Al-Basha, this is definitely designed for people who want to customize their designs and themes.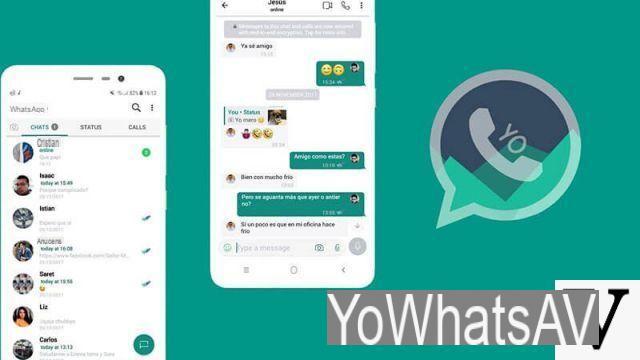 YoWhatsApp functionality
It allows you to use two accounts on the same application
Has a built-in "Do Not Disturb" function
Fully customize the style and design of the WhatsApp UI
Customize who sees the blue check mark icon
Mod that supports over 100 languages
It comes with a huge database of ready-to-use emojis
#6 – Fouad WhatsApp
Fouad WhatsApp is designed to really push the pedal when it comes to increasing the functionality of your app and adding tons of new features to your device. With seemingly all areas of WhatsApp improved and covered, this regularly updated mod is sure to keep you busy for weeks to come.
Features of Fouad WhatsApp
Dramatically improve the speed of your device when using WhatsApp
It supports multiple languages
Create passcode blocks for the app or for each individual conversation
Fully customize every single aspect of the app design
Lots of themes and user interfaces agolable for download and fun
Choose your emoji from over 6 sources
Complete control over WhatsApp stories and broadcasts
# 7 - OGWhatsApp
If you are looking for a mod that is reliable and considered safe by users all over the world, OGWhatsApp is the app you need to turn your attention to. Original mod to allow forking, this high-performance app has a practically infinite number of features to enhance your instant messaging and chat experience.
OGWhatsApp functionality
Dramatically increase the size limit for sending photos, videos and audio files
It supports a huge number of aesthetic themes and designs
Use two different phone numbers and accounts through the same app
A secure connection for sending messages and files
# 8 - AZWhatsApp
Developed by Sam Mods, the apk mod AZWhatsApp contains a number of cool mods that improve functionality and your WhatsApp experience. However, the design of this mod leaves a lot to be desired.
AZWhatsApp functionality
Translate conversations in real time
Set GIF images as backgrounds for conversations
Increase the file upload size limit to 50MB
Ability to change font styles and designs
Adds the ability to download specific conversations
#9 – Soula WhatsApp
For those looking to strengthen their WhatsApp experience, especially when it comes to their device's performance and privacy settings, the WhatsApp mod known as Soula WhatsApp it can be a great choice. The mod touches all aspects of the WhatsApp experience, creating an app that is functional from every point of view.
Soula WhatsApp functionality
It can perform backup and restore functions directly on the device
Emoji and character packs integrated
Improve the security and privacy settings of your WhatsApp application
Dramatically improve device performance while using WhatsApp
Increase the character limit
It supports sending over 100 file types
Send up to 100 images in batch
#10 – YCWhatsApp
Are you looking to completely redefine the look of your WhatsApp application with a sleek and fluid aesthetic that makes the experience much more enjoyable? YCWhatsApp offers an interesting take on the theme, but doesn't compromise when it comes to additional bonus features.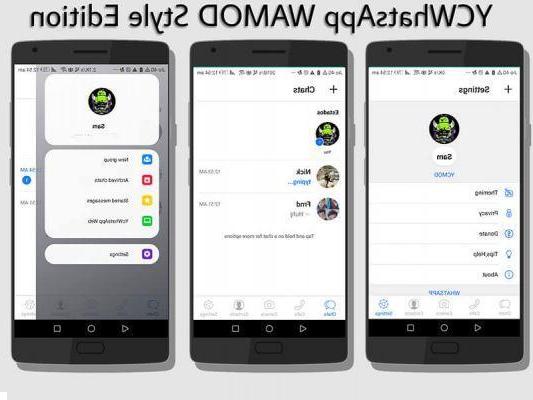 Features of YCWhatsApp
A lightweight mod that only uses 20-23MB of memory
Advanced control over the app's privacy settings
Instagram inspired user interface and graphics
Share longer WhatsApp stories and broadcasts
Integrated gesture control settings
Change all aspects of the user interface, including fonts, icons, and font sizes
Part 3: Fare Backup WhatsApp Mod
As you can see, there are many mod WhatsApp highly functional and high performance that can do amazing things and enhance your instant messaging experience.
However, there is one aspect negative in the use of modified versions of WhatsApp: the use of a modified version of WhatsApp means not have access to the Google Drive backup function, which means your messages and files will not be protected in case you lose them. Instead, you'll need to be proactive to make sure your conversations are backed up to your PC. But how to backup the chats of a Whatsapp Mod application? The solution is called dr.Fone Reset Social App
Backup and restore WhatsApp MOD messages flexibly
Transfer individual WhatsApp conversations, or all of them, as you wish
Capable of transferring WhatsApp messages between Android and iOS devices
It works with other instant messaging apps like LINE, WeChat, and Viber
100% secure service that guarantees protection during transfer or backup / restore
First download and install dr.Fone from the following link (Windows version):

Proceed with the installation of the program. Then start it and you will see this main window: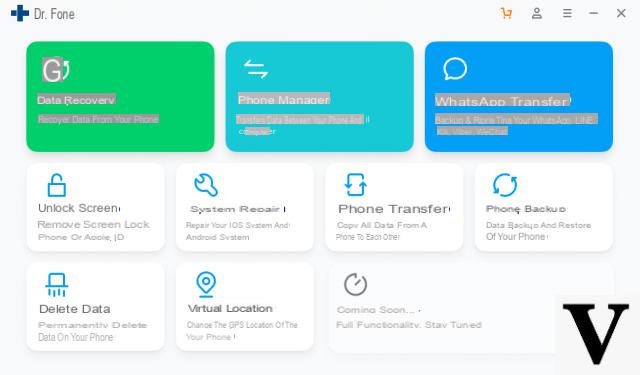 Click on the box "Reset Social App"To activate the function that interests us and that will allow us to backup the chats of our Mod Whatspap.
The rest of the process is trivial because you just need to click on "Backup Whatsapp messages", connect the phone to the computer and follow the instructions in the program. The backup process should not take more than a few minutes, depending on the amount of content to be saved.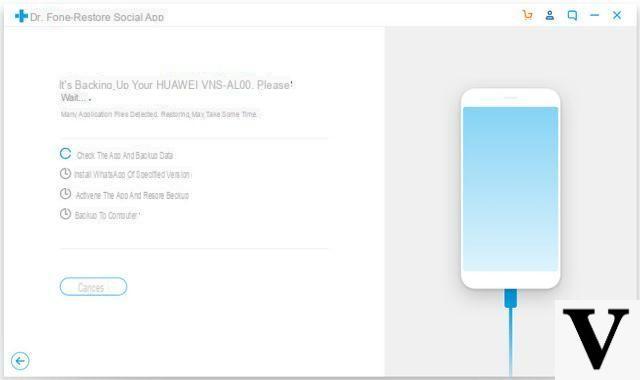 All backups created with dr.Fone can be viewed in the program whenever you want and can obviously be restored on the device (even a different one)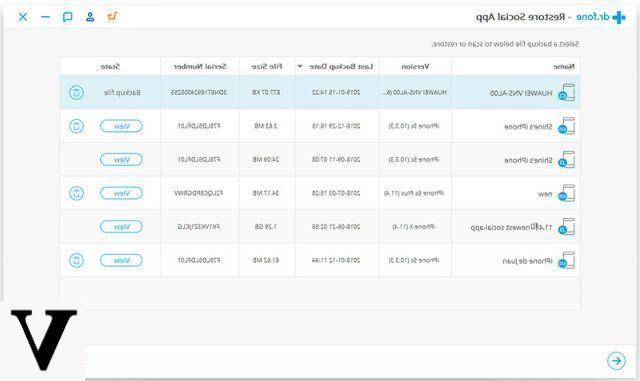 [WhatsApp Mod] The Best Modified Versions of Whatsapp -