Today, after restarting my mobile I noticed that all whatsapp messages are gone !! Maybe I was wrong to click somewhere ... How can they be restored?
Since it is free and very easy to use, WhatsApp has become the world's most used app for instant communication. However, it often happens to inadvertently delete WhatsApp messages or that some chats disappear at any moment. Every day many contact us asking the question "can I recover deleted or disappeared messages from WhatsApp on my mobile phone?". The good news is that the recovery of the WhatsApp messages disappeared it is possible and there are several ways to do it.
A device is possible Android go to the page Android Whatsapp Recovery, to understand how to recover lost WhatsApp chats on your Android device (Samsung Galaxy S21 / S20 / S10 / S9 / S8 / S7, Huawei, Xiaomi, LG, Galaxy Note 4/3/2, HTC, etc ...)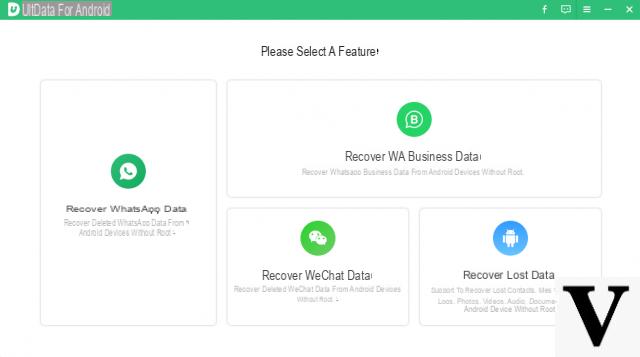 A device is possible Apple iOS (iPhone / iPad / iPod Touch) instead read below how to do it. What you need is to download and install dr.Fone per iOS on your PC or Mac computer:

Here are the different solutions you can try for recovering WhatsApp messages that have disappeared from your iPhone or iPad:
Solution 1: Recover WhatsApp messages directly from the memory of your iOS device
Step 1. Launch the program and connect your iPhone to computer
starts Dr.Fone per iOS on the computer. Then connect your iPhone (it also supports iPhone 12/11 / X / 8/7 / 6s / 6 Plus, iPhone 6, iPhone 5S or iPhone 4S) and enter the DATA RECOVERY function.
The following program window will open: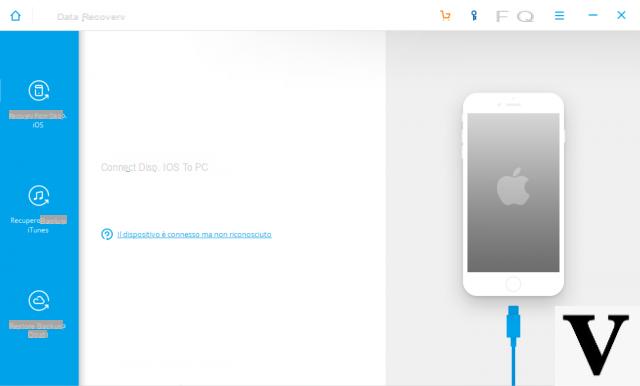 If you are using an iPhone 4 or iPhone 3GS, the window will be a little different because you will need to download an additional plugin and put the device in "scan" mode.
Step 2. Start scanning your iPhone for missing WhatsApp messages
Choose the data to recover (in our case Whatsapp messages and related attachments) and click on Start Scan to scan the iPhone. The program will start analyzing the internal memory of the device.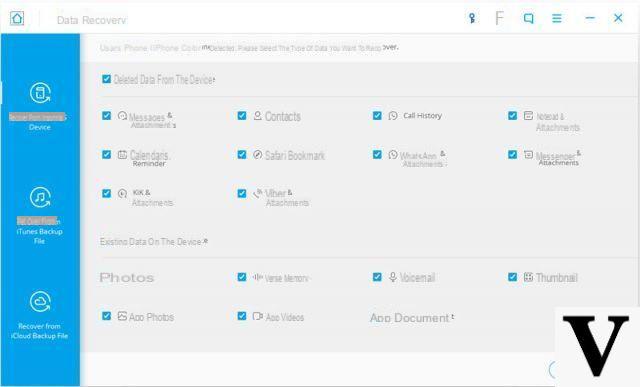 Step 3. Preview and recover WhatsApp messages
In the results window that appears after the scan you will be able to see all the data on your iPhone organized by categories. There is a small button on the top of the program that allows you to view only the deleted items.
Access the folder WhatsApp, and here you can preview the messages found by the program. Check the chats you want to restore and click on "Recover"To save them on your computer.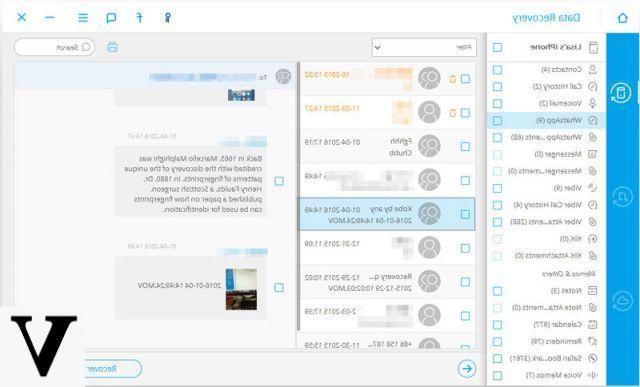 Solution 2: Extract WhatsApp Chat from iTunes Backup
Step 1. Choose the iTunes backup to recover messages from
To use this mode, make sure you have synced your iPhone with iTunes before you have lost your WhatsApp messages. Dr.fone for iOS allows you to preview the contents of the iTunes backup and selectively export the data from it.
From the initial screen of the program choose the "Recover from iTunes File Backup" mode and immediately after all the backup files found on your computer will appear. Choose the one that refers to your iPhone and click Start Scan to extract all the contents in it.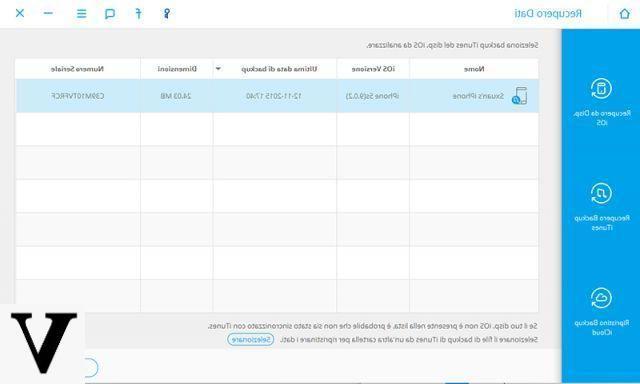 Step 2. Preview and recover deleted WhatsApp messages
Scanning takes only a few seconds. Eventually you will be able to view all the data in the backup file. Select the category WhatsApp, and you can then choose the messages to retrieve. You can also select all messages to save them all on your computer.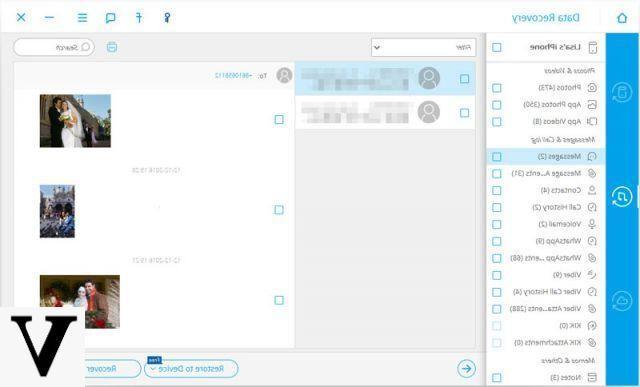 Solution 3: Extract WhatsApp Messages from iCloud Backup
Step 1. Log in to iCloud and choose the backup file to download
Enter the "Recover iCloud Backup File" mode after starting the program. Log in with your iCloud account. All recent iCloud backup files will be displayed in the window. Choose the one that contains the WhatsApp messages and click Download.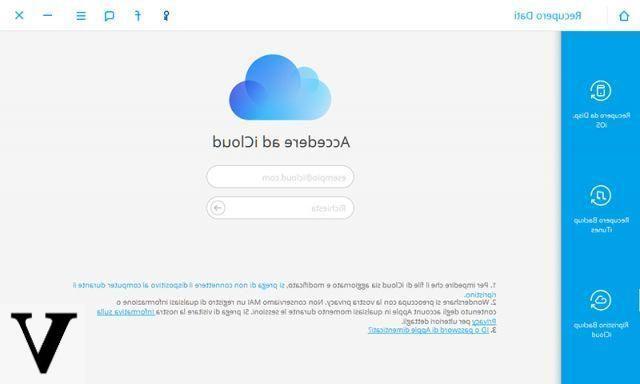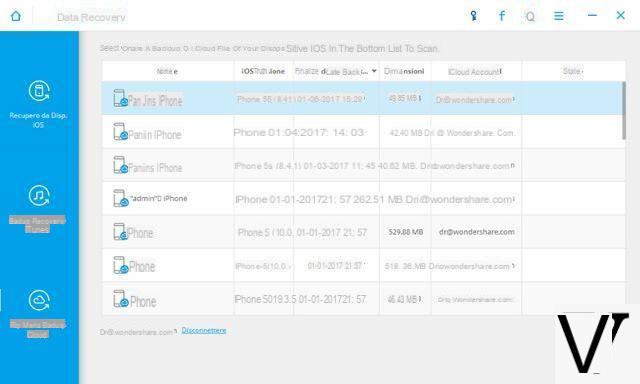 In the pop-up that appears, select the boxes relating to messages and attachments. This will save you time for downloading the iCloud backup file.
Step 2. Preview and recover deleted WhatsApp messages
Click SCAN to scan downloaded files and to recover missing WhatsApp messages from your iPhone. When the process is done, click on WhatsApp in the left sidebar to preview the chat history. Select the ones you need and click Recover to recover WhatsApp messages on your computer.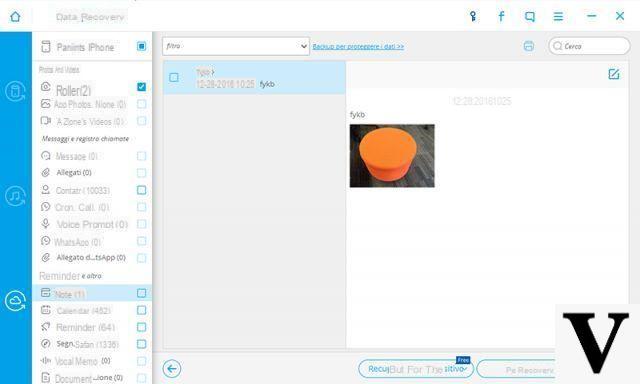 Is it possible that a person from another phone can steal / download my phone's whatsapp messages? Suddenly wup launched an initialization message and all the chats are gone thanks!
WhatsApp works in a strange way to me some messages I read them in the preview but when I open it is not there and it does not do it with everyone but with some contacts and to see all the message or photos I have to restart my mobile phone and then there is everything . How can I solve this problem? I point out that my mobile is a Huawei
Greetings. My phone was stolen last Sunday and I had to buy a new iPhone on Monday. Having to wait a couple of days for the replacement card I had to use the new phone only with wifi, and without my knowing it iCloud automatically made a backup, before I could re-install whatsapp, so all the whatsapp data is gone lost in the previous backup, is there anything I can do to recover the previous backup ?? Thanks!
hi, i reset the phone by mistake by reinstalling whatsapp for the 3 time always on the same samsung android phone the 4-year-old conversations no longer appear to me how can i recover them? can anyone tell me how to do and how to recover them all? they are really important.
I'm waiting for your news.
thank you
Use the program described in the guide above to recover all the chats still in memory ...
Hello the chat for me and my boyfriend disappeared, but I did not delete anything, it happened after its update
Admin how can I recover wtsp chats ???? Why did they disappear? I await an answer bye admin
Try the data recovery program described in the article ...
Unfortunately it often happens and to many that the chats are canceled for some reason

Whatsapp reset itself and then backed me up (the only option) the following evening. So I only missed chats from the same day. I'm afraid not. But is it possible somehow to recover them?
Good evening, I would like to know how do they delete all old wazzpp messages received? It happened today! It happened with several people! Thanks! Is there any way to recover old messages?
Hello
I'm trying the program .... unfortunately it reaches 22% and then the smartphone turns off and restarts ... tried three times then I unplugged ... ..
how but?
and then the whatsupp caht is it possible to reintengrarle in whatsupp on the phone?
greetings and thanks
It means that the program is unable to activate temporary root permissions, which is essential for trying to recover data from memory.
Unfortunately there is no solution to this problem.

Hello
it is the smart that turns off not the program… .. little clarification….
however it is not possible to activate the root .... so the program can work?

thanks and bye
Goodmorning everyone,
I have an Android phone with WhatsApp installed and then I have an iPad where I have installed WhatsApp web. Until a week ago everything was quiet and I was using both the mobile phone and the iPad, until the day before yesterday all the conversation from WhatsApp web disappeared while I still find it on the mobile phone. My question is: how to go back to seeing the iPad's WhatsApp web chat. Thank you all for your kind reply.
Baldo.
Greetings. I have a Lumnia Nokia 720 phone with lumnia denim software and windows phone as the operating system. The phone is a bomb even if I paid little for it.
From the beginning I have always used a pre-paid one, putting the right money to activate a few giga of monthly navigation. All the calls I made with Skype and it worked great. Unfortunately last year Skype ceased its operation on windows phone. Oh well! This year they inform me that at the end of 2017 also whatsapp will stop working on windows phone https://www.windowsblogitalia.com/2017/06/whatsapp-addio-al-supporto-windows-phone-8-1-fine-2017 /
How is it possible ?
Anyway, I come to the second question. I noticed that whatsapp automatically deletes many of the old chats. Not all. Do you think there is a way to recover old chats? I tried to connect the phone to the PC but on the monitor, opening all the folders, there does not seem to be a folder that refers to old whatsapp conversations.
What to do ?
Hi, suddenly I open whatsapp and I can't find the chat with my boyfriend anymore, how is it possible?
But above all, is it possible to recover 10 months of conversation? And how?
Scan with the program to see if they are recoverable or not ...
Hi I have a serious problem with whatsapp. Almost once every two months in the message history I check that I sent 35 messages in one day when in reality I only sent 34 it has happened to me twice already, but I have never sent 35 and in the meantime I check it like this!
Could anyone tell me what happens?
Can anyone explain to me why whatsapp resets itself?
Why do you send a message and it is not received then I send another after a few hours and it is received? The first is never received why?
Good evening, I would like to know if by updating whatsapp the chats are deleted (and must therefore be restored from any backups) or if they are left intact by the update.
They should remain intact from the update.
I went looking for a chat and never found it again. Since I haven't eliminated it, how could this have happened?
hi, while I was updating whatsapp, the phone turned off, when I turned it back on all the chats disappeared. the anomalous thing that I received a message from a contact of mine who reported only 4 messages prior to the update, but the date after the update appears as a date on the messages.
can you help me understand what happened?
A received message has disappeared from me. The number was not in my address book because the warning "You have received a whatsapp message from + 366xxxxxxx" appeared
Clicking on open nothing appeared ...
No new messages in the chat list, nothing in the archived ones.
It is possible that the sender deleted the message before you read it ...
Can't you retrieve messages if you don't have a computer agolable ?? ..
Unfortunately no… you need a computer

Hi I have. A problem when I go to the network use and I count all the messages received and sent do not appear with those present in the chat I would like to understand why there is an option that deletes them automatically by itself? I have not done any elimination but when I go to count all the messages missing daily I would like to understand more about it thanks

Hi I have received messages with threats, I have not read them and therefore I have not opened the messages, the sender has deleted them, can I still recover them?

Try to do a scan with the program .. maybe it remained in memory even if you have not opened and viewed.

Watsap disappeared
Whatsapp Messages Gone? -