As one of the most popular instant messaging apps in the world, Whatsapp has gained a user base of nearly 1 billion people worldwide. With Whatsapp it is possible to send text messages, photos, voice and videos for free via any mobile data network or Wi-Fi. Even though Apple has its own messaging app iMessage, Whatsapp remains the preferred messaging app for iPhone users as well.
With the rapid increase of contacts and messages saved on the iOS device, it becomes necessary to regularly clean up the chats or messages that are no longer useful in order to also recover more space on the phone. Or it happens that you sometimes want to delete "sensitive" messages to prevent them from being seen by others. These are the most frequent cases that may result in the deletion of chats from the device.
However, it sometimes happens that you no longer find important messages and chats on your phone. What happened to these chats? They certainly did not delete themselves and most likely you did some wrong operation that caused them to be deleted. However if you also have some chat whatsapp PERSE your iPhone do not despair because there are several ways and possibilities to recover and restore them.
Whatsapp he has always and officially stated that he does not store any data on his remote server, so it is useless to contact them to ask if they can retrieve some of our chats. On the other hand, all messages and attachments are definitely stored on your iPhone and can still be there even if they are deleted. This still makes it possible to restore lost conversations even if the procedure is not very simple. Fortunately, there are apps that can recover Whatsapp conversations from the iPhone memory in a simple and effective way. Below we show 3 easy ways to recover lost Whatsapp messages on iPhone.
Supported iPhone models : iPhone 12/11/X/8/7/7 Plus/6S/6S Plus/6/5S/5
Supported iOS versions: iOS 8.0 and later
File type recoverable: Messages, Chat history, Whatsapp attachments (photos, videos, audio)
Part 1: Recover Lost Whatsapp Chats via Whatsapp Recovery
Part 2: Recover Lost Whatsapp Chats via iTunes
Part 3: Recover Lost Whatsapp Chats via iCloud
Part 1: Recover Lost Whatsapp Chats with Whatsapp Recovery
All Whatsapp messages and chat history are stored on your iPhone in a "SQLite" database, which is hidden from users. However, there are several intelligent programs that can extract data from that database and display all messages through a graphical user interface. You can restore individual messages or entire chats with these software, and there is no need to retrieve the entire history if you are only looking for certain conversations or attachments. To recover lost Whatsapp chats on iPhone, we recommend trying the program Fonelab Whatsapp Recovery.
It is possible to download the free demo version of this program for Windows PC or MacOS from the following links:


Step 1. Installa e avvia Fonelab iPhone Data Recovery
iPhone Data Recovery it is the app we will use for recovering whatsapp messages. It can restore deleted messages from your iPhone directly. After installing the program on your computer, connect iPhone to PC / Mac via USB cable.
From the main Fonelab screen click on the iPhone Data Recovery function: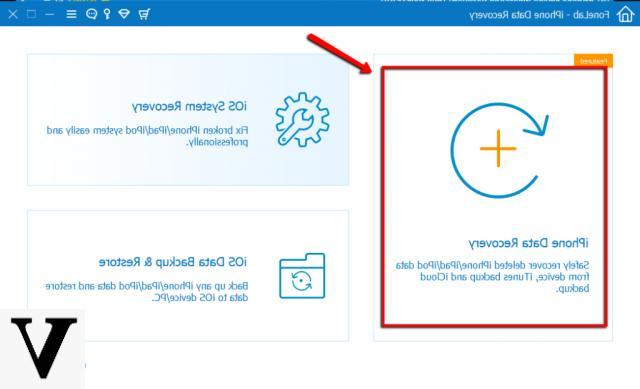 After the program identifies your iPhone, you can start scanning the device by clicking on the START SCAN button as shown in the following figure: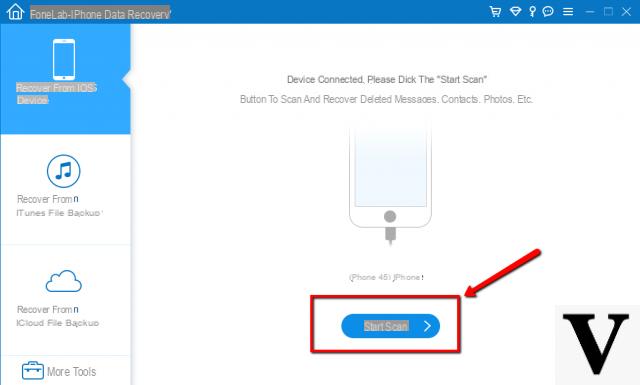 Step 2. View Whatsapp chats found by the program
The program will begin the scanning process and analyze all files and content stored on your iPhone. It will take some time to complete the scan, and after the scan, you will be able to view all the data found in the iPhone memory via Fonelab. As you will notice from the left sidebar there are also two categories: Whatsapp and Whatsapp Attachment. By clicking on these folders you can preview the messages and Whatsapp attachments found in the internal memory of the iPhone.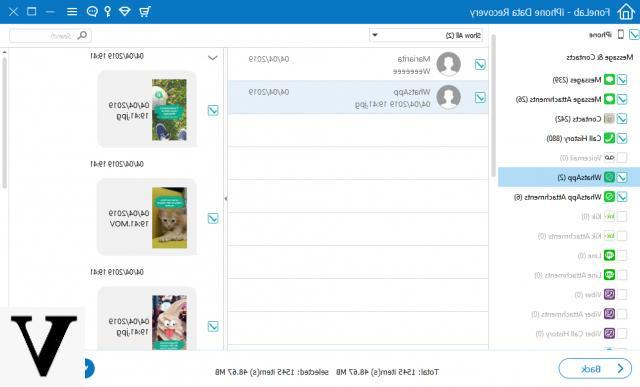 Step 3. Recupera chat Whatsapp iPhone
Select the messages to recover and finally click on the button "Recover ". Then the program will ask you to select a folder for storing the recovered messages in a local folder. After that, all selected messages will be saved in a CSV or HTML file.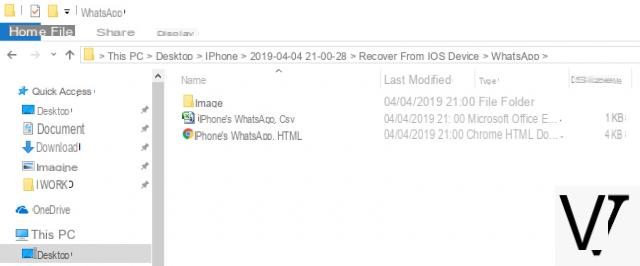 This recovery method is the only one you can try if you don't have an iTunes or iCloud chat backup. If you have a backup, read the solutions below.
Part 2: Recover Lost Whatsapp Chats via iTunes
As you know, iCloud offers free storage of up to just 5GB. And the backup speed is limited to the network connection. So, if you have a large number of files to back up and prefer fast speed, iTunes is the ideal tool to backup and restore your iPhone.
Prerequisites: have backed up Whatsapp via iTunes. Otherwise see the solution described in point 1 above
1. Open iTunes on your computer.
2. Connect your iPhone to the computer. It only takes a few seconds for iTunes to recognize the device.
3. Go to File -> Devices -> Restore from Backup. If you are using a Windows computer, the File menu is disabled by default. Press the Alt key to invoke the file option.
4. Choose a backup from the list. You will be able to see the data backup and the file size.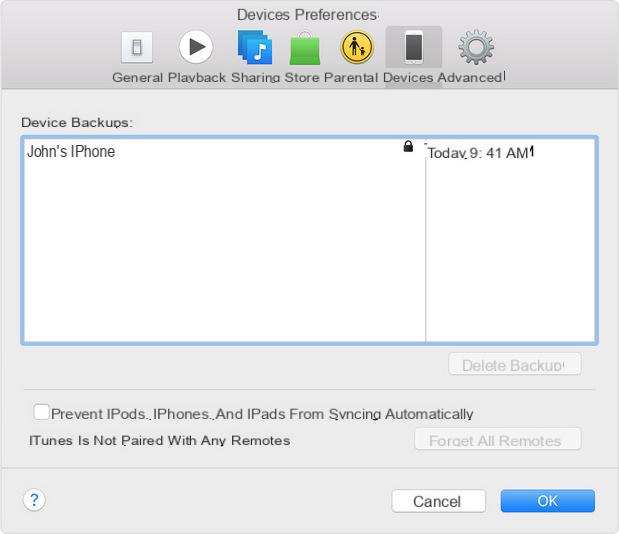 5. Click on the reset button and wait for the process to complete. After that, the device will be restored to its previous state. The device will reboot and synchronize with the computer after the reset.

Part 3: Recover Lost Whatsapp Chats via iCloud
For many, backing up via iCloud is easier and faster than iTunes.
Just log into your iCloud account and back up your iPhone regularly when the device is connected to the Wi-Fi network. Later it will be possible to restore data (even Whatsapp chats) by downloading the iCloud backup file to your computer.
Prerequisites: have backed up Whatsapp via iCloud. If not, see the proposed solution above.
1. Open Whatsapp on your iPhone.
2. Go up Whatsapp Settings> Chat -> Chat Backup; if there are backup files displayed on the screen, it means you have already backed up Whatsapp.
3. Delete Whatsapp from your iPhone and reinstall it from the App Store.
4. Verify the phone number after installation and follow the onscreen instructions to store the chat history.
You must note that the phone number must be the same for iCloud backup and restore. Also, the new chat history will be cleared after the backup date.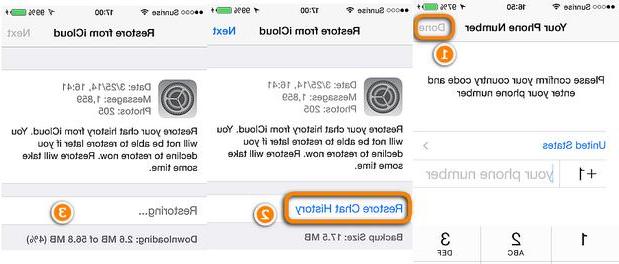 [Solved] Lost Whatsapp Chat on iPhone? -