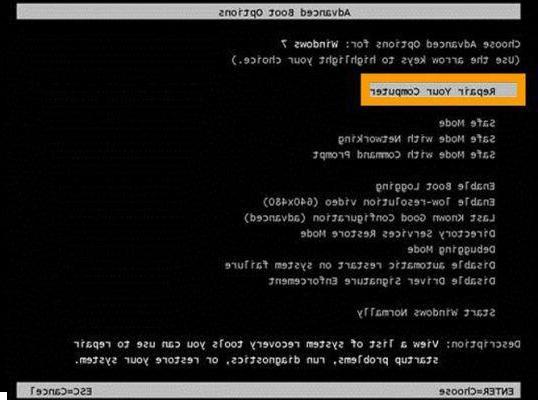 It is really terrible to start a day like this: you arrive at the office early in the morning, sit down and start work. But it turns out a small problem: the computer does not start at all! It tries to restart but fails every time. Most users with a Windows computer may have encountered the same problem.
In these cases, one must remain calm. In this article we explain what to do if a PC Windows does not start.
If the PC does not start due to a hardware problem:
If there is no light signal on your computer when you try to start it, it could be a PC power problem or a hardware problem. In this case you need to check the power cables and if you can't find the solution, contact professional technicians to fix it.
NB: A graphics card failure could also cause this problem. In these cases, the computer may be running but does not start at all.
If your PC won't boot due to a Windows problem:
If your computer turns on but Windows won't start, you can solve this problem easily thanks to some programs. Below we point out two in particular.
The first program is called RecoverIT, The second one Windows Live Boot.
Recoverit is a software created to recover data deleted from the PC but inside it is now a function that allows you to create a "recovery" disk to be used to recover data from the PC that does not start. Once the data has been recovered, you can also do a formatting from Bios (as indicated in this article). To use RecoverIT and immediately recover data from the PC that does not start click on the link below:
PC Doesn't Start Up Properly? Here's how to recover your data!
In addition to RecoverIT there are also "manual" operations that can be done to restore the PC, but they are not always easy to do. Here are the 5 things you can do to repair and restore Windows (via the startup disk) and get it started without any more problems or crashes. Let's see what they are:
Solution # 1. Do a boot file restore
If when you start your computer, it always freezes with a black screen, this could be due to the deletion or corruption of a startup file. In that case you can do a boot file recovery to get it back to normal. Here are the possible files that may be missing or damaged and the related error that appears on the PC monitor:
> NTLDR missing or damaged
> Ntdetect.com is missing
> Ntoskrnl.exe is missing
> NTFS.SYS is missing
> BOOTMGR is missing or damaged
> Hal.dll is missing
Solution # 2. Do a MBR restore
MBR, stands for Master Boot Recorder, and locates the first sector of the hard drive. The MBR is not placed on a partition, but located on a master boot of the first partition's registration area. A problem impacting the MBR can lead to the disk not being able to boot. The error that appears in these cases is "invalid partition table" or "disk boot error", or more… Doing an MBR restore solves everything!
Solution # 3. Do a boot sector recovery
The partition boot sector is a small section of the hard drive partition that contains information about the operating system's file system (NTFS or FAT32), and is a small machine language program that is crucial in helping the operating system load and started. If you suspect that Windows won't boot because the partition's boot sector has been damaged, you can try to fix the problem by recovering it.
Solution # 4. Do a registry restore
The system registry is a small database that stores Windows configuration settings and options. It contains the low-level settings of the operating system and the applications running on the platform: device drivers, kernels, services, user interfaces, Sam, and third-party applications that make use of the registry. If the registry is damaged, it can cause Windows to fail to start. In such cases a blue screen or blank screen appears, or a configuration error, etc… All these problems can be solved by repairing and restoring the registry.
Solution # 5. Do a Windows restore
The problem of PC and Windows fail to boot can be caused by other reasons such as missing Windows system file, DPT (partition table) corruption, damaged MBR, corrupt registry. If you have backed up Windows / MBR / DPT / Registry, you can easily restore it.
It doesn't matter why your computer doesn't boot anymore: the first thing to do is to create a Windows startup disk or CD to be able to restore everything. Only with the computer started can errors or problems on the system be resolved.
All the solutions described above can be done in a simple way through Windows Boot Genius. This program creates a bootable CD / DVD / USB that contains boot files useful for booting and Windows.
This program is ideal when a problem such as "Windows does not start". After creating the boot CD / DVD / USB, just insert it into the computer to be repaired and the Windows Boot Genius working window will automatically appear.
From this window you can access the section WINDOWS RECOVERY in which there are functions to repair the Windows startup (e.g. via the function BOOT FILE RECOVERY).
The boot disk created with Windows Boot Genius is compatible with all Windows (Windows 10 / 8.1 / 8/7 / Vista / XP).
hi everyone i have a very different problem .. i just made a new rayzen build, but the pc does not restart ..
ie the OS did not restart from the first installation, the PC remains on but only the monitor turns off.
to continue I have to shut down the system by holding down the power key. interpretically I turn it on and off quietly, I just can't restart it which seems to not turn off completely
My PC has a black screen, it spins and a screen appears to restart the system or fix the problem. It gives me an error: d000003a. It does not load Windows 10.
It is an error that must necessarily be repaired either by reinstalling the operating system or using a repair program like the one described in the article above
My pc when I start it still remains with the hp logo. If I put the program on the stick, and I insert the program from the phone into the stick, do you say that it can be done or do I have to do something else?
No, another PC is necessarily needed to create the key with which to start and repair the PC stuck on the logo
Sorry but in my win10 notebook you don't and the screen is black. Checked hd ok fan ok ram ok things? I poyeye aoutare thanks
the blue screen remains and does not start says x lack of username or administrator
All good but the problem is that I cannot access the pc (otherwise I would not have the problem the pc turns on with the windows 10 logo but does not open
To create the recovery disk with Windows Boot Genius and described in the article it is obvious that you must use a working Windows PC (ask a relative or friend, it takes 2 minutes to create it). Once you have created that recovery disk, you can fix yours that is not working.
Hi, I was able to get the pc to boot and I'm on the Windows boot genius screen but when I click on boot file recovery and then on recover in the screen with the two steps it says "sorry! You haven't registered tenorshare windows boot genius yet! If you would like to apply this operation, please visit our website to purchase the full version and the use tenorshare windows boot genius without limitation "
many useless tips that can only be used if the PC is running. But the problem is just that: it does not run.

Create the recovery disk on any PC that works and then use that disk to restore the one that isn't spinning.

Hi, I'm a guy with a pc problem.
My mother turned off my pc from the start button ... now the pc starts up but stops with the word Lenovo and there are dots that turn to indicate loading these dots remain for hours without starting the screen with the desktop
What To Do If Windows PC Won't Start? -