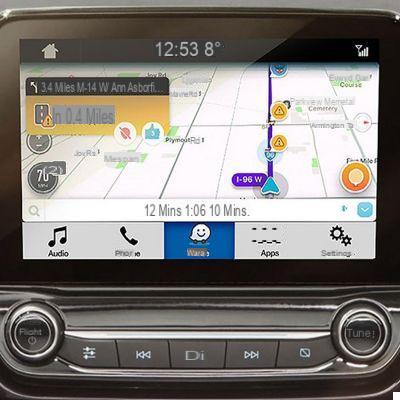 The Waze community navigation system is finally making its way into the interiors of Ford vehicles compatible with SYNC 3 infotainment.

(Ford photo credits)

Better late than never. In February 2017, during the Mobile Word Congress in Barcelona, ​​Waze announced its joining the SmartDeviceLink (SDL) consortium founded by Ford and Toyota. This open source software platform is intended for all players who do not wish to be dependent on CarPlay (Apple) or Android Auto.
Since this announcement, nothing more until CES 2018 in Las Vegas which closed its doors this weekend and where Waze announced its arrival on the dashboards of Ford vehicles integrating the latest version of SYNC infotainment. 3. To benefit from Waze, you will have to go through your ... iPhone while waiting for the Android Auto version to be compatible with AppLink, the program made in Ford allowing mobile applications (iOS, Android or BlackBerry) to be accepted by SYNC.
to read also: 6
NEWS: MWC 2020 car
MWC 2016 - Ford lifts the veil on SYNC3
5 years ago
Just plug your iPhone into the USB port to see the Waze icon appear on the touchscreen of the vehicle in question. Then, the driver directly controls the application either in voice mode (for better security) or via the touch screen without any modification of the original interface and its menus.
If the integration of Waze directly into the dashboard were to generalize to the various car manufacturers, this should put a stop to the various navigation systems offered (as a paid option) by them. And when you know the cost of updates to integrated navigation systems ...
Note that "old" Ford vehicles with SYNC 1 or SYNC 2 cannot be upgraded to SYNC 3 and, therefore, will not benefit from Waze. Stay the smartphone ...