Since August 9, the health pass is mandatory to access public places, events and long-distance transport. The easiest way is to use it digitally, with the TousAntiCovid application.
On July 12, 2021, during an exceptional televised address, Emmanuel Macron presented new health measures intended to stop the rise in power of the Delta variant, the most contagious strain of the SARS-CoV-2 virus, and thus avoid a fourth wave of Covid-19. In addition to the obligation of vaccination for certain professions, the President of the Republic announced the extension of the use of the famous "health pass" implemented in June. Since July 21, and even more since August 9, this device has become mandatory to access many places and events (hospitals, media libraries, shopping centers, cinemas, bars, restaurants, etc.) and even to long-distance transport. (train, plane, bus). Here is what you need to know to obtain and use it in digital form on a smartphone with the TousAntiCovid application.
What is the health pass?
Contrary to what one might think, the sanitary pass - which is also spelled "sanitary pass" - is not a real document but a device based on a certificate. In practice, three types of certificates are valid, all of which demonstrate relative immunity vis-à-vis Covid-19.
Certificate of vaccination. This document attests to a "complete vaccination schedule". It is obtained seven days after the second injection for double injection vaccines (Pfizer, Moderna, AstraZeneca), four weeks after injection for single injection vaccines (Johnson & Johnson) or seven days after injection for vaccines in people with a history of Covid.
Certificate of negative test. This certificate is proof of a negative test for Covid-19 (RT-PCR, antigens and supervised self-tests) of less than 72 hours. It is generated as soon as the health professional enters the result in the computer system set up by the authorities.
Positive test result. This certificate is the result of a positive RT-PCR or antigen test attesting to recovery from Covid-19 and dating at least eleven days and less than six months and indicating a limited risk of reinfection with Covid-19.
To benefit from the health pass and thus access the places that require it, you must therefore present one of these certificates, which exist in two forms: on paper and in digital form (see below). In both cases, the certificate includes a QR Code to be presented during an inspection. It is this digital code which is scanned by the persons responsible for the verification using a reader or a smartphone associated with a special application. The various certificates accepted being all strictly personal, the QR Code reading must in theory be accompanied by an identity verification to avoid false ones - it is indeed very simple to present the certificate of another person, for example. with a screenshot. In practice, this additional check is rarely carried out, especially since identity checks are in principle reserved for judicial police officers (OPJ) and a few other law enforcement officials.
It should also be noted that since July 1, 2021, the French health pass has adopted the European standard: now called the EU digital Covid certificate, it can thus be used to travel in Europe.
Please note, the health pass is only compulsory for people over 18 at the moment. Young people aged 12 to 17 are not yet affected, as they have not been able to be vaccinated because they were excluded from the device until recently. Their case will be reviewed at the end of the summer.
The reason for this is that since the vaccination was only opened for this age group in June, millions of young people would have been forced to perform repeated tests for all their summer activities, from July 21.
Obviously, the sanitary pass does not exempt you from observing classic sanitary measures, and in particular barrier gestures, which are still in force. To learn more about this device and the associated terms, see the health pass page ou the list of questions and answers on official government websites.
When to use the health pass?
The health pass is not compulsory everywhere. You will not be required to walk the streets, go to work or visit friends, but since August 9, 2021, it is required in many situations:
hearing, conference, screening and meeting rooms;
marquees, tents and structures;
concert and performance halls;
cinemas;
festivals (sitting and standing);
closed and covered sporting events;
outdoor establishments;
gaming rooms, escape-games, casinos;
places of worship (for cultural and non-religious activities);
trade fairs, shows and professional seminars;
zoos, amusement parks and circuses;
museums and temporary exhibition halls;
libraries and media libraries (except university and specialized ones);
cultural events organized in higher education establishments;
fairgrounds with more than 30 stalls or attractions;
any event, cultural, sporting, fun or festive, organized in the public space likely to give rise to a control of the access of people;
ships and cruise ships with accommodation;
discotheques, dance clubs and bars;
commercial catering activities (bars and restaurants, including on the terrace), with the exception of collective catering or take-out of prepared meals, professional road and rail catering, room service for restaurants and bars for hotels and non-commercial catering, in particular the free distribution of meals;
health, social and medico-social services and establishments, for people accompanying or visiting people accommodated in these services and establishments as well as for those accommodated there for scheduled care. This measure, which applies subject to emergency cases, does not have the effect of limiting access to care;
long-distance travel by interregional public transport (domestic flights, TGV journeys, Intercity and night trains, interregional coaches);
department stores and shopping centers of more than 20 m², by decision of the prefect of the department.
Clearly, the health pass has become mandatory in all places and events bringing together the public. It will also remain so when traveling in Europe. But beware: the health pass will not allow you to escape a possible period of quarantine imposed in the country of destination! Go to the European Union's Re-Open site to check the entry requirements for a particular country.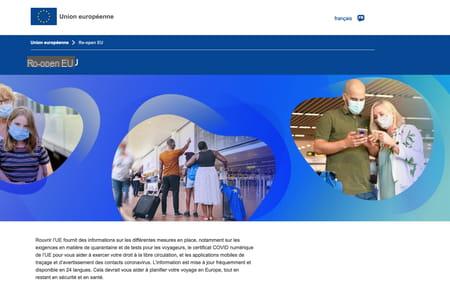 In practice, to use the health pass during a control, all you need to do is present your QR code on paper or in the TousAntiCovid application.
How to get the health pass?
If you meet all the conditions (complete vaccination schedule, valid PCR test results), you have the choice between two methods to obtain your health pass: collect the paper certificate or use the TousAntiCovid application.
Obtain a paper health pass
If you do not want to use the TousAntiCovid application, you can simply collect a vaccination certificate from the Ameli Health Insurance website. To do this, follow the advice in our practical sheet Download the Covid vaccination certificate with its QR Code.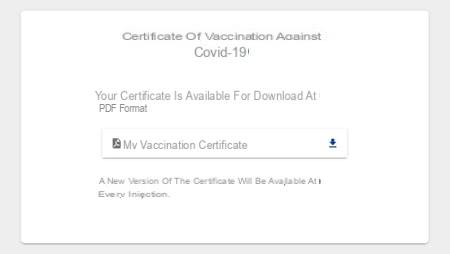 If you have not yet completed your vaccination schedule (one or two doses of vaccine depending on its type and your personal situation), all you need to do is bring the result of your recent PCR test as described above which also contains a QR Coded.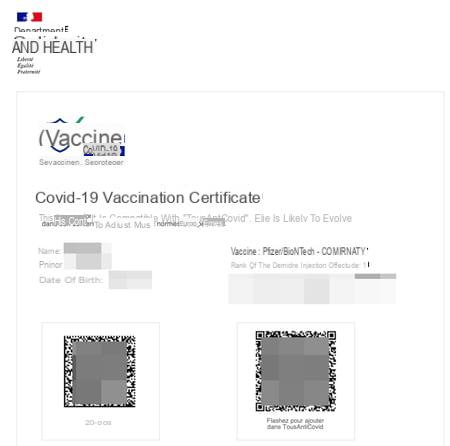 Note that you can also download and print a test result by going to the SI-DEP portal set up by the Government, by connecting with Spain Connect.
Obtain a digital health pass
It is through the TousAntiCovid application that you can have a digital health pass, now in line with European standards. If you haven't installed it yet, download the app to your smartphone. Make sure you have the most recent version, because the application has evolved a lot to integrate functions adapted to new government measures, and in particular to integrate the health pass. Note that it is not necessary to activate the monitoring function - which was initially the vocation of the application - to use the health pass with TousAntiCovid. It is not even essential to be connected to the Internet via Wi-Fi or mobile network to scan the QR Code to integrate.
Download TousAntiCovid for Android
Download TousAntiCovid for iOS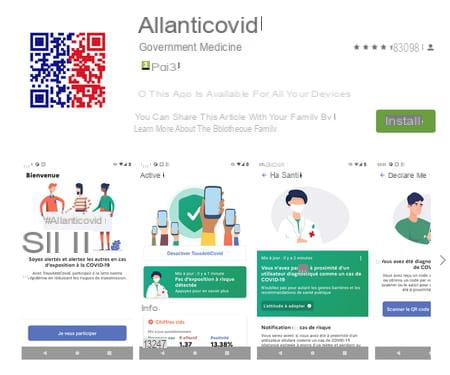 Go through the various stages of the installation and give the necessary permissions to the application to operate.
On the Home screen, press the SCANNER UN QR CODE - its position varies depending on whether you are on Android or iOS.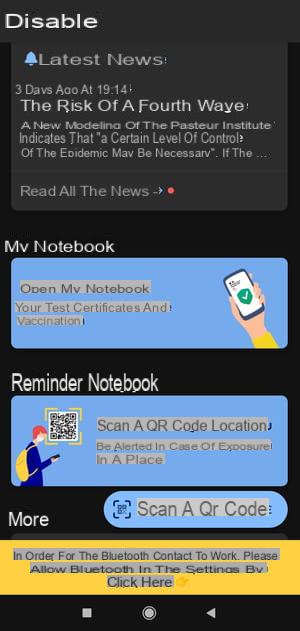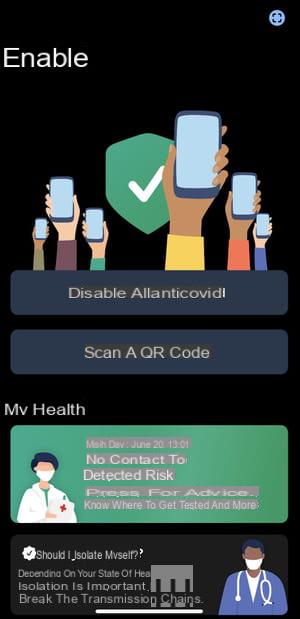 Optionally, authorize the app to use the camera on your mobile.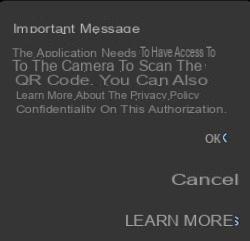 The camera of your mobile is activated and a frame appears on the screen.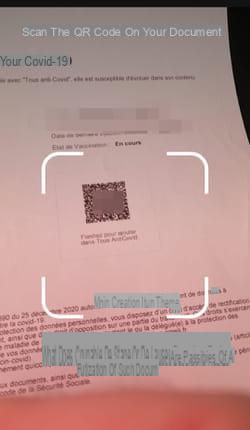 Point the camera lens at the QR Code on the left titled Flash to add in TousAntiCovid present on the paper certificate that was provided to you after your vaccination or with the results of your PCR test. Do not aim the 2D-DOC located next to it - if you have an old certificate - nor the EU digital COVID Certificate which replaces it on recent certificates, which are only used as a check in the event of an inspection.
Frame the QR Code using the white rounded corners. You don't need to press a trigger button: the QR Code is automatically scanned.
If it is correct, it is validated, as confirmed by a small colored animation, and the certificate is automatically added to the application where it will remain stored.

If the QR Code is not recognized - for example, if it is not correct, if it is too far away or poorly lit - an error message is displayed indicating that the format is invalid. You must then repeat the operation by modifying the shooting conditions ... or by taking the correct code!
How to present the health pass in case of control?
Whatever your situation (complete vaccination or negative PCR test), you can easily present your certificate in the event of a control to access a place or means of transport.
With the paper certificate
The paper certificate that you collected after a test or vaccination or that you downloaded and printed serves as a health pass. You just need to present it so that the person in charge of the control can flash the QR Code it contains - the EU digital COVID Certificate - and which certifies your situation.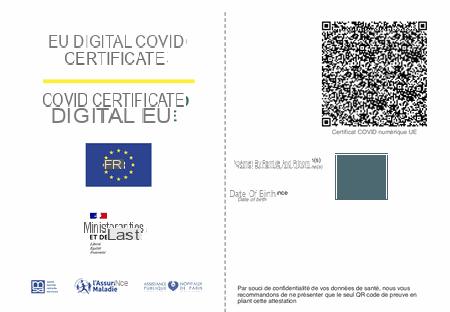 With the TousAntiCovid application
The certificate you flashed is stored in the application.
Open TousAntiCovid on your mobile. On the home page, press the button Open my notebook or on the section Health pass which replaces the notebook in recent versions of the application.

The different certificates that you saved are displayed - if you have more than one. Scroll through them and press the QR Code thumbnail titled COVID Europe Certificate.

The regulatory QR Code is displayed in large size on a new screen, with your name. It is this code that must be presented during a control.

If necessary, activate the switch Border mode, which is disabled by default. The text is then translated into English, with additional information (date of birth, type of vaccine, etc.). It is this code and this information that must be presented during a control at a border crossing in Europe.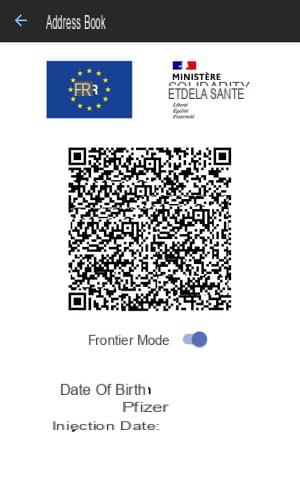 Note that recently, the TousAntiCovid application has a section clearly titled Health Pass, which replaces the Carnet section. Better yet, pressing heart icon which now appears on a compatible certificate, the health pass is displayed in miniature on the home screen of the application. Just press it to display it in full screen and present it during a control. A small welcome function that avoids having to dig into the menus.
Use the health pass with the TousAntiCovid application