Do you have an iPhone that has an old iOS version that you would like to update, but at the same time you don't want to lose the data saved on it? Or your iPhone has some operational problems and you want to restore it without deleting photos, sms, contacts, etc. contained in it? Or again, your iPhone is stuck on the home screen or is constantly restarting, and you don't know how to fix it?
Today there is a solution to all these questions. Such a solution is called Dr.Fone for iOS. It is a simple and fast tool that can repair, update or restore iPhone without losing the data on it.
Download and install the demo version of dr.fone for iOS on your Windows PC or Mac:


Once installed and started you will see a splash screen like this: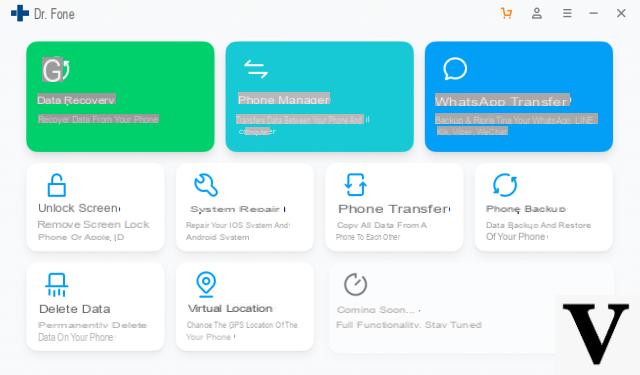 Access the function REPAIR and then connect your iPhone (or iPad or iPod Touch) to the computer via USB cable
This screen will open: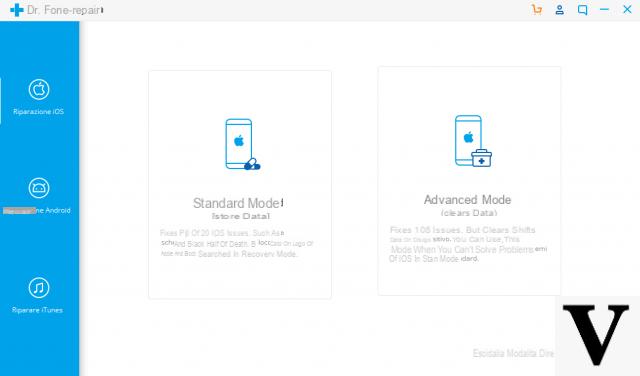 To start the process of repairing, restoring or updating the operating system click on the button START.
This new window will open: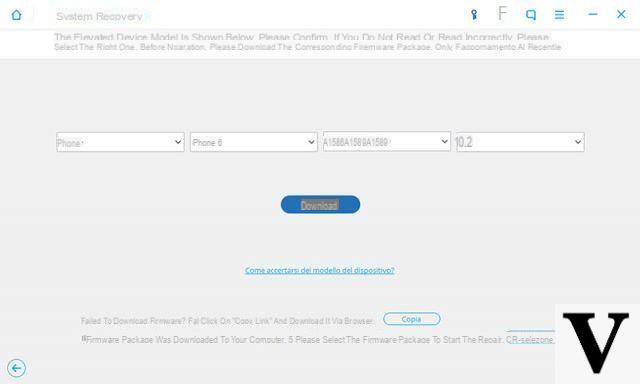 Select your iPhone model dr.fone will automatically provide the link of the latest version of the operating system of your iOS device.
Then click on DOWNLOAD to start repairing your iPhone's iOS system.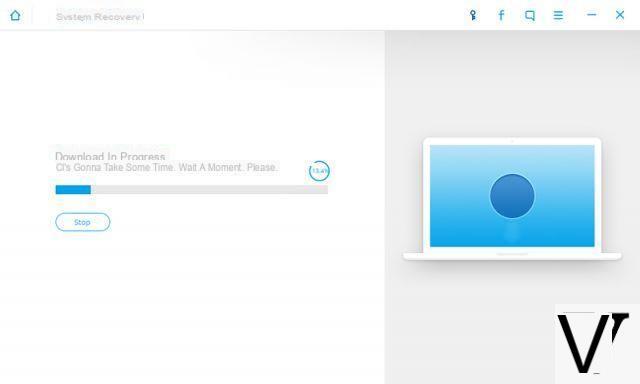 You will need to be patient and wait for the download and installation of the new operating system on your iPhone to finish.
NB: This process of updating, repairing and restoring your iPhone / iPad will take place without any data being removed from the memory !!
Also try using dr.fone for Update or Restore iPhone without Losing Data.
I had an iPhone 6s and yes if it is broken, it does not turn on anymore, I bought an iPhone xs plus but on the iPhone 6s I had not backed up having logged in to the new phone I would like to know if I have my old data, Photos and file
I have done everything as indicated but now I have to buy a package to be able to recover the data? It costs more than 66 €… I wouldn't want it to not work… I trust you?
The program is reliable ... If it wasn't, we wouldn't write an article about it ...
And then there is always the refund guarantee if the device for any reason should not be recognized.
are you sure it doesn't erase the data?
Yes, because it only goes to reinstall the operating system. The device memory is not touched.



hi, iphone 6s, after update 12 it no longer recognizes my password and is disabled.
i am following the instructions to nn lose data.
on reboot will it ask me for my password again?
No, the password is removed
Will I have to turn on the phone normally after the update has been installed? Thanks in advance
Good evening I have an iPhone 6, it was empty and I connected it in the car, but the cable overheated and made smoke, immediately unplugged the iPhone Na now even if it does not turn on when charging. What can I do without losing data since I have not synced? Thanks
Hi, I have an iphone 6 with icloud in the name of another person who does not want to give me the password, how can I delete this account without losing all my data?
Unfortunately you can't without that password.
Good evening. I think I did a bullshit ... I took a few days ago iPhone 8 plus with ios 11. I am a half layman of apple, I have a mac for several years but I have never delved into the world of operating systems. I downloaded ios12 and being the beta version it didn't work well (how stupid I repeat it). Then I found the info on how to downgrade to ios 11.4. Only I haven't turned off the FIND MY IPHONE setting. the operating system is back to being ios11.4, it seems to me that the phone works as well as before, but I'm not sure. HAVE I DONE IRREPARABLE DAMAGE?
THANK YOU
I have an iphone 6s and it comes out on the screen iphone is disabled, it does not allow me to access anything, how can I do to fix it and not to lose all my data: messages, photos etc ... can you help me? thanks
as soon as I connect my iphone 5S, I receive the command to "update itunes to the latest version". although it is already updated, pressing the "retry" button the software does not identify my iphone, which remains stuck with the apple screen. how can I do??
My iphone is frozen, when I turn it on it shows only the apple, then it turns off .. those of the apple told me that it must be restored and I lose all data (I have 7000 photos), so with this program I don't lose anything even if Haven't I ever done Back up? Thanks
With dr.fone you can restore the operating system without erasing the data
my iphone 8 with IO 11 update crashed
In practice, it does not turn off, it does not open apps, it does not reset
The settings icon has disappeared from the home screen, how can I re-install it without losing data?
My Iphone 6s is not recognized and I have no power to turn off iCloud and Find My Iphone. How can I do?
my iphone 5s is not recognized, how do i proceed? I read in the previous comments to verify that itunes is installed on the computer and that the iCloud service and the Find My iPhone service are not active on the iphone, the latter I believe are active..how can I deactivate them?
From the settings of the iphone they must be deactivated ...

I also have the same problem… but if I can't turn it on… how can I turn it off?
I can trust? Because I want to restore it without losing whatsapp chats
Yes, the update does not delete the data
what do i do if it tells me that the device is connected but not recognized ?????
check that itunes is installed on your computer and that the iCloud and Find My iPhone service are not active on the iphone
By synchronizing the iPhone via iTunes on the MAC (not using iCloud), the calendar data is not transferred, indeed, those previously present on the iPhone have been deleted, and the photos deleted on the iPhone are not removed in iTunes. I can't find the solution.
I forgot the code of the iphone 6s always using the fingerprint, for the moment the update is going and for now I see the only positive solution ... let's hope so, thanks Doctor Fone
did you solve it like this? I have the same problem as you
I was looking for a program that would allow me to update the iPhone without losing data and without using iTunes. Dr.fone was the solution to my problems.
Thank you very much!