Whatsapp at the moment it is certainly the most used messaging app in the world both on iOS devices (iPhone) and on Android devices (Samsung, LG, Huawei, HTC, Sony, etc ...). We have seen that thanks to software such as WhatsApp Transfer it's really easy to pass messages and chats from one mobile to another or back them up to your computer.
In addition to Whatsapp, however, there are some alternative apps very good for texting and calling all your contacts for free. Between these app alternative a Whatsapp there definitely are VIBER, KIK e LINE Messenger. If you are a user of one of these apps and you find yourself in the situation of change mobile phone, you will most likely need to do the backup of conversations or transfer / copy them from one mobile to another so as not to miss any messages.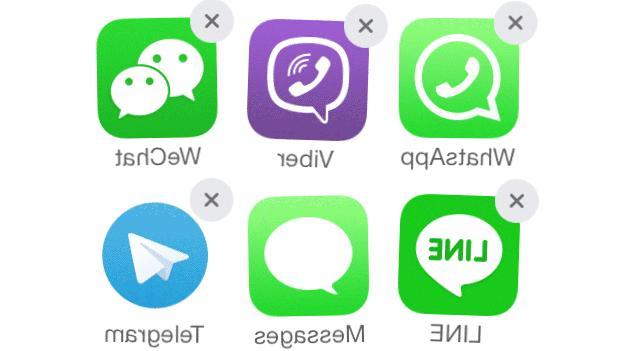 Fortunately, today there are software tools that can help you in these cases a transfer Viber, Kik and Line messages between two devices (iPhone, Android) or to do the backup to your computer (PC or Mac) of all chats and their attachments. The software in question are the following:
Android iPhone Viber Transfer
Android iPhone KIK Transfer
Android iPhone LINE Transfer
The operation of the three software mentioned above is practically identical. Here are the main steps to follow.
1. Download and install the software (trial version) on your PC or Mac
VIBER TRANSFER: Download via Windows | Download via Mac
KIK TRANSFER: Download per Windows | Download per Mac
LINE TRANSFER: Download per Windows | Download per Mac
Download the software according to the messaging app you use and according to the operating system of your computer on which it will be installed.
2. Connect your mobile phones to your computer via USB
After installing and opening the program on your computer you will need to connect your smartphone / tablet via USB to the PC / Mac. If you are connecting Android devices, make sure that the USB Debug mode and that by going to Settings -> Security the option "Unknown origins". If you are connecting an iPhone, you just need to make sure you have the latest version of iTunes.
As soon as the devices are recognized by the program, all the messages from Viber / Kik / Line will be displayed on the main screen, as seen from that image: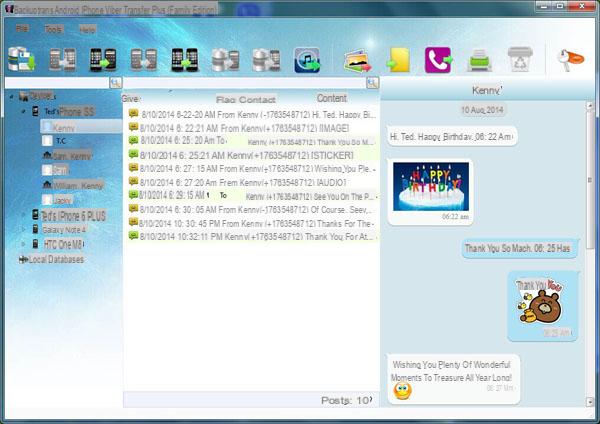 3. Transfer Viber / Kik / Line messages or backup them to computer
Once the devices connected to the computer (iPhone, Samsung, LG, Huawei, Android in general) are detected and the messages appear on the software screen, you can start doing the transfer of the same from one mobile to another or save conversations (and attachments) to your computer as Backup.
To do one of these operations mentioned above, all you have to do is click with the right mouse button on the source device and then, from the drop-down menu that appears, select "Transfer messages from Android to iPhone" or vice versa "Transfer messaged from iPhone to Android "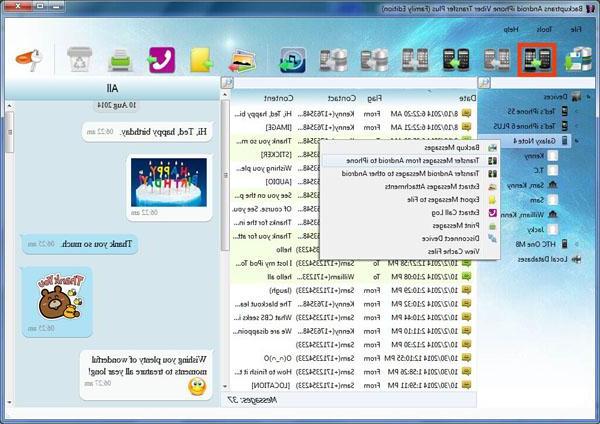 With this software you can also transfer only the conversations exchanged with a contact in particular: in this case all you have to do is select the contact in question and decide to transfer or save only those chats.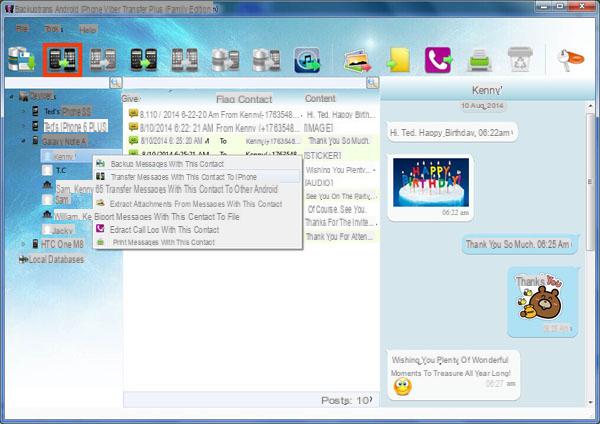 That's all! As you can see, the operation of these software is very simple and intuitive.
As an alternative to the aforementioned programs, there is also Dr.Fone for iOS which now has the functionality of "Backup and Restore" of Whatsapp, Kik and Viber messages. After downloading the program, simply access the "Other Tools" section and from here access the desired function: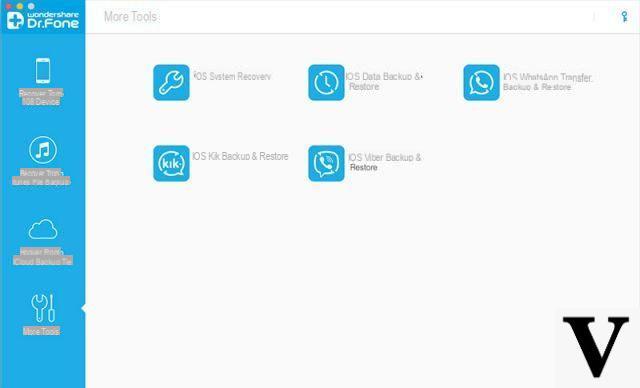 Dr.fone for iOS enables the backup of chats from your device to your computer and restore them to another iPhone or Android device. However, it does not support the transfer of Kik and Viber chats from Android to iPhone.