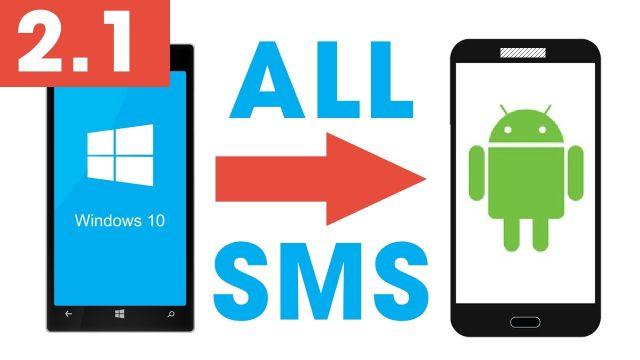 The devices Windows Phone (eg. Lumia 640, Lumia 735, Lumia 535, Lumia 435, Lumia 830, Lumia 1520, etc ..) are beautiful phones but their biggest limit is given by the operating system (Windows in fact) which has not yet managed to get to the levels of iOS and Android. For this reason, many users are leaving this device to switch to an Android or iOS.
In this "passage", however, many do not consider the problem of how transfer data from old mobile to new, so you don't lose anything, especially your contacts, photos and messages.
Fortunately, there are programs such as dr.Fone Switch o Mobiletrans which help to transfer contacts from Windows Phone to Android in minutes. In fact, in addition to contacts, you can also copy photos, video files and music files.
A separate discussion must instead be made for the SMS messages. For this type of data, in fact, the transfer is more complex and is not always feasible. But below we want to report a guide for transfer SMS from Windows Phone (Lumia) to Android.
How to Transfer SMS from Windows Phone (Lumia) to Android
To be able to do this you essentially need 3 preliminary things:
Obviously the Android phone (Samsung, Huawei, LG, HTC, etc ...) to which you want to transfer SMS messages
A computer with Windows 10 operating system
The login details for your Microsoft account and which is associated with your Windows Phone
Once you have these 3 things you can proceed.
Step 1. From your Windows 10 PC, open the Store and download the app WP Message Backup. This app allows you to view and export all SMS messages on your Windows Phone (Lumia) device.
Step 2. Open the WP Message Backup app and then log in with yours Microsoft account. Wait for the messages to be loaded into the program (the waiting time obviously depends on the number of SMS to load)
Step 3. Once the messages have been uploaded, click on "Select all" and then on "International Trade". This way you will be able to export all SMS in an XML format file.
NB: the trial version of this app allows you to export a maximum of 100 sms. To export more, you need to purchase the premium version.
Step 4. Now let's see how to transfer the messages saved in the XML file on your Android.
There are two possible ways to do this transfer.
WAY 1. Download and install the program on your computer MOBILEGO. This program is not only capable of transferring SMS from Android to PC, saving them in a file XML. It also has the feature that allows you to import an XML file to restore all SMS messages. You can download MobileGO from the button below:
After downloading and installing, open the program and connect your Android device via USB to your computer.
Here is the main MobileGO screen:
Once the phone is detected, click on the left on SMS and then click on the button MATTERS to select and load the previously created XML file
WAY 2. Alternatively to MobileGO it is possible to use the program TUNESGO, as already described in the following article: how to import sms from PC to Android
WAY 3. An alternative way to copy the XML file to Android mobile is to use the SMS Backup and Restore app. With this app you can select the option RESET and import the XML file (which must first be saved on the device SD card in order to be read by the app).
Transfer SMS from Windows Phone (Lumia) to Android -