You are switching from an old Android phone (Samsung, Huawei, HTC, LG, Xiaomi, Redmi, Wiko, Asus, Lenovo, etc ...) to a new iPhone (maybe an iPhone 12/11 / X) and you don't know how transfer contacts from android to iPhone quickly and easily? In this guide we point out 3 ways to do this in a safe and fast way, even directly and automatically. Once you have made this copy, or transfer of contacts, your new iPhone will be ready to use and you will have all the address book in order and organized. Try these three methods below:
Transfer contacts from Android to iPhone with Mobiletrans
Transfer contacts from Android to iPhone with Move to iOS
Transfer phonebook from Android to iPhone with Gmail
# 1. Transfer Phonebook from Android to iPhone with MobileTrans
The first solution proposed involves downloading and installing the program MOBILETRANS on your PC or Mac. This program is one of the few that allows you to transfer different types of data (including contacts) between Android and iOS devices. The main advantage of using such an application is that it becomes all "automated" and yes avoid the risk losing or deleting important data while copying. Mobiletrans can be downloaded as a free demo version for Windows or Mac from the following links:


Once the program is installed and started you will see a screen like this: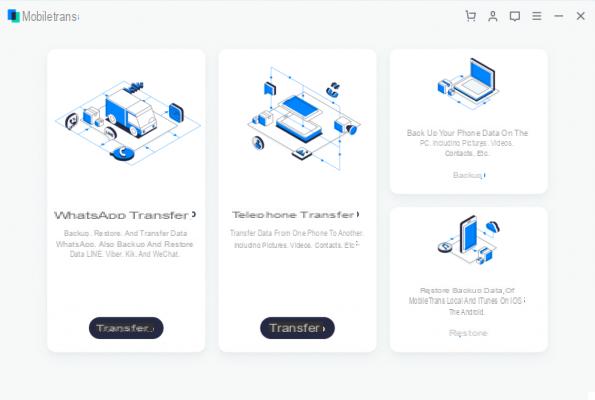 Click on the blue area on the left of the screen and "Phone to phone transfer"To proceed with the use of the program.
Now what you have to do is connect both the old Android phone and the new iPhone to the computer using the related USB cables.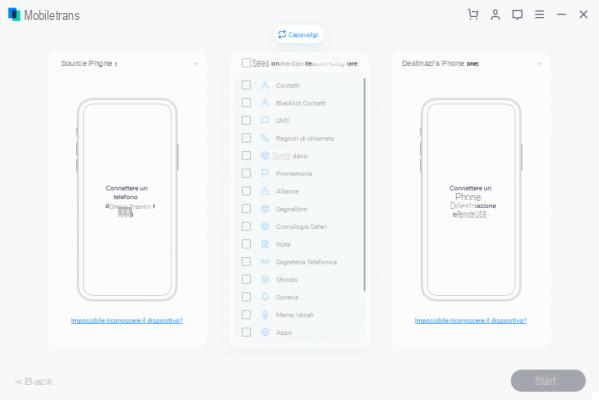 After connecting, wait for the two devices to be recognized by the program. On your Android mobile you will need to activate the DEBUG USB to have it detected by the program. Once recognized, the relative images will appear in the program: make sure that the source phone (the Android one) appears on the left, the target phone (the new iPhone) on the right.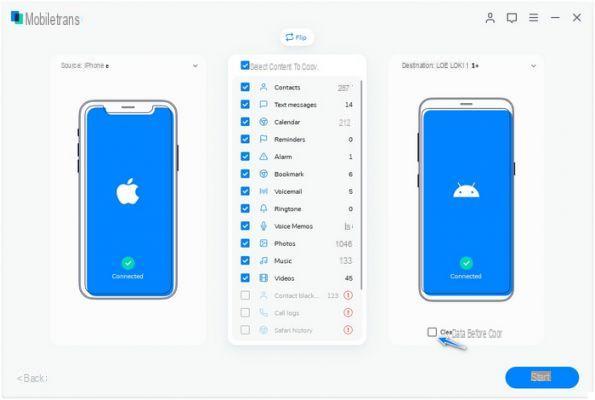 From the center instead select the box CONTACTS (which will also show the number of contacts in your Android address book) and finally click on START TRANSFER to start copying and switching and copying contacts from Android to iPhone. During the copy you will see a screen like this: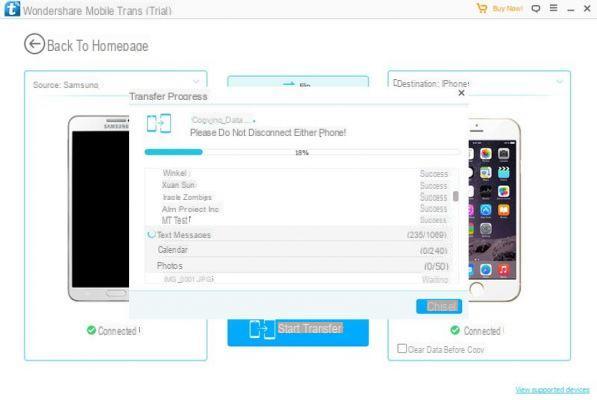 In addition to the address book, thanks to Mobiletrans you can also transfer music, photos, videos and SMS messages!

#2. Transfer Address Book from Android to iPhone with Move to iOS
There is an application called Move To iOS which was created by Apple to help transfer data from Android to iPhone. Here's how it works.
1. From your new iPhone go to the "Applications and data"
2. From the section select the function "Move data from Android"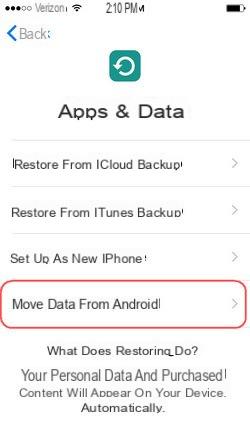 3. Once the "Move to iOS" function has been activated, go to your Android mobile phone and from the Play Store search and download the "Move to iOS" app. The link should look like this.
4. On both devices click on "Continue"And wait for them to be connected to each other.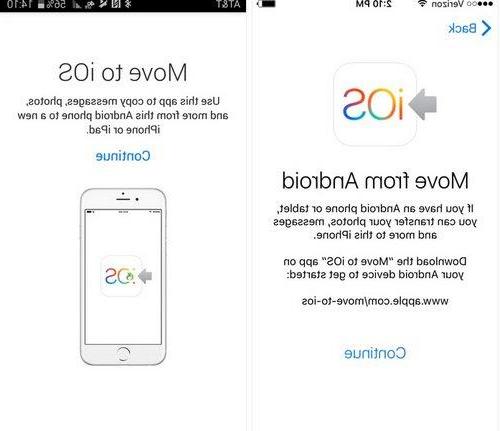 5. To pair you will need to insert a twelve-digit code that will appear on your Android screen. Once this is done you can start transferring data (including address book) from Android to iPhone.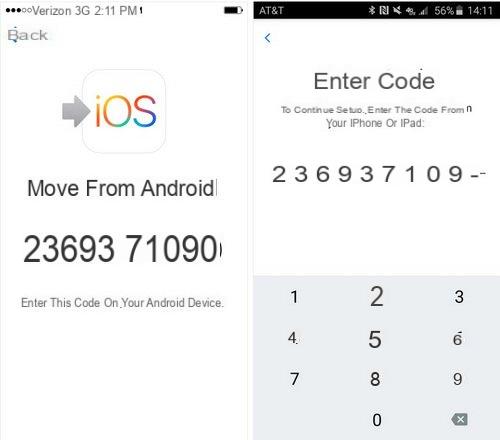 For this method to work, both devices must be under the same Wi-Fi network. The transferable data are: messages, contacts, photos, favorites, google accounts ...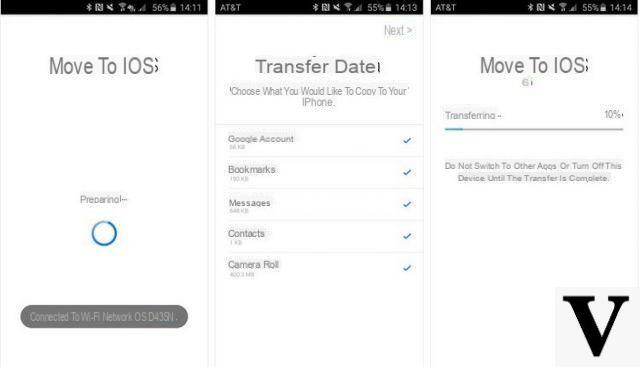 # 3. Transfer Address Book from Android to iPhone via Gmail
You may not know that you can also use Gmail to transfer your phonebook from your old Android phone to your new iPhone. Here are the steps to follow to take advantage of GMAIL to make such a transfer.
1. From your Android phone go to the "Accounts and synchronization". Then go to "Manage accounts"And click on Google to log in with your account.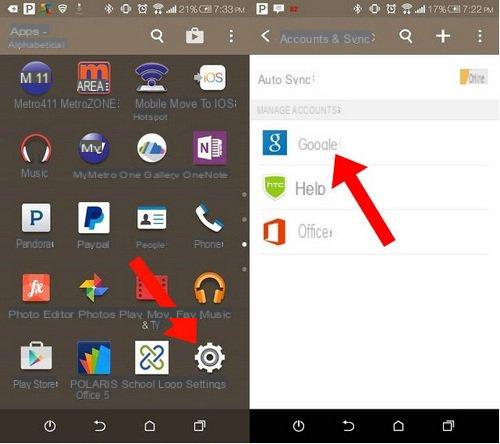 2. After logging in, you will be able to synchronize your contacts with Gmail.
3. Now take your iPhone and go inside Settings -> Contacts
3. Go to "Google"And log in. Click on "Contacts"To activate the synchronization of all GMAIL contacts and automatically import them into your iphone.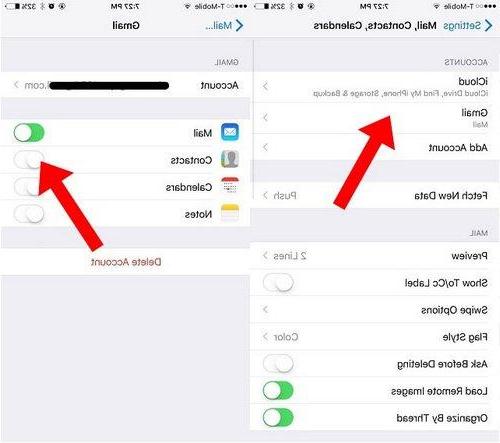 That's it!
Very useful tips. Thanks
Thanks! The same tips can obviously also be used for the reverse operation, that is to transfer contacts from iPhone to Android (Samsung, LG, Xiaomi, Huawei, etc ...)