You bought a new iPhone and are now in the "study" phase for transfer all data from old to new iPhone? Don't feel like spending extra money on apps you've already purchased and installed on your old iPhone? Do you want the app data (saves, scores, etc.) to be transferred to the new iPhone in addition to the applications? Or do you just want to share apps with multiple iOS devices? If all devices are authorized with the same Apple ID you can transfer apps one by one via iTunes or by performing a hard reset to transfer all apps in one go.
Transfer Apps from iPhone to iPhone via iTunes
Step 1. Connect your old iPhone to the computer via USB and open iTunes
Make sure you have the latest version of iTunes installed on your computer (you can download it from here) and then connect the iPhone. The iOS device will be detected by iTunes.
Step 2. Transfer "Purchases" to your computer
To sync your iPhone App data to your computer via iTunes go to File-> Devices-> Transfer Purchases.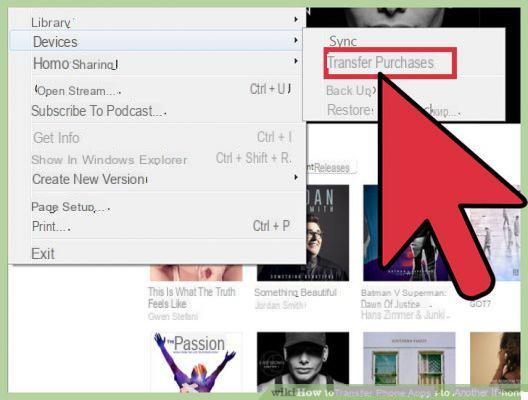 Step 3. Connect the new iPhone to the computer
Unplug the old iPhone and connect the new one to the computer via USB. As soon as it is detected by iTunes, click on the icon of the device to see all the info of the new iPhone (iOS version, iPhone model, etc ...)
Step 4. Access the APPS section and transfer applications
From the left sidebar click on the section APPS. On the right will appear the screen image of your iPhone with the applications installed, and another image with the applications saved on your computer and which can be transferred to the new iPhone.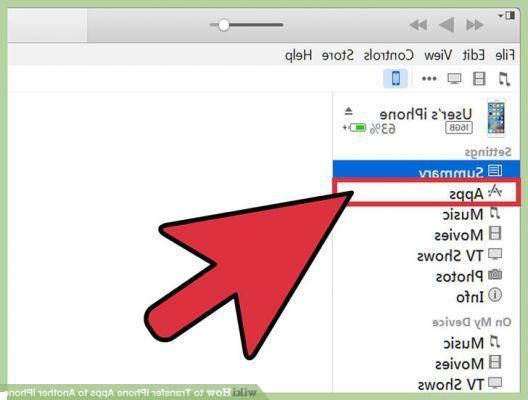 At this point, all you have to do is select the applications to be transferred and to be installed on the iPhone.
If you don't want to do this app-by-app transfer operation, one at a time, there is also the solution that involves doing the full backup of your iPhone (always via iTunes) and then proceed to restore the backup created on the new iPhone. In this way, however, other data (eg text messages, photos, videos, contacts, etc.) could also be impacted by the operation. To transfer SMS messages, contacts, photos, videos, notes, calendar, call history, we therefore recommend using the program Mobiletrans which is the only one able to directly transfer these data from an old iPhone to a new one, without going to delete the data already saved on the new one! Try it, its simplicity and effectiveness of operation is really impressive.
Other guide you might be interested in is how to transfer apps from iPhone to iTunes and vice versa.